3 Million+ babies and toddlers have used BabyApps to discover and play with their favorite apps. Today we're bringing you over 6 of the best baby and toddler apps that were released in the app stores. From apps that introduce letters and words to games that teach your child about numbers and even more that help your child learn about shapes and colors, we've selected an exciting batch of fun, educational apps your baby will love.
Baby's Musical Hands | music app for parents with babies:
iOS App Store / Google Play Store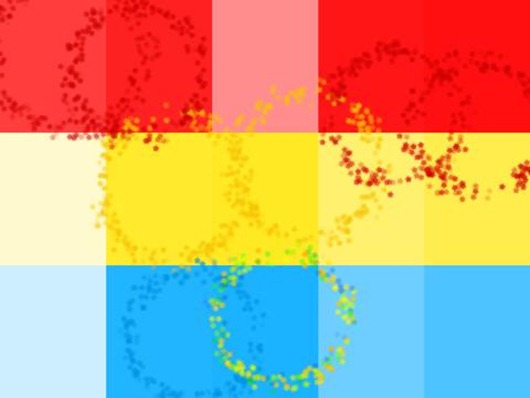 This app has been recommended to me by another mother: Baby's musical hands  is a very simple baby app for parents, who have their babies on their lap, whilst playing around on the iPad.
If the baby gets interested in the iPad, parents can then quickly change over to the baby app. As with all other baby apps, it is advisable to deactivate the "multi-touch option" in the iPad settings, that way, the little munchkin's won't accidentally keep sliding and moving the screens sideways with their tiny hands.
Infant Zoo: Visual Stimulation app for Babies with high-contrast images
iOS App Store / Google Play Store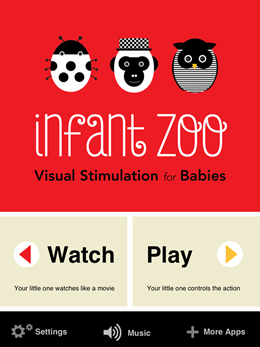 Now you can attract your baby's attention and curiosity fairly easily with the high –contrast images as they are in this Baby app. The iPad and iPhone app is called: Infant Zoo, because many various animals are shown, which have especially high contrasts. Infant Zoo has been specifically designed for newborns and young babies, which can only perceive high contrast colors at the beginning, which makes this app perfectly suitable for Babies.
Fisher Price's free Baby Apps with high contrast colors & black and white animals
iOS App Store / Google Play Store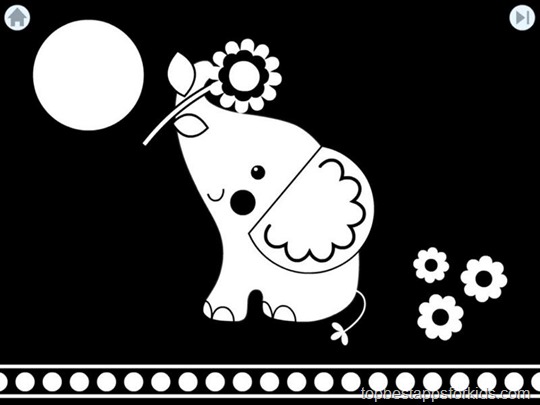 We have new and free Baby app supplies for your iPad or iPhone! "Development with Contrast Colors for Baby" and "Black & White High Contrast" which are both Fisher Price apps and our absolute favorite baby apps on offer. Both baby apps come with rich in contrast black & white images, which will immediately catch baby's attention. The Cute and loving animal pictures contain an aweful lot of charm in all their simplicity and will not only make baby eyes curious, but also us as parents.
Better Sleep for Families | High quality Baby Monitor app with live video streaming
iOS App Store / Google Play Store
Today we want to introduce all parents and newly expecting parents, to a really fantastic, modern and high quality Baby Monitor app for all iOS/Android Devices.
Baby Monitor apps aren't only popular during the holiday seasons, by choosing the iPhone and iPad Baby Monitor apps, you can enjoy the comfort and advancement, with a reliable Baby Monitor app. "Better Sleep for Families" by Owlet Baby Care Inc, has developed a brilliant Baby Monitor app with the newest technical possibilities and also with a video transmission, which makes her one of the modest and best Baby Monitor apps on the App Store so far. Better Sleep for Families is an all around well-produced Baby Monitor app, which you'll see in our review.
Smart Tot Rattle | iPad & iPhone app for babies
iOS App Store / Google Play Store
Finally, a baby app that is specialized for the developmental psychology of the baby. This fantastic baby app has it's attention on different kinds of brain stimulations and helps to increase the brain development. Smart Tot Rattle, is a perfect baby app, that will definitely support your babys development and be fun, soothing and entertaining at once!
withBaby | One of the best iPhone baby apps
iOS App Store / Google Play Store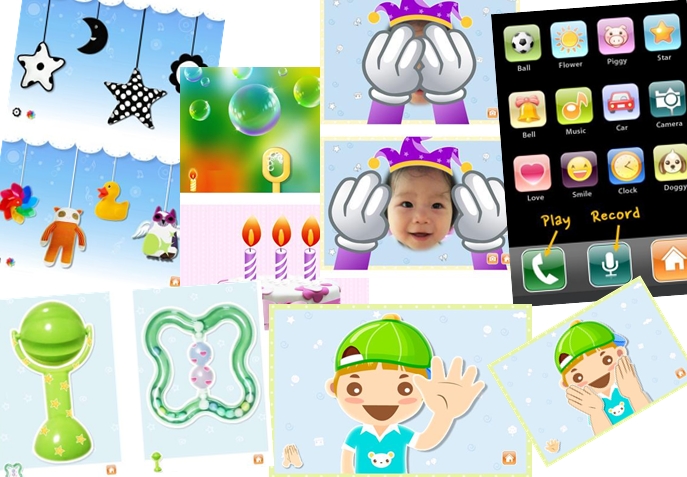 It's always hard to say which apps are suitable for babies. The younger they are, the more difficult it is for me to recommend a really good baby app. There is however a huge number of baby app requests, so I am therefore more than thrilled to be presenting you this wonderful and smart iPhone baby app: withBaby! withBaby is a fabulous iPhone baby app, which is really interesting for babies. This wonderful baby app is composed of 6 colourful and different kind of toys.