Overview
Overview: ABC Dino English – Xenegugeli is a delightful interactive ABC book designed for young children. Each letter features a beautiful color rendition of an animal representing the letter, an interactive activity to trace the letter's capital and lower case forms, an animation and a fun song.
Features include:
Available in English, German, Swiss German, French, and Spanish
High-quality art work
Interactive activities
Engaging animations
Intuitive use
Quality
ABC Dino English – Xenegugeli is a high-quality app that young children will love. It is essentially an interactive ABC book, designed to help children become familiar with letters and the sounds they make. Parents should be aware that the English version is somewhat "British" in that the letter Z is called "Zed," the sound of X is given as /z/ for the primary sound and the /ks/ as a secondary sound, and the sounds of A given are the long A sound like in "play" and the sound of A in "saw." The other vowels and consonants are as expected for an American audience. There does seem to be at least one glitch in the program that I could not get around – the tracing activity for the lower case h does not register my second line making the hump, and so the animation and the song for H related to the hippopotamus will not play. The app is easy to use and very intuitive. Parents will love the safety and the high quality of the artwork.
Education
This app is highly educational for young children. Toddlers and preschoolers are typically very interested in learning letters and understanding their sounds, and this app does a great job of introducing these concepts. In addition, some of the animals represented are not the usual choices, such as the narwhale, the chameleon, quetzal bird, wallaby, and of course, the signature Xenegugli, which is a sort of a dinosaur. Tapping on the picture leads players to an interactive page for each letter with tracing lines to make capital and lower case forms in traditional block print, showing numbered arrows such that children start in the correct places and move their fingers in the correct movements to form the letter.
The British sounds may take some explaining to young children, but other than that, the app is absolutely wonderful! In addition, since the app is available in several other languages, it would be useful to older students who need to master the alphabet and sounds of German, French, and Spanish.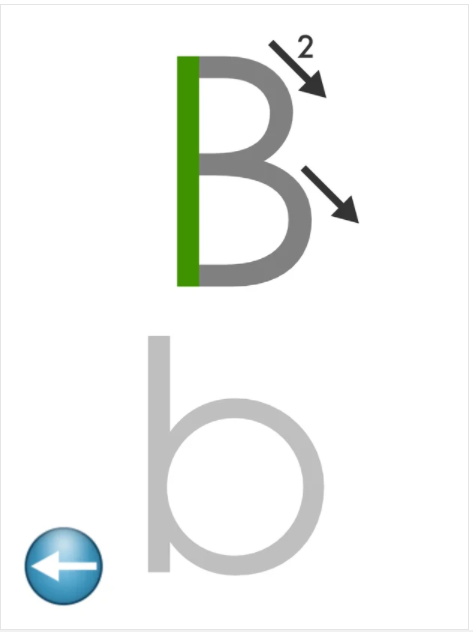 Entertainment
ABC Dino English – Xenegugli is a fine example of an ABC ebook. Children will turn to it again and again, because the art work is outstanding, and the songs are fun. I do wish it had a few more interactive pieces or games, such as capital and lower case matching or other examples of words beginning with each letter, but most children will really enjoy it at least the first time or two through, and many will want repeat performances just like they want their favorite books to be read again and again.
Value
This is the one area that I have concerns. The app costs $6.99 on the App Store and $5.49 on Google Play. That's quite an investment for many people, but well worthwhile if your child ends up using the app over and over again to actually learn the alphabet. My concern is that, like many apps that do not offer a lot of interaction or variability, some children will tire of it relatively quickly.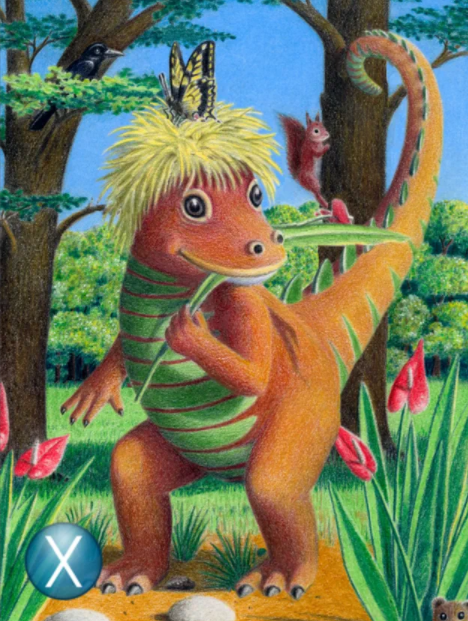 Child Friendliness
This app is very child friendly. There are no in-app purchases and no outside advertising. There is no way for a child to access the unprotected internet and no access to social media. After all 26 letters have been viewed, there is a screen at the end of the app with links to the author's website and to iTunes, but these are protected by an effective parent gate.
NO accessible external links

NO in-app purchases

NO social media

NO 3rd party ads
App Info
Price: $6.99 on the App Store and $5.49 on Google Play
AppStore User Rating: 4.5 stars
Download
ABC Dino English - Xenegugli is a playful and fun animal ABC ebook with some interactive features. Young children can use it to learn about the alphabet and even some unusual animals.