We Reviewed Dozens Of The Best Free Apps For Toddlers So You Don't Have To. Here Are Our Top Picks.
Our team of savvy moms and teachers have searched, reviewed and recommended the best apps for toddlers. Here are some fun and educational apps for toddlers that we guarantee you (and your kids) will absolutely love.
There are so many apps out there for children, but finding ones suitable for toddlers can be challenging. Take a look at these fun and educational apps geared towards keeping toddlers entertained while they are learning. Here are some of the best!
Music Sparkles

Price: Free with in-app purchases
Bring the world of music to your toddler's fingertips. They can play a variety of instruments with a tap of their fingers. This app offers 14 amazing instruments to explore, as well as 5 musical loops. There's even a vocal component so kids can begin to learn about do, re, mi.
This app is free to download, but 9 of the 14 instruments require in-app purchase of $1.99. There's also an option to unlock all of the instruments for $3.99.
SoundTouch Lite

Price: Free with in-app purchases
iOS App Store / Google Play Store
This app helps your child learn animals, music, and everyday household words. The app shows category pictures, and once these are chosen, kids can pick specific items within the category. There are over 400 pictures and matching sounds in this lite version of the app. The pictures are brilliant and sharp photographs, and the sounds are variations on the real thing.
This app is free to download. You can subscribe via in-app purchases to get new content weekly.
YouTube Kids

Price: Free
iOS App Store / Google Play Store
YouTube makes it easy for little ones to get entertained with their apps designed just for youngsters. The app offers a self-contained environment where all of the videos are family friendly. Parents can limit screen time, see what the kids have been watching, and select an age category from "Preschool," "younger," or "older."
The app is free to download and use. Be sure to access and set the parental controls so your child is protected and able to access only content that you have approved.
PBS KIDS Video

iOS App Store / Google Play Store
Watch your favorite PBS Kids t.v. shows at any time. It is a safe, child-friendly viewing experience for all. This live-stream app carries all of their favorites in real time. You can get new episodes every week. They can also catch up on missed episodes with ease.
This app is completely free to download and use. There is no subscription or log in required.
I Hear Ewe

Price: Free
This is a fun game for toddlers that teaches them sounds of animals and vehicles while helping to develop their motor skills. With 24 authentic animal sounds and 12 vehicle sounds, there's a lot to learn! And after baby has mastered this app, there is a companion on the App Store called "I See Ewe." 
This app is free to download and use. Parental controls allow you to change the language or turn off the identifying words if you wish.
Talking Ben the Dog

Price: Free with in-app purchases
iOS App Store / Google Play Store
Entertain your child for long periods of time with this adorable dog. Do chemistry experiments together, tickle him, and have fun conversations with him. This highly engaging interactive app will encourage your child to take a role in entertaining himself or herself. You can even record videos of the action on the screen!
This app is free to download and use. In-app purchases of additional test tubes for the chemistry lab range from ninety-nine cents to $2.99.
Toca Kitchen Monsters

Price: Free
Kids can play with their food and cook up meals for two hungry monsters. They can watch the monsters reaction to see what they like, learning about emotions. 8 different ingredients will keep things hopping in this kitchen, too.
The app is free to download and play. Best of all, it's from Toca Boca, leading app developers for children.
Shapes! Kids Games, Baby Boys Learning Free

Price: Free
This brightly-colored offering will teach your little one about shapes and colors in a fun way. It includes three different games that start out very easy and gradually become more complex. Kids will develop logic skills, fine motor coordination, and attention span.
The app is free to download and play. It's recommended for children from age 2.
Fish School- 123 ABC for Kids

Price: Free
iOS App Store / Google Play Store
This app offers 8 educational activities covering shapes, colors, letters, numbers and more. Kids can learn about matching and sorting, too. The app includes several versions of the classic ABC song for them to listen to and sing along with.
This award-winning app is free from Duck Duck Moose, a leader in educational apps for young children. It's recommended for kids ages 2-5 years.
Peek-a-Zoo by Duck Duck Moose

Price: Free
This interactive app helps kids learn not only animal names, but also understand emotions, learn about actions, discover positions, and identify sounds. The animals at the zoo wear sunglasses, sing, dance, and more.
This app is free to download and use. It's a great offering for children ages 2-5 from Duck Duck Moose.
Little Stars- Toddler Games

Little children will learn shapes, colors, beginning counting, ABCs and more with this app. It's recommended for children ages 2-5 years. The parent control center allows you to turn specific topics on and off, so you can help your child focus on just the right levels. It's even got a 2-player mode so you can play with baby right on your device!
This app is free to download and use. Parents can record their own responses if they wish so little ones can hear mom or dad's voice.
Toddler Kids Game – Preschool Learning Games Free

Price: Free
Numbers, patterns, letters, counting, shadows, matching, differences and more are all included in this comprehensive toddler/preschooler app. It's got 14 different activities that will help your child stay productively occupied for hours. The app is bright and colorful and designed to engage and challenge toddlers and preschoolers.
It's completely free to download and use, and who can say no to the enthusiastic monkey guide???
Balls

This app is both a toy and a soother that will please everyone from babies on up to adults. Toss and throw the paint balls around the screen by dragging, tapping, and tilting. Each time they collide with other balls or the sides, they make a pleasant wind chime noise. They leave colorful trails across the screen as they move which are absolutely mesmerizing.
The app is completely free to download and use. There is a hidden settings menu that gives you complete control over volume, trails, brightness, color, musical scales, and much more.
Breathe, Think, Do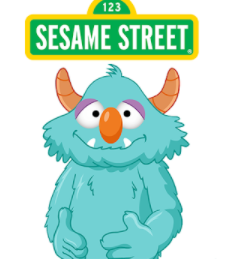 Price: Free
iOS App Store / Google Play Store
This app is great for early lessons about how to solve problems and learn self-control. It also teaches persistence and planning. It's from the makers of Sesame Street, and very well-done. There are five interactive and kid-friendly challenges, like bubble popping, that will keep your children engaged.
This app is part of the Sesame Street Little Children Big Challenges initiative, which aims to help children develop the skills they need to face life's everyday challenges.
Baby Games: Piano, Baby Phone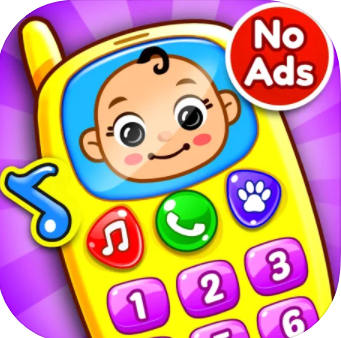 Price: Free
iOS App Store / Google Play Store
This collection of mini-games will help your young child learn first words, discover musical instruments, and more. It's a great way to keep your youngster entertained during those difficult times when you are out and about and waiting unexpectedly. The interface is designed to be friendly for children from 6 to 12 months.
The app includes nursery rhymes, songs, a balloon-popping game, fireworks that the child can control, and more. It makes a great diversion anytime and anywhere.
Piano Kids Music and Songs
Price: Free with in-app purchases
This app will transition from a music box that will attract a young baby to an exploration of seven different musical instruments all the way up to beginning instruction in how to play them. There are four modes to help you choose just the right activities for your particular child.
The app has a colorful, easy to use interface that children will find delar ightful. There is a selection of 30 songs to hear and learn, and even a sound-matching game. Some users have noted that there is no lock-screen function, which may mean you'll have to supervise your child while playing. In-app purchases are listed at $2.99 per item.
KidloLand ABC Baby Games
Price: Free with in-app subscription purchases
iOS App Store / Google Play Store
KidloLand is an award-winner that offers thousands of songs, games, and learning activities for children ages 1 to 8. There are over 130 nursery rhymes, 435 songs to learn and teach, and hundreds of games covering diverse topics such as prereading and math skills as well as coding.
Over 100 of the games and activities are completely free, and the rest are available as in-app purchases. A monthly subscription costs $6.99 and an annual one is available for $59.99 per year.
Toddler Preschool Activities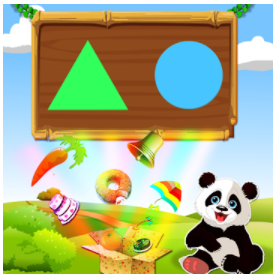 Price: Free with in-app purchases
This app is designed for children from 2 to 5 years of age, and includes over 70 educational games and activities. The skills covered include colors, shapes, ABCs, numbers, same and different, matching, and more. Kids will also have a chance to learn names of common items.
The games flow right from one to the next, so no need for helping your child switch between them. There are companion apps that cover kindergarten and grade 1 skills when your child is ready, too. In-app purchases, including subscription options, range from ninety-nine cents to $9.99 per item.