One of the major issues of children now-a-days is, they love sitting in their home and watch Cartoon or play video games. Their brain is not developing as much as usual. Even few years back children used to be more into outside games than inside games.
It is not that they must attend in outside games but exercises such as cycling, basketball, baseball, football, even running is good for everybody but more importantly for children. But here, we are going to talk about a conventional bike made for children just to learn the basics of balancing. And it is Diggin Active Skuut Wooden Balance Bike.
What is Skuut: Diggin Active is a USA based company started by Nathan Keker, Jenny Stern, and Phil Neal. They specialize only on making child products. Their motto is to make children more fit and healthy. Keeping that in mind they have come up with Skuut Wooden Balance Bike. Skuut is a bike made purely out of wood just for children
Skuut Wooden Balance Bike is made in such a way that the child will not fell to the ground when they lose balance. Children aging 2-5 will learn the basics of balancing in no time thanks to this conventional wooden bike.
---
Specifications
The wooden made bike has non-toxic finish
Dimensions: 21 inch X 6 inch X 33 inch
Weight: 11lbs
Rider weight: 75lbs
The 12 inch tire of the bike is made of pressurized rubber
The wheels are spoke less for safer riding
Leather seat
Seat height adjustable ranging from 13 inch to 17 inch
Bike stand
Pros and Cons of Diggin Active Skuut Wooden Balance Bike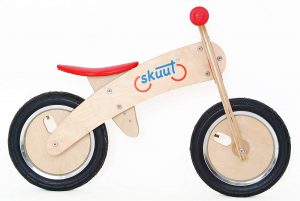 Read Parent Reviews | Check Best Prices
 When buying a children bike it is important to find a bike that is not very heavy and easier for children to ride. Skuut Wooden Balance Bike covers both of the above conditions but also has some important drawbacks and advantages.
Pros

Cons

First, let us see the good things. To make the buying of the bike a bit more ethical Digging Active is going to plant a tree for every Skuut Wooden Balance Bike sold.
Very easy to operate because it has no paddle, you just have to push the ground!
The tires of balance bikes are also important because the tires define the riding experience and safety.
This bike comes with a pair of 12 inch tires made of pressurized rubber which can absorb more shock as well as grip in all terrain.

Now let us talk about the cons of the bike. One of the major problems of a wooden balance bike is the durability. Even though the bike is made of Birch Wood, it is susceptible to water or should I say bad weather. The wood starts to rot if it gets wet.
The bike has to be maintained frequently which could be a pain for someone. Frequent usage loosens the screws and they are needed to tighten every now and then. For the same price or a bit more we can easily find some more customizable bikes where you can attach paddles if you wish or not. Diggin Active Wooden Balance Bike lacks to make the bike grow as the children grow.
---
How to use: The bike comes almost assembled; you just have to attach the handlebars and the seat which usually takes up to 10 minutes. Other than that there is not much work to do. After finishing the assembling give the bike to your children and within weeks you will see the results.
Maintain: Biggest issue with the bike is it has to be maintained frequently. If parents as well as children do not maintain it properly it might not live to see the next generation. You need to tighten the bolts as they loosen up easily. Keeping the bike outside or just forgetting to bring it inside might be the worst thing because the wood is susceptible to rain.
F.A.Q:
How long it takes to learn the balancing?
It takes approximately 1-2 weeks for children to learn balancing
What is the age range?
Age range is 2-5
Is any kind of assembly required?
You just have to assemble the seat and handlebars
Conclusion: It is one of the most trusted brands for children bikes because it has won some prestigious awards already. The lack of customization and durability is the major problems of the bike but even so, it is an excellent bike for kids to learn balancing.
---
If you want to learn more about another bikes, you can read our review for Schwinn balance bike.

Diggin Active Skuut Wooden Balance Bike Review
Diggin Active Skuut Wooden Balance Bike Review