15 Best Educational Toys & Gifts for Christmas 2017
Christmas time is a great time to stock up on toys for the kids. The great news is that with every year that passes there are more and more options available for truly educational toys, games, and gifts so you can stock up on things that help your child learn throughout the year. The even better news is that we scoured the internet for the best educational toys this Christmas so you don't have to.
Put a few of these education toys on your shopping list for your young ones.
The thing you will notice with this list is that most of the toys don't "seem" educational. Kids can learn as they play with all of the choices below and they won't even realize it. These toys could easily show up on your child's own wishlist because they are really fun and cool.
In the old days toys encouraged learning with building blocks of different shapes; featuring numbers, letters. It was all very physical and mechanical learning. Today, technology and software allow companies to design awesome and science based toys that do so much more than the old days. Some of our selections are from the current crop of kids' electronics and gadgets while others are classics you will recognize. We found toys that encourage hands-on fun and experimentation with kits to inspire kids' natural curiosity. These toys will open up the worlds of chemistry, physics, science, programming and creativity.
We couldn't include everything so if you don't see something you love, check out all Amazon's cool Science, Tech, Engineering and Math toys as well as their full holiday toy list focused on learning.
Note: All products are recommended because we love them, but please know that BestAppsforKids may make a commission if you click on our links and purchase products on this list on Amazon.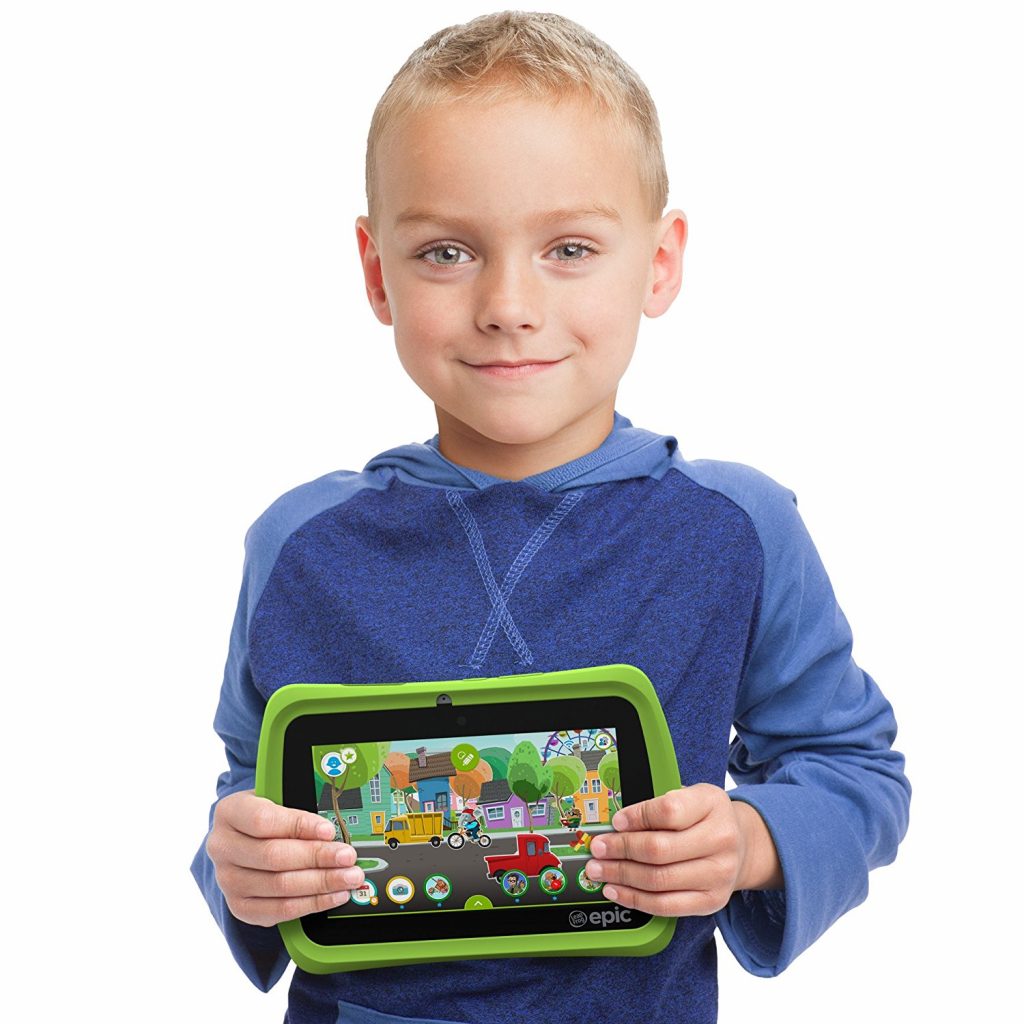 LeapFrog Epic is an Android-based kids' tablet, designed to grow with your child for endless learning and creative play. Access exclusive LeapFrog learning games, hand-picked popular Android apps, and the first interactive homescreen that lets kids create their own custom tablet–while building their skills and imagination.
LeapFrog Epic features Just for Me Learning technology, which personalizes select LeapFrog games to keep your child challenged and learning. Kid-safe out of the box, our full-featured Android–based tablet includes parent controls that make it easy to expand the kid-appropriate web, download new apps and manage play time as your child grows. Recommended for ages 3 to 9 years. (Games and apps sold separately. Device not compatible with LeapFrog cartridges.)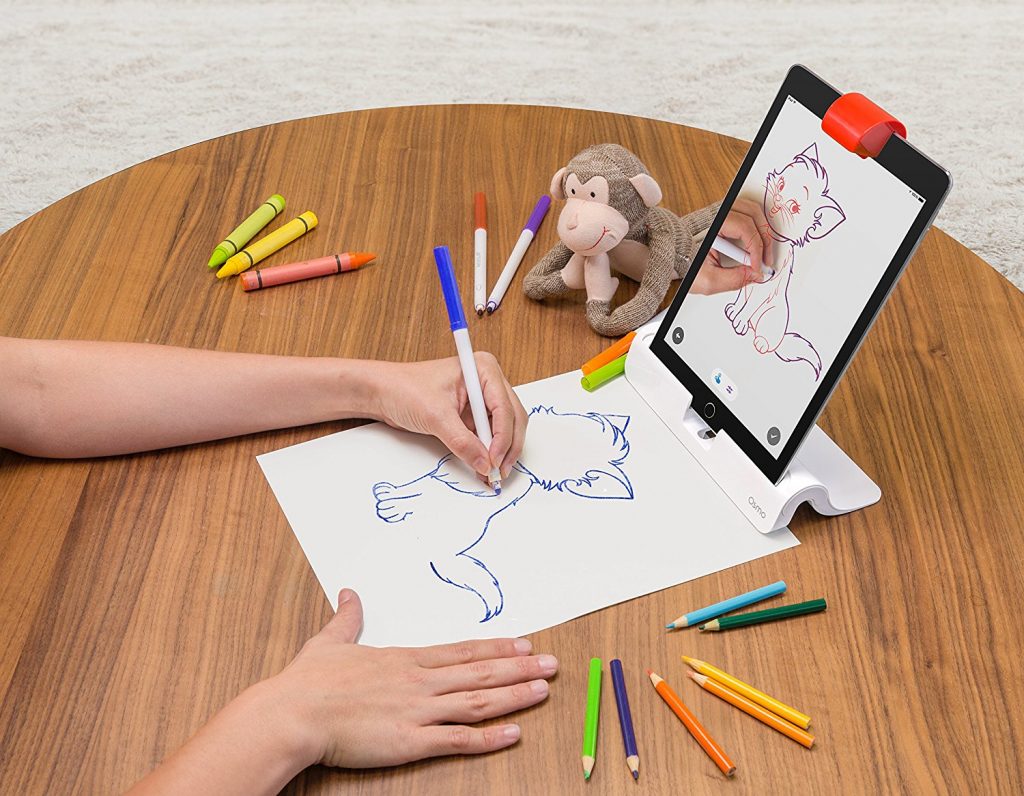 Osmo's game systems foster social intelligence and creative thinking by opening up the iPad to the endless possibilities of physical play. Crafted with reflective artificial intelligence, a groundbreaking technology that bridges the real and digital realms. Osmo Genius Kit expands on the Osmo Starter Kit by adding on the newest game, Numbers, to the existing set of games. The full kit allows children to explore science, math, art, and more! Designed for anyone aged 6 and up, this educational toy can be enjoyed by nearly everyone in the family.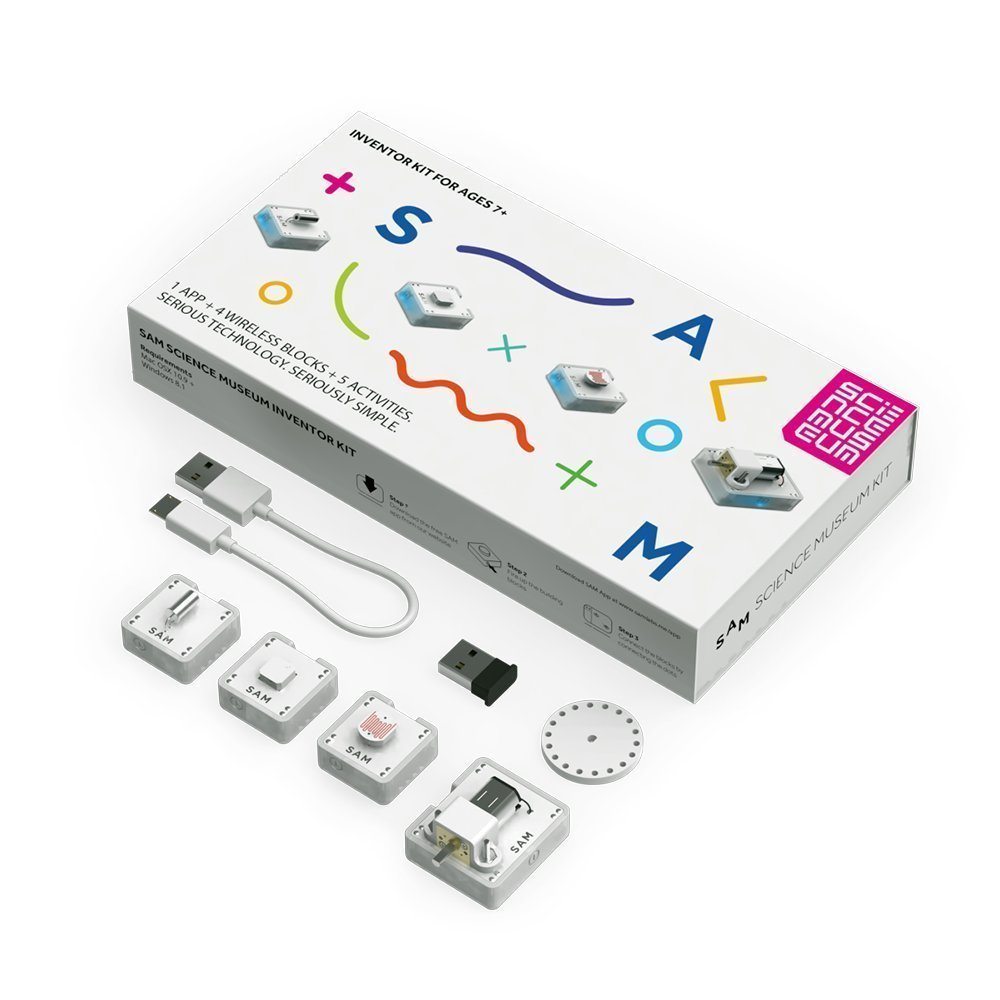 SAM is the smart construction kit. SAM Blocks connect to the SAM Space app. You create awesome inventions. No wires, no fuss. Just serious fun. Each SAM Block has a specific skill. Buzzers, motors, sensors and more. They're wirelessly activated – using Bluetooth – to move, illuminate or sound. Program patterns and behaviors using the intuitive SAM Space app. Simple ingenuity!
Inventor lets you s-t-r-e-t-c-h your imagination. You'll master Morse code, make electronic music, protect possessions with an alarm, bring sound to your sketches, and find your groove with a mini-drum machine. Then explore our website for more inspiration.
Get the price and more product details here

Your logic skills and sequential reasoning will light up with Circuit Maze! Your goal is to arrange tokens and create a real circuit to light up the Beacons. Circuit building while solving challenges provides a boost of brainpower and a fun education in electronics. With 60 challenges, ranging in difficulty, this logic game will provide budding electrical engineers with hours of electrifying fun and intense learning.
Get the price and more product details here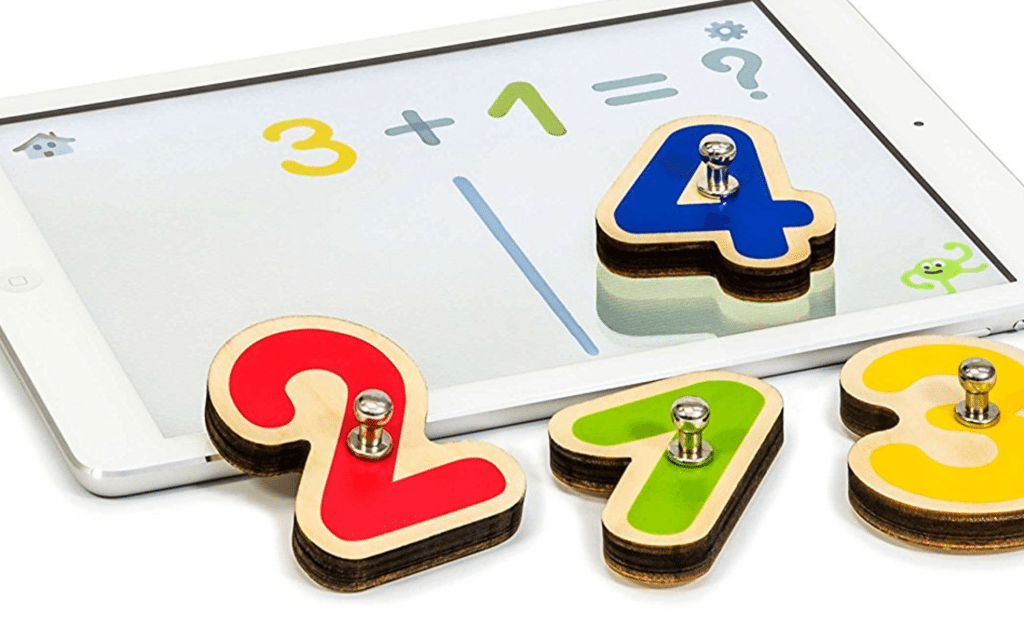 Smart Numbers is the ultimate learning experience for kids aged 3 to 6. These 10 wooden connected digits interact with tablets and 3 free educational apps to learn to count and calculate. 10 interactive wooden numbers for tablets. Covers counting, addition & subtraction for children aged 3 and up. Designed by educations experts, with the help of teachers, inspired by the Montessori methods. Smart Numbers brings the best of physical and digital play together by connecting wooden numbers to 3 learning apps for tablets.
Get the price and more product details here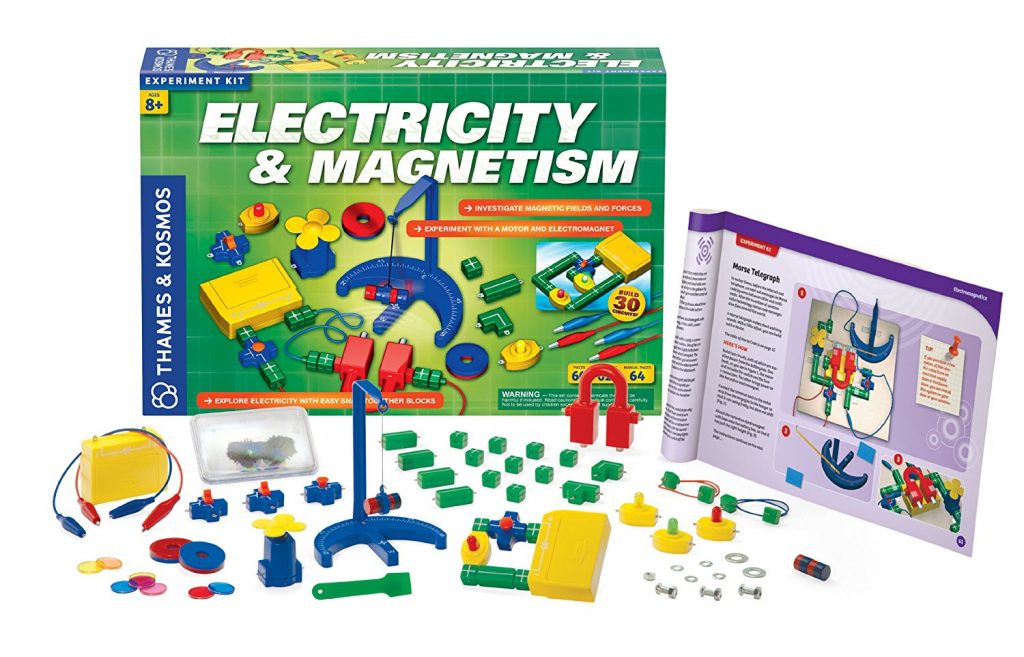 Conduct more than 60 electrifying experiments with circuits and magnetic contraptions to learn about electricity and magnetism, and how these two fundamental properties are closely related. Children eight and up can safely and easily experiment with electric current and magnetic fields using the colorful snap-together blocks and components in this hands-on kit. The components are specially designed to make learning fun and accessible. The electrical blocks fit together with simple plug-and-socket connectors. Because the blocks are brightly colored and have unique shapes, it is easy to follow the assembly diagrams to construct functional devices.
Get the price and more product details here
My First Mind Blowing Science Kit is your junior chemist's introduction to the world of scientific exploration. Learn the basics of science from chemical reactions to the use of science tools. With mind blowing experiments such as creating a sunset in a test tube and making a color-changing volcano, children will love learning fascinating facts about their natural world and this kit will keep them engrossed with interactive experiments. Includes Red cabbage powder, citric acid, baking soda, 3 color tablets, crosslinked polyacrylate copolymer, vegetable oil, corn starch, 2 cotton swabs, 3 test tubes with stand, 3 plastic cups, pipette, 2 sticks, 2 measuring scoops and activity guide. Recommended for children 6 years of age and older with adult supervision.
Get the price and more product details here
littleBits has gotten rave reviews and countless awards from TED, Wall Street Journal, Parents Magazine, WIRED, engadget, Popular Mechanics, and more! It allows kids to develop engineering and problem-solving skills by creating interactive inventions. Your kids can build infinitely customizable inventions by combining littleBits with anything your kids own. The kit includes step-by-step instructions for 8 inventions, 1 challenge, and inspiration for thousands more. Kids can gain the confidence and curiosity to understand their surroundings and reinvent them.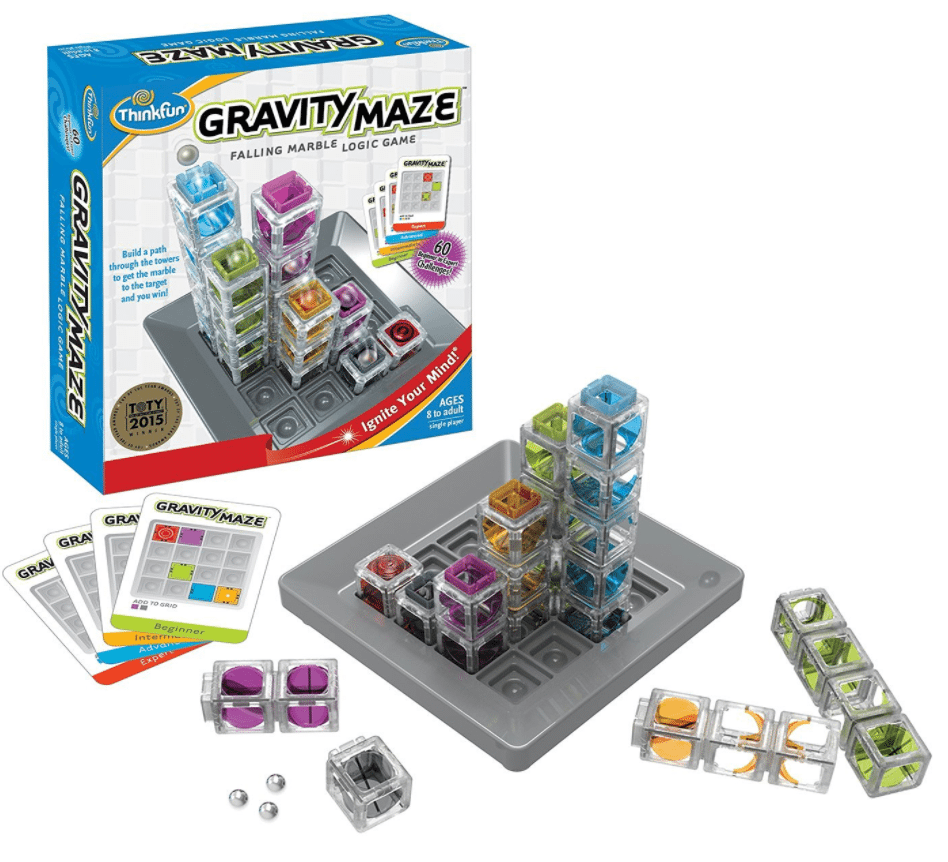 This gravity powered logic maze is sure to put your visual perception and reasoning skills to the test. The towers can be arranged in a wide variety of visually stimulating structures but, for each challenge, you'll have to think carefully to build a path that will carry your marble to the Target Tower. Your goal is to create a maze that will carry a marble from the Start Position to the Target Tower. You get 60 challenges with four levels of play: Beginner, Intermediate, Advanced, and Expert
Get the price and more product details here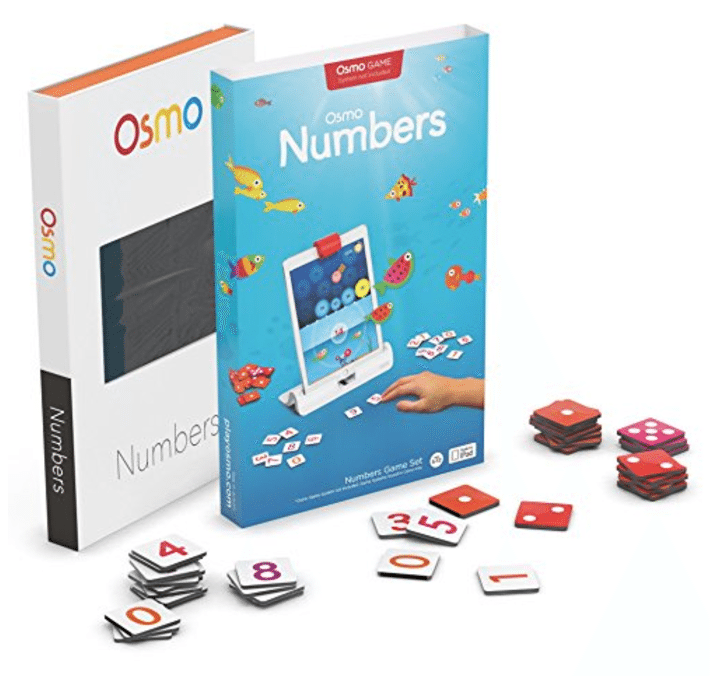 Develop math confidence by playing with number tiles. Add by sliding in tiles, subtract by removing tiles & multiply by connecting them. Watch as your handiwork pops number bubbles unlocking the fishy under-water world! Comes with 40 dot & number tiles. Works with iPad Pro 9.7 inch, all iPad Mini, all iPad Air, all iPad 2 & up. *Requires the Osmo Game System, found in any Osmo Kit.
Get the price and more product details here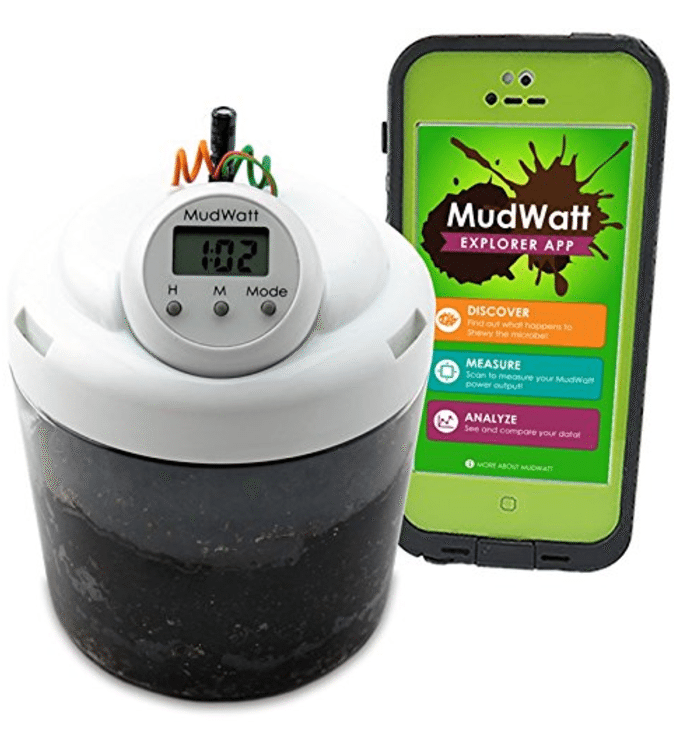 This Award-winning STEM kit lets you build a living fuel cell that feeds on mud (a "bio-energy pet"). MudWatt engages kids in STEM in a whole new way, using the power of mud! It harnesses the power of electricity-generating bacteria naturally living in the soil beneath our feet! Kids experiment with different types of soil (and food from the fridge) to maximize their power output. The MudWatt Explorer App lets kids measure their power, track their MudWatt's bacteria growth, and unlock an awesome educational comic book!
Get the price and more product details here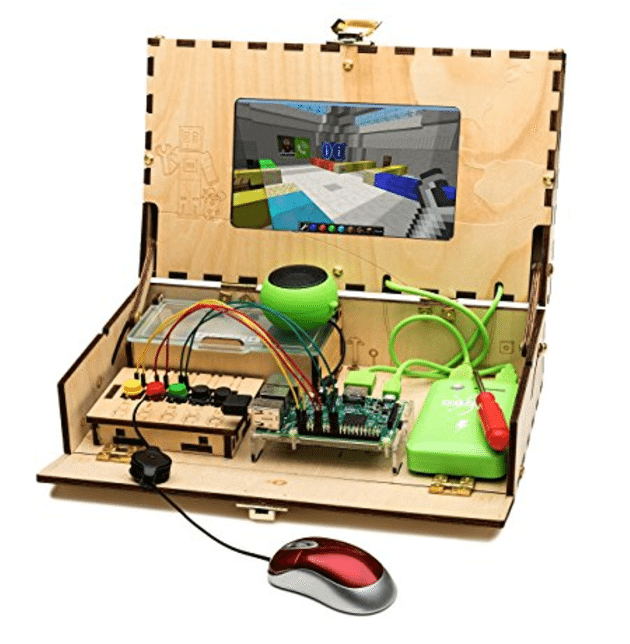 Today's kids grow up with "black box" phones, computers and gadgets that come in beautiful packages, but leave no room for tinkering or understanding how they work. At Piper, we believe it is critical to understand how technology works in order to make sense of our environment and invent the future.
The Piper Computer Kit comes with everything you need to assemble your own computer. Inside, you will also find our revolutionary learning system that teaches kids engineering and programming through a combination of engaging storyline, physical building, and Minecraft gameplay.
Get the price and more product details here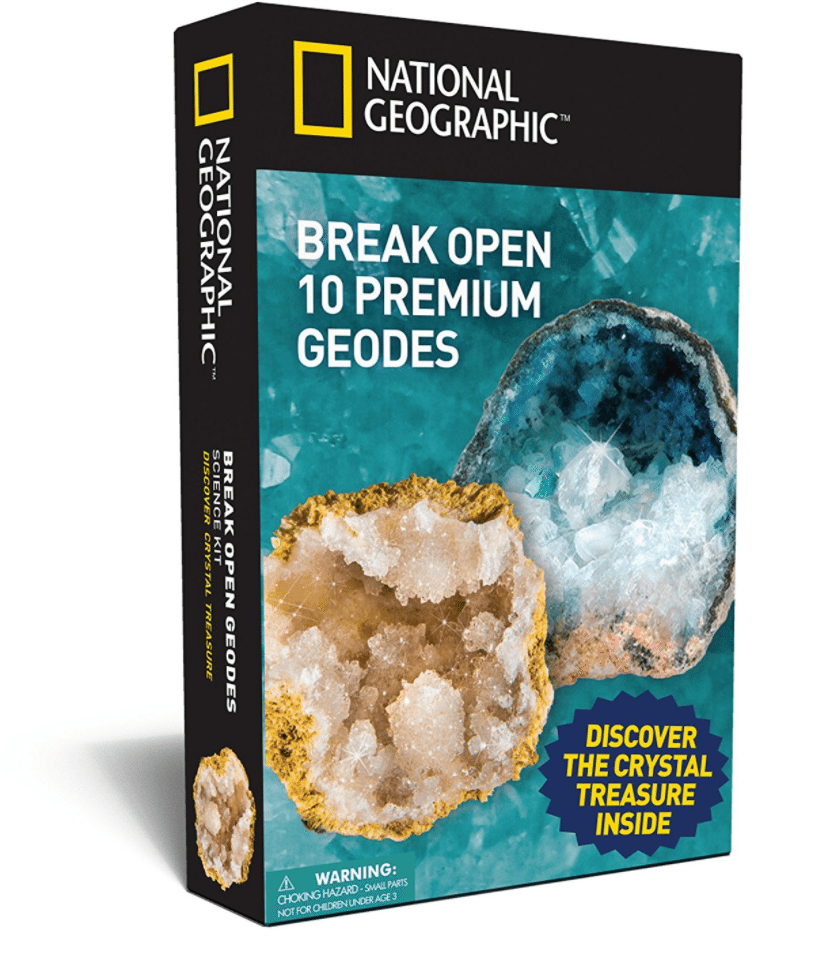 Everyone will enjoy cracking open geodes with this exciting earth science kit. With 10 geodes of supreme quality, the whole family can take part in discovering the amazing crystal treasures inside. Geodes are incredible hollow rocks that are formed by volcanic eruptions. The included learning guide will teach you all about these unbelievable natural wonders and the crystals you'll discover when you break them open.
Get the price and more product details here
Ms. Frizzle and her students take Young Scientists on a wild ride with the Magic School Bus as they explore the field of chemistry. Young Scientists make sticky ice, use litmus paper, measure pH, perform chromatography, make bubble sculptures, wake-up fungus, create slime, form a bouncy ball, learn about density, produce a milk rainbow, plate copper, explode a volcano, and much, much more! This exhilarating bus-shaped kit comes packed with science components, 51 colorful experiment cards and a data notebook to record observations. Seatbelts, everyone! Get ready to experiment with Chemistry Lab.
Get the price and more product details here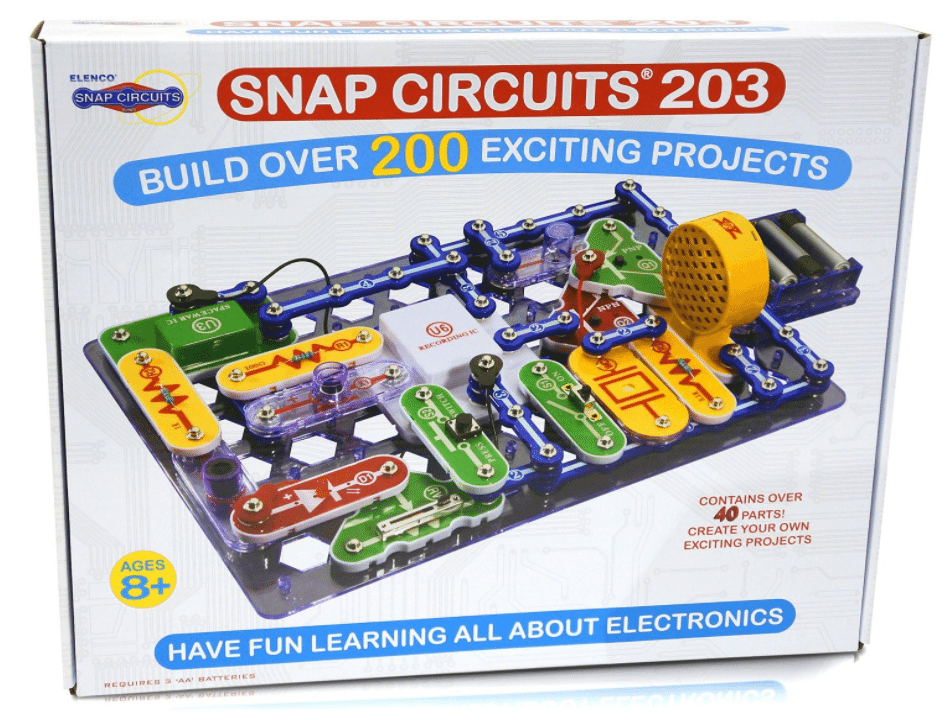 Circuit Maker Skill Builder covers 203 projects with exciting electronics concepts. Circuit Maker kits make learning electronics fun and easy but engaging. No bored kids here. All components are mounted in plastic modules and snap together with ease. Enjoy hours of educational fun while learning about electronics and building analytical and problem solving skills. Project #1, a simple introduction to the basic circuit "Electric Light & Switch". In #14 let's find out what conducts electricity with "Conduction Detector". Projects #20 and #21 compare "Parallel Resistors" and "Series Resistors" Project # 78, "Two-Finger Touch Lamp" puts you in the middle as you use your body complete the circuit. Project #131 builds a circuit you can install in your basement for water leak detection. Instruction manual includes the basic dos and don'ts of electricity and electronics. Contains 42 Snap Circuits parts and project guide. 3 AA batteries needed but not included. For ages 8 & up. NO TOOLS REQUIRED.