So, What Is The Best Baby Walker For Carpet Floors? (Don't Buy A Walker until You Read This)
Baby walkers are fun and very exciting for babies and for parents. Unfortunately, it can be very difficult to find one that will work well on carpeted floors. Using baby walkers that do not have wheels which are designed for carpets can actually be very dangerous for your baby.
This is because these kinds of walkers can easily get stuck especially when you have carpets that have fibers which are too dense or too long. And when the baby walker is no longer able to move, it can be easily tipped by your child.
To help you find the best baby walker for carpet floors, here are a few important facts, as well as a list of some of the products that I would like to recommend.
The 6 Benefits Of Having A Baby Walker
Today, most baby walkers are filled with both electronic and non-electronic accessories. First of all, this allows your babies to immerse themselves in playing while they are strengthening their lower legs at the same time. Second, the baby walker can also allow us parents to have the time to do chores.
Thirdly, the baby walker can also help your baby explore new environments instead of being confined to the playpen or to a specific area in the home. This will allow our children to familiarize themselves in different environments.
What is great about baby walkers is that they are multifunction tools that we parents can use for our child's training and entertainment. With the help of the trays that are typically installed on these walkers, your child can spend a lot of time playing while staying upright and while exercising their legs.
As your baby explores the different areas of the house, he or she will be exposed to new sights, sounds, smells, and textures. These stimuli will help their brains to develop. Their constant leg movements will also help them to walk on their own later on. Lastly, the baby walker can also help them maintain balance.
Should I Buy A Baby Walker For My Little One?
We all know that there are controversies when it comes to the use, the purchase, and of course, the design of baby walkers. This is because some studies and experts suggest that baby walkers can make your child prone to accidents and falls.
The truth is, the baby walker can be very dangerous especially if you as a parent, think that you can leave your child alone while using it. Since the baby walker can add to your baby's height and movement speed, parents need to keep an eye on their babies while they use the walker.
We have to make sure that our child will not be able to touch electrical cords, as well as reach for sharp or hot objects. We should keep our children away from stairways and doorways while using the baby walker. We should also choose products that are designed and manufactured properly.
We all know that the baby walker can provide some benefits for us parents and for our child. We also know that no parent should leave their child alone and without adult supervision. So if you want to buy one, make sure that you know how to use it, and make sure you know its guidelines and specifications.
What Makes Up A Good Baby Walker?
Although the manufacture of baby walkers are now regulated by Consumer Product Safety Commissions and other similar agencies, parents should take a close look at the walker's design, its base frame, and its materials before purchasing.
Without a doubt, your child's walker should be made from quality materials and it should be designed with your baby's safety in mind. Babies can also move fast while on the baby walker, this is why it can be risky if it does not have grip systems and if you let your child use it near stairs or on uneven surfaces.
If your house has stairs, I recommend that you choose walkers that are "stair-proof", that are intentionally designed not to fit into doorways, and that have brake systems to keep your child in place if needed. The walker should also have properly fitted straps that will help secure the baby.
Of course, it should also be built for the carpet. Baby walkers that have flimsy wheels will not be able to roll properly on carpets and on specific types of floors. Walkers that have large wheels on the other hand, will allow your child to walk smoothly across different surfaces.
Recommended Baby Walkers For Carpet Floors
Every baby walker is built differently. And because each one of them has their own advantages to offer especially when it comes to carpeted floors, I gathered 5 of the best products available so you can save time and focus more on the ones that can offer the best features for your baby.
---
Joovy Spoon Walker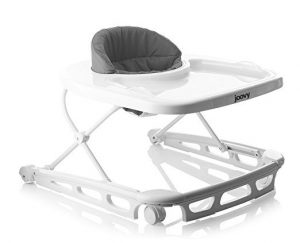 Read Parent Reviews | Check Best Prices
This product is a smart combination of a baby walker and a highchair, which is fantastic for us parents who want to something with a lot of functionality. With its clean, contemporary design, it allows your child to eat, play, and interact with different things while being safely secured in the walker.
The Joovy Spoon Walker boasts of an ultra-wide base which can help provide your baby with stability without compromising mobility. The base is also much wider than the tray which can help prevent your baby's fingers from hitting walls and from getting pinched.
What I like about this product is that it is not about the frills and accessories. It is made with durability and functionality. As a matter of fact, the tray is even dishwasher safe, and it also has comfortable seat pads, non-slip stair pads, and it is made from 600D materials and steel reinforcement.
The walker also has a large tray which allows the child to have a lot of space for toys, and it also allows us parents to feed our babies with fewer cleanups. The walker can also be adjusted to different height positions for your baby's ease of use and comfort.
I do feel confident whenever my baby uses this walker simply because it passes all government standards in compliance and stair safety. My baby enjoys being in the walker and it allows me to do a bit of cleaning whenever she uses it. Buy from $100
---
VTech Sit-to-Stand Learning Walker
Read Parent Reviews | Check Best Prices
The walking aid assembly is ideal for babies who can already sit and stand on their own, its front and back spinners, as well as its riding feature, however, can be used by babies who are a couple of months old. You can also convert this product from a walker to a floor toy easily.
Unlike the typical baby walker, this product is designed more like a walking aid. Aside from that, what makes it unique is that it is actually a 2-in-1 activity toy that will not just train your child to walk, but also provide your baby with lots of fun-filled activities.
When used as a walker, it is sturdy enough to support your child and help him or her gain confidence when standing. And as a floor toy, it allows your child to practice fine motor skills. Both configurations are designed to entertain your baby and to train his or her legs at the same time.
What I like about this baby walker is that it combines both fun and functionality. It also provides a lot of value for us parents who want to give more to our children without having to spend a lot of money. I also know that my child will continue to use and enjoy this product for a long time. Buy from $20
---
VTech Sit-to-Stand Learning Walker
Read Parent Reviews | Check Best Prices
As a product that is designed for babies who want tons of activities and entertainment, it provides you with extra link loops so you can add even more toys. It also has three adjustable height positions that will help the product grow with the baby.The Bright Starts Walk-A-Bout Walker has removable toys which can be used for floor play or while you travel.
Its multi-use toy station is ideal for those who want to keep their babies entertained even though they are no longer on the walker. It lights up, it can play melodies and it also has volume control.
The wheels on this baby walker are also sturdy enough to roll on carpets. My child is very strong but the base of this walker is stable enough to keep the walker from tipping. The little one does love the freedom that she gets when using the walker as it can glide freely over tiles, carpets, and rugs. Unlike other products, this one has a high back seat that will give additional support and comfort. It also has rubber "feet" that will brake as soon as the walker hits uneven surfaces. It also has a wide, sturdy frame that will help keep your baby's hands and fingers safe. Buy from $50
---
VTech Sit-to-Stand Learning Walke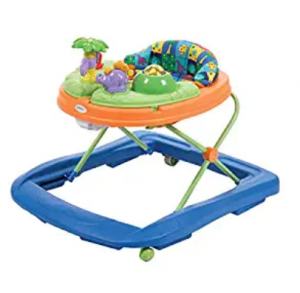 Read Parent Reviews | Check Best Prices
It has 5 dinosaur toys and two swing-open activity trays that will help maximize the available space for your baby's playtime or feeding needs. This product also has grip strips that can help minimize movement as soon as the baby goes to areas with uneven surfaces.
This product is not your typical baby walker simply because unlike other products that easily breaks, this one is made from hard plastic. This feature makes the walker durable enough to withstand bumps and to stay intact when it gets rammed towards walls especially when the baby gets too excited during play.
What I do love about this baby walker is that the toys all provide different textures and it also gives pleasant sounds. It has allowed my little one to play for several minutes without even realizing that she is actually training and strengthening her legs at the same time. The wheels on this product can also be maneuvered with ease especially when the baby gets used to it. It can easily transition to different floor types and its different parts are also easy to clean as the padded seat is also washable. Buy from $46
---
 The Disney Minnie Music and Lights Walker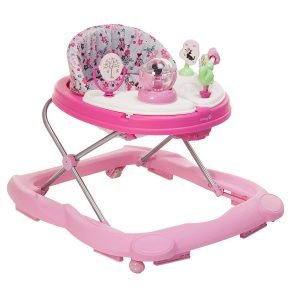 Read Parent Reviews | Check Best Prices
Aside from having a comfortable seat, this product can be easily folded for easy storage or for travel purposes. It also has sturdy wheels which can be used on tiled, carpeted, or wooden floors. This product can be adjusted to meet the height requirements of your child.
This product has a very attractive look which can make it very easy for little ones to play and interact with it. It offers 2 swing-open activity trays, as well as Disney characters that light up and makes sounds so your baby can have a fun-filled time on the walker.
What I like about this product is that it uses characters which my daughter is very familiar with. The lights and music were also pleasant, the lights were not too bright and the sounds were not too loud for my baby. The activity trays can also be opened so your baby can have space for more toys or snacks. As one of the most vibrant baby walkers available in the market, this might be a good option for babies who are scared to try new things. It is also one of the sturdiest when it comes to the design of its base and wheels, giving us parents the option to get an attractive, yet safe product for our little princesses. Buy from $46
---
And The Winner of Best Baby Walker For Carpet Floors Is…
The clear winner for me, would have to be VTech Sit-to-Stand Walker. This is because the product itself is versatile and it is designed with your baby's growing need in mind. These factors alone would make the product a cut above the rest.
Although some of the competitors can showcase a smart and safe design, none of them can actually go beyond this product in terms of functionality. Although its competitors are made from high quality materials, they have nothing to offer when it comes to the baby's growing needs.
VTech Sit-to-Stand Walker can be used depending on what stage of development your child is in, which makes it more practical and enjoyable. If you child can't sit up yet, or if you want your baby to practice crawling, you can open the hood so he or she can play with it on the floor.
And as soon as your baby is confident enough to sit up straight or stand, you can use the walker configuration. And because it is designed to help our toddlers stand and walk on their own without support from the groin and back area, it is actually more fitted for use on carpets. This feature is what I actually like more than any other feature on the other products. Whenever my baby uses it, I know that this will ultimately be the one that will help my baby strengthen her legs, and prepare her for unassisted walking in the future.
VTech Sit-to-Stand Walker baby walker has wheels that can easily roll on carpets, and they are also sturdy enough to support your baby's weight. Since the product is designed more like a walking aid than a walker, parents should not let their babies use it without their supervision.
This product will also not add any height to your baby and it will only be as fast as your baby's footsteps. And because parents or guardians cannot leave their babies alone when using this product, it will actually be much safer for babies to train with it knowing that an adult is always around.