Introduction
Learning how to ride a bike is one of the most important milestones in a child's early years. Parents often have difficulty teaching kids both the skills of riding a bike and how to be confident while riding. There are several ways to make the learning process earlier. One method which has become very popular in recent years is the use of balance bike. In this review, you will find:
An overview of balance bikes
The benefits of using these bikes when compared to tricycles
Common features of the best balance bikes
Reviews of the 5 top-rated balance bikes for overall quality on the market today
Highlights of the best balance bike for safety, affordability, and features
---
What Here
Introduction
What Are Balance Bikes?
Benefits Of Balance Bikes
What Size Of Balance Bike Should I Buy?
When To Transition From Balance Bike To Pedal Bike?
Recommended The Best Balance Bikes
Balance Bike vs Tricycle
What Features Make the Best Balance Bike?
Top 10 Best Balance Bikes 2017
1. Best Balance Bike For Short Toddler: Ridgeback Dimension 12 Runner
2. Best Balance Bike For 3-4 Year Olds: Strider 12 Sport
3. Kiddimoto Kurve
4. Best Lightweight Balance Bike: Cruzee UltraLite Balance Bike
5. Kinderfeets Chalkboard Wooden Balance Bike
6. FirstBIKE Street Balance Bike, Light Blue
7. Best Balance Bike For Down Syndrome: YBIKE Evolve Ride On Balance Bike
8. Best Balance Bike Under $100: KaZAM v2e No Pedal Balance Bike
9. Best Balance Bike For Your Dollar: Y Velo Jr. Yvolution Ride On Balance Bike
10. TooToo 12″ Balance Bike By Yedoo
Best Balance Bike for Safety: Ridgeback Dimension 12 Runner
Best Affordable Balance Bike: Strider 12 Sport
Best Balance Bike for Features: Kinderfeets Chalkboard Wooden Balance Bike
Conclusion
---
While the ability to put their feet down will keep kids safe, there are also a number of features which should be included to maximize safety. High-end balance bikes often feature steering locks, which prevent the child from turning to quickly on a sharp angle. There are also rear brakes included in many models which are useful if the child begins moving too quickly. Lastly, the thickness of the tires should be taken into account, as thicker tires are able to handle rough terrain better.
As young children are very low when seated on balance bikes, it can put a strain on parents to bend down and lift the bikes. For this reason, it is important that the bikes feature a light frame without compromising durability. Often, the bikes will also include handles for easy carrying. Further, some models can even be folded for discrete storage and transportation.
An important feature which should not be overlooked is design. Kids love bright colors and clean, smooth curves. Some bikes come in a variety of exciting designs to make the bikes look like firetrucks or police cars which kids adore. The more interested the child is in the bike, the more likely they are to spend more time riding and developing their skills.
Top 10 Best Balance Bikes 2017
While they are small, the best balance bikes can be costly. Before spending hundreds of dollars, parents should read the best balance bike reviews in order to make an informed decision. The reviews below are based on both the objective facts such as the quality of material used to build the frame and subjective experiences of parents. Each of the five bikes on this list are exceptional in overall quality. They do vary in the particular features offered, which will allow parents to find the ideal model for their child.
Here are the top five balance bikes on the market in 2017
---
1. Best Balance Bike For Short Toddler: Ridgeback Dimension 12 Runner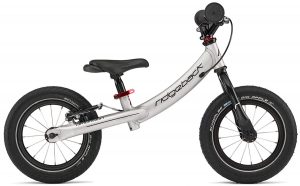 Read Parent Reviews | Check Best Prices
A scaled down electric powered dirt bike, this single speed dirt bike runs at a maximum speed of 14mph. The bike has 12" pneumatic knobby front wheels to give it more power transfer and a hand operated rear brake. It has a quiet chain driven motor and a twist grip throttle controller. Designed for kids 1-3 years and up.
Pros

Cons

Super light frame for easy lifting- Sturdy construction means this bike will last for years and can be handed down.
Schwalbe Big Apple tires offer great traction.
Sleek design is visually pleasing.
Very smooth ride thanks to thoughtful construction.
Very smooth ride thanks to thoughtful construction.

 

Too expensive for many people to spend on such a small bicycle.
Summary
Very few balance bicycles can offer the quality and features found in the Ridgeback Dimension 12 Runner. Its main attraction is simply the quality of its frame, handlebars, and wheels. With an exceptionally light frame and Schwalbe wheels, kids will have no trouble safely steering this balance bike on streets or bike paths. While it is quite expensive, this bike offers unparalleled quality, safety, and durability.
---
2. Best Balance Bike For 3-4 Year Olds: Strider 12 Sport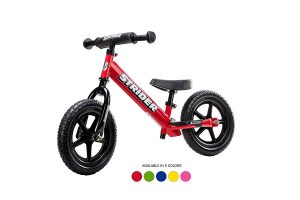 Read Parent Reviews | Check Best Prices
The Stider 12 Sport is one of the highest-rated balance bikes on the market today. It has earned a place in many "Top 10" lists, and for good reason. This bike offers everything parents and children alike could hope for in a balance bicycle.
It is sturdy, safe, and very attractive. With a metal frame and thick tires, children will be safe riding around on smooth and rough terrain. It is designed to accommodate children from 18 months to 6 years of age.
Pros
Cons

Great design will catch child's eye.
Rear brake is included for added safety if child is moving too quickly.
Comfortable with a large seat and padded handlebars.
Super lightweight at only 3 kg, making it easy for children to manoeuvre and parents to lift.

Lacks some convenience features like handles for easy carrying.
Summary
The Strider 12 Sport is an incredible balance bike that offers exceptional value for the price. It is significantly cheaper than the Ridgeback Dimension 12 Runner but still offers high-end features. Its rear brake is particularly attractive for parents who worry about their child riding too quickly. As well, its tires are built to keep great traction no matter the terrain.
---
3. Kiddimoto Kurve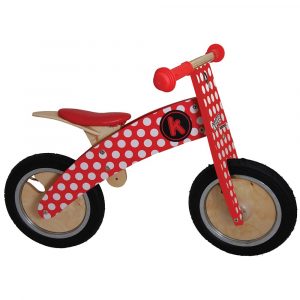 Read Parent Reviews | Check Best Prices
This is the highest quality wooden balance bike on the market today. It is extremely popular with children and parents, and offers tremendous value for its reasonable price. It comes packed with features for both safety and convenience, making this a purchase parents can be confident will help their child learn while keeping them safe. It is recommended for children ages 3-5.