Contents
Choosing The Best Cribs For Twins + The Best Cribs For Twins
One of the most fun moments when preparing for a new baby is building the crib. It finalizes the moment you realize your bundle of joy is on their way, and is exciting (and a little tiring). What happens when you'll be having more company than you first thought?
That's right-twins! Having twins is a huge surprise in itself, and shopping for dual baby products can be an even bigger one. Choosing a crib for two little ones sounds hard, but is easier with help.
This guide will compare five of the best cribs for twins, so both of your babies will get a good night's sleep.
What Should A Twin's Crib Have?
What makes a twin's crib special? While cribs with one baby in them are built to the highest standards for safety, having an additional baby share the space means an even sturdier crib is essential. Some parents will have a large crib with a partition to separate their babies, while some will choose to let them sleep in the same space while they are small.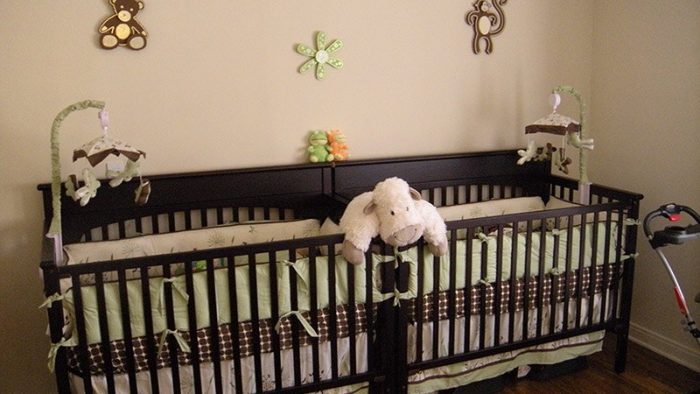 Recovery from birth, particularly from cesarean-sections, can make lifting your babies in and out of their cribs a little difficult. Having something that makes this easier, such as a higher mattress setting or bedside containment, can help healing progress smoothly and get Mom back on her feet with fewer hiccups.
Since the amount of weight lifted is usually recommended to be no more than the weight of your baby plus a carrier, being able to set one or both down without bending over too far is important.
Some cribs have changing spaces built in, and while this can be a very handy feature for one baby, it can quickly consume the space in a room for two. Keep their sleeping area simple and flexible. If you are finding space a little hard to come by, consider arranging their cribs in an 'L' shape in the corner of a room; this frees up space, and is a cozy arrangement.
Choosing the right cribs can be difficult if you don't know what to look for. While a larger size is important, there are other things that make a crib well suited for twins.
Some of the most important characteristics of a good crib for multiples are:
Adjustable heights
Separate areas for when they're older
Safety
Ease of transport (for travel cribs/pack and plays)
Size available in room
For a crib to be the right choice for you, it should have the features that you value most. The listed specs are good places to start.
Adjustable Heights
Newborns will be easiest to get in and out of their cribs if their mattresses are higher up, especially for Moms who may still be healing from birth. Being able to have one baby slightly higher up than the other can also help them not be distracted when they sleep by seeing each other, and thinking it's play time.
As they grow, so do their skills. Be sure and get a crib that can have the mattresses lowered enough to keep them inside while they learn to pull themselves up, stand, and eventually, climb. (Waking up to your baby somehow out of their crib and playing can be startling, as well as unsafe!)
Partitions
While it may seem like a cute idea to let your twins cuddle all night, ideally separating them not only keeps them safer, but allows them to learn to sleep independently and soundly. Once they learn to roll over and become mobile, you'll be glad you chose to have them sleep in their own areas! A mesh screen can provide safe separation in travel models, to avoid extra bulk and weight.
Having separate bedding also allows for adjustments that may need to be made, like angling the mattress or using a wedge for babies with colic or reflux. Just because they are twins, doesn't necessarily mean they'll have the same health.
​Safety
As always, safety is a concern with cribs. Slats should be well spaced to prevent trapping of limbs. Construction should be secure and solid with no jagged edges or improperly installed screws.
Checking for lead-free paint and non-splintering wood is also important. Most cribs nowadays are made of safely sealed wood, and can withstand most of what your babies will throw at it. Travel cribs should have secure stitching and netting, and support their combined weight.
Travel Needs
Sometimes it's not necessary to pack a crib while traveling, as many hotels have arrangements for baby's sleeping conditions. For peace of mind, many parents will choose to bring their own bedding anyway.
Some travel cribs and pack and plays will have wheels on the bottom for mobility, although this is not necessary. As long as the crib can be safely and easily lifted, broken down and stowed, it may be appropriate for your temporary needs.
Fitting Two In One Room
Small cribs are the best option for multiples. Helping reduce SIDS and overheating are just two of the many reasons why separate cribs are a better choice when they get older. One may be fine at first, but babies grow quickly!
For this reason, mini cribs have become increasingly popular options for twins. Wo together can occupy the same space as one standard to large sized crib, while allowing your babies to have their own safe separate spaces. Many parents choose to have their twins sleep next to each other so that they can see each other, and this may be the option for you.
Some cribs are round, as older decorative cribs were years ago. These options are nice if you choose to decorate their bedding, as long as baby-safe materials are used. Mesh screens for bumpers that can allow airflow, and minimal padding are advised.
Reviewing The Five Best Cribs For Twins On The Market
Many cribs have different main features, and many occasions arise in which something different will suit you best. Here we will review several different types of cribs, so that you can choose the best crib for your twins.
1.Delta Children Emery 4-in-1 Crib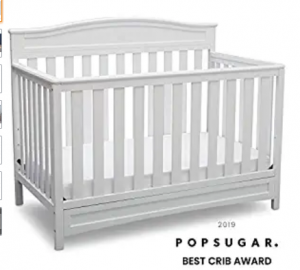 Read Parent Reviews | Check Best Prices
The Emery 4-in-1 crib can become a toddler bed with a special railing. By this point, only one twin may fit, but in case they both can share this bed, a safe version for tots is achievable.
Extra bumpers can be added for soft edges.This crib is well made, large, and great for twins! For situations where one crib is the only option for bedtime, this is a good choice. Construction is sturdy, the wood and paint have been tested for lead, and the mattress is adjustable.
Even better, this bed can turn into a full size bed for big kids, meaning one purchase is all you need for years to come! This bed comes in several different colors to fit any decór theme.
Pros
Large enough for two babies
High railings
Sturdy construction
Beautiful design
Easy to assemble
Converts to toddler bed, daybed, and full size twin bed
Tested for lead and safe
Three mattress heights
Cons
Slats may trap thicker limbs
---
 2.Arm's Reach Clear-Vue Co-Sleeper Bassinet
 Read Parent Reviews | Check Best Prices
Frequent night waking for feeding will keep new parents in and out of bed often, and the added security of keeping an eye on your newborns will help ease concerned Moms and Dads.
Co-sleeping is a preferred method of sleep for some parents, and with the introduction of bedside bassinets, a safe way to do so is now a reality.
Several areas for storage come built into the Clear-Vue bassinet, making quick access to feeding and diapering accessories easy. A foam mattress is included, keeping sleeping areas simple and comfortable.
The metal railings along the top are covered in soft fabric, yet offer handles for pulling oneself out of bed, a nice feature for healing Moms.
Pros
Safe cosleeping option- keep babies right by your bedside
Soft surfaces
Two mesh storage compartments
Storage for sheets and burp cloths underneath sleeping area
Cons
Not meant for long term use
Will fit twins for a few months
---
3. Delta Children Portable Mini Crib
  Read Parent Reviews | Check Best Prices
These cribs are of a simple design, and are easy to assemble. They come with a mattress, but this is reportedly on the thinner side. Buying a mattress of choice may be advisable.
Cribbing your twins in separate mini cribs can be the answer you've been looking for in safe and space-conscious bedding. These cribs can be placed next to each other without taking up the entire room, allowing for other furniture in the nursery to exist.
These cribs make great options for a frequent babysitter or extended family to purchase as well, due to their size and mobility. Many parents choose Delta for their twins!
Pros
Ease of mobility
Good option for separate cribs
Space saving
Sturdy
Good alternative to bassinet
Cons
May be outgrown faster
Mattress included is thinner than a separate mattress
---
4. Joovy New Room2 Portable Playard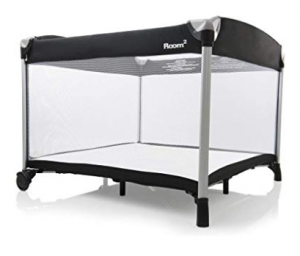 Read Parent Reviews | Check Best Prices
Soft mesh windows let you keep an eye on your kiddos while keeping them safely contained. Once it's time to go, simply fold the playpen and place inside the travel bag.
If you need space, The Room is for you! Offering over 10 square feet of space, this play yard doubles as a great place to let little ones play, and put them down for the night. The Room comes with a soft mattress for sleep, and is perfect for twins.
This travel bed can fit inside your car or be checked on your flight, ensuring your twins will have a comfy and safe space to call it a night, wherever you are.
Pros
Plenty of room for two – over 10 sq ft of space
Includes 100% soft cotton fitted mattress
Mesh windows for easy viewing
Placard folding for efficient storage
Comes with travel bag
Cons
Not good for babies who can climb out
Difficult to assemble
---
5. Dream On Me Sophia Posh Round Crib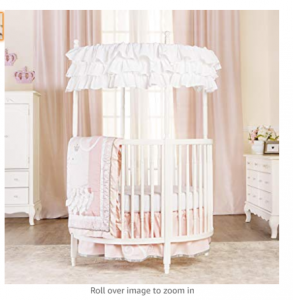 Read Parent Reviews | Check Best Prices
These cribs are very sturdily built, and have safe non-drop railings. The mattresses can be lowered twice, keeping your babies safely inside until they can stand.
The high pillars can make decorating fun and functional, creating a cozy space when it's time to sleep.
The Dream On Me round crib takes advantage of a classic design, making it both aesthetically pleasing, and a great way to make use of a smaller space. Two of these cribs can lay side-by-side for your twins while not taking up too much of the room, even in smaller rooms.
Pros
Round shape saves space and can be easily paired
Sturdy
Beautiful classic design
Non drop side railings
Cons
Not as large as rectangular cribs
---
 The Winner of The Best Cribs For Twins Is…
Out of all of the products reviewed, the Delta Children 4-in-1 Emery Crib is the best crib for twins. It has enough room for your babies, is safe, space conscious, and will last throughout the duration of their infancy. It is one of the few larger cribs on the market that has room for two.
Virtually any larger crib can be good for infant twins, with the use of a divider if separate sleeping spaces are desired. The quality of construction and versatility in transforming to larger bed sizes will mean the product you choose is worth selecting for years to come. Your twins will be happy with any one of these reviewed cribs!