Contents
How to Choose the Best Hospital Grade Breast Pump + Our Recommended Picks
Breast pumps are some of the best inventions for Mothers around. These handy devices allow working and traveling Mothers to deliver the best nutrition to their babies, and allow both parents to partake in the joy of feeding their babies. Choosing the best hospital grade breast pump requires some research – not all pumps are alike!
Practically every breast pump available claims to be the best, but only a select few are up to the task of frequent usage. A great pump is absolutely something worth investing in, since the better the pump, the better your supply.
What Should You Look For In A Hospital Grade Breast Pump?
How often you pump can make or break your milk supply. It is recommended to pump every time you would normally feed your baby while apart to maintain supply, since it's based on the frequency and amount your baby feeds. Overdoing it and not pumping often enough can affect this, so choosing a good pump that can do an efficient job every time is a must.
What are some things to consider when deciding if a hospital grade breast pump is right for you?
Does is qualify as hospital grade? (Is it a closed system pump with a separate accessory system?)
Do you prefer a motorized pump?
Do you need to be done quickly?
How steady is your supply?
What Is Hospital Grade?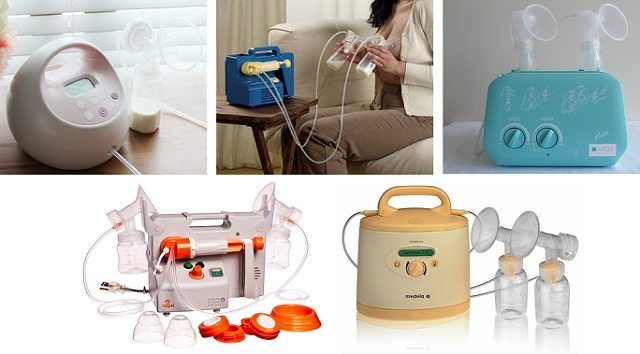 While it's not a concrete medical term, hospital grade refers to a breast pump with an external accessory system that can be cleaned and used safely by multiple people, if necessary. Hospitals in lactation committees can rent out these breast pumps, meaning they are sanitary and reusable. They are also described as 'closed system'.
Essentially, all pumping parts (the suction cup, membranes, and bottle or bags) should detach separately and completely from the pump itself. Only those parts require cleaning and maintenance.
Manual vs Motor Breast Pumps
Some pumps are motorized maintain the amount of suction desired, with different mode for initiating let-down and actively pumping after. These attach to you and requiring nothing more than pressing a button and allowing the machine to do the work. If you have to multitask while pumping, and need high volume milk, this is a good option.
If you are new to pumping and not sure if it's for you just yet, consider a manual pump. They focus on one breast at a time, and you fully control the speed and suction with each pump. This can be a better choice for lower milk supplies or feeding demands, and can help you decide if you're ready for a hospital grade pump.
Faster Pumping For More Productivity
For mothers who are returning to work, the need to efficiently pump is very important. Being able to pump hands free while working will help alleviate the stress of finding time to maintain your supply. The dual motors in most models mimic the natural suction that nursing babies provide, as well as customizable let-down modes to trigger release of milk faster, further saving time.
Hospital grade pumps may be a good choice for you if you need to pump quickly, and don't have time to clean after each use. The closed system these pumps provide will help you get on with your day, knowing that your breast milk is pumped and stored in sanitary conditions.
Maintaining Supply
Being diligent about your pumping schedule is very important; every time your baby would feed, you need to pump. Otherwise, your body will get the signal over time to produce less milk, which can be difficult to reverse. Bring plenty of storage bags, bottles, and cooling devices, as well as all the parts needed if you're away for extended periods of time.
On the other hand, pumping too often can also diminish your milk supply. The breast needs to be emptied as much as possible with each pumping session to mimic feeding, and not all pumps are able to effectively do this as well as your baby can. Don't overdo it!
Best Hospital Grade Breast Pumps On The Market
Listed below are the top hospital grade breast pumps, used by Moms everywhere. Each kind is suitable for a different supply or usage level.
1. Nibble Dual Motorized Breast Pump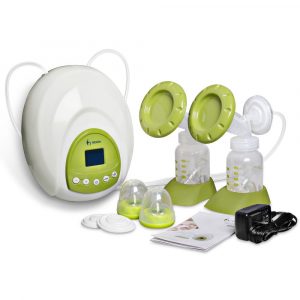 Read Parent Reviews | Check Best Prices
This system has backflow protection, so that no pumped milk flows back into the machine.
An LCD display provides information on time spent pumping, strength, and speed. The pump can be powered using batteries, or a wall mounted plug.
The Nibble Dual motorized breast pump from Gland if one of the most comfortable breast pumps available. 10 choices in suction speed means the optimal amount of force is used to pump, leaving your supply well maintained.
A closed system promotes a hygienic experience.
Pros
LCD display with backlighting
Comfortable suction cups
BPA free
10 levels of suction strength for ultimate comfort
Battery or wall mounted
Hygienic
Cons
Membrane can slip and cause inadequate air flow
2. Medela Symphony Hospital Grade Breast Pump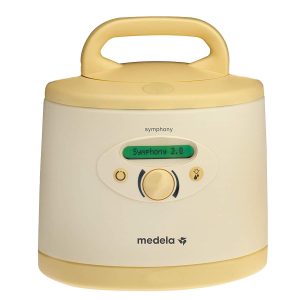 Read Parent Reviews | Check Best Prices
2-Phase programming has a gentle mode to trigger let-down, and a deeper rotating mode that mimics feeding to express breast milk thoroughly.
All settings can be stored and applied to later use in other devices with a storage card. This pump has helped those with supply issues produce more milk consistently.
The hospital grade motorized pump from Medela is an internationally recognized choice and hospitals for both quality and performance.
Proven to lesson time spent pumping and extract more breastmilk each session, this is a serious pump for mothers who rely on maintaining their supply with this method.
Replacement double or single pumping systems can be purchased here.
Pros
Hospital grade BPA free pump
Top trusted choice in hospitals
Hygienic
The only pump with two mode phasing
Efficient emptying after let down phase
Programmable pumping stored on card for future use
Ph.D. researched
Proven to reduce pumping time
Cons
3. Spectra Baby Single/Dual Breast Pump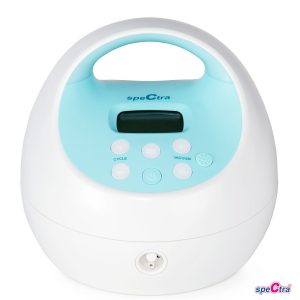 Read Parent Reviews | Check Best Prices
A rechargeable battery means this pump is portable, and with a whisper quiet motor and night light settings, you can easily pump while watching your baby sleep.
This pump can also be used in quieter work settings like offices, where a loud pump may not be favorable.The spectra breast pump can allow for single or dual use, offering a programmable pumping session, complete with let down mode.
Once you develop a rhythm for how your body responds to pumping, a setting can be saved and reused.
This pump does not come with a warranty, so replacing parts or malfunctioning computers through Spectra can be a bit of a hassle.
Pros
Silent motor
Dual or single use
Hospital grade
Hygienic closed system
Rechargeable battery
Night light and timer
Let down mode and programmable pumping to suit your needs
Cons
Heavy to carry
Slow to pump full amount
4. Medela Lactina Select Hospital Grade Breast Pump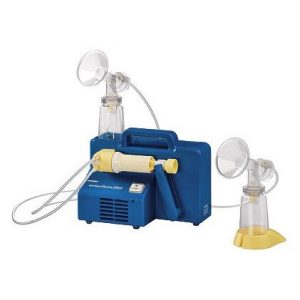 Read Parent Reviews | Check Best Prices
Built with comfort and safety in mind, this closed system pump has a timed vacuum release that will automatically prevent excessive suction from occurring, preventing injury.
The entire unit is 8 pounds, making it easy to transport. Battery operation or wall charging is offered.Another Medela product, this breast pump is one of the few hospital grade pumps that is great for travel.
A vehicle charging unit can be ordered, enabling pumping while driving! For the busy Mom on the go, this is an excellent quality pump.
Pros
Double or single pumping
Built in vacuum release prevents prolonged suction and discomfort
Electric or battery use
Lighter than most pumps – great for travel
BPA/DEHP free
Cons
Plus model discontinued and no longer identified by insurance companies
5. Ardo Carum Hospital Grade Breast Pump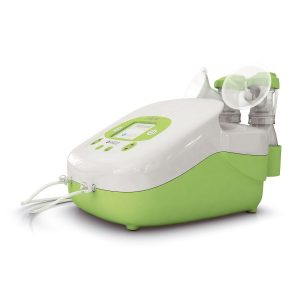 Read Parent Reviews | Check Best Prices
An ergonomic design paired with a closed system allows for an aesthetic and hygienic device that is easily cleaned.
Though it is heavier than some pumps at 12 pounds, it's efficiency may be worth it in the long run. This is not recommended for travel. This pump also features an easy freezer storage section, allowing milk storage.
A newer pump on the market, the Ardo Carum lists comfort as its foremost feature. Sensitive mode ensures that nipples that are already chapped and sore can be comfortably pumped while healing. A dual vacuum system keeps suction strong on both sides.
Pros
Independent vacuum and cycle adjustments
Sensitive mode for sore or chapped skin
No additional parts needed when replacing wear and tear
Dual suction keeps both sides even
Ergonomic design for easy use
Cons
Not as well recognized as other hospital grade pumps
Heavy
The Winner for Best Hospital Grade Breast Pump Is…
When comparing breast pumps, they all may claim to do the same thing. Due to the usage in hospitals and long-standing reputation, the Medela Symphony Hospital Grade Breast Pump is the overall best hospital grade breast pump choice.
This pump has been reported to so much as double expressed milk supply, which is essential for babies who have difficulty latching or are away from their Mothers often. It delivers the most consistent and impactful results, with the fewest incidences of breaking down. Other pumps do not seem to hold up like Medela's can!
The right hospital grade breast pump can make a huge difference in your breastfeeding experience, and is worth finding the absolute best brand. The less you have to worry about your milk supply and pumping experience, the happier you and your baby will be.