In the past several years, bikes specifically built for toddlers have boomed – in a big way. There are so many different designs on the market that not only catch the eye of the kiddos but help them learn how to ride safely. Many of these bikes allow children to master more basic biking skills before trying to tackle everything at once.
We've compiled the top 10 best bikes for toddlers in this list. We're hoping that one of these products will help you to instill a love of activity from an early age for your tot. Do not be surprised if your little one spends hours aboard his or her new "ride" and cannot wait to graduate to "big boy and girl" bikes (with training wheels of course!).
Each of the bikes on the list offers something special so you can enjoy watching your toddler delight in outdoor activities. Getting outside–and staying outside–is arguably more important than ever in today's world of high-tech gadgetry. Ensure your kiddo learns to love and appreciate the outdoors from an early age! Have fun picking your favorite one!
---
Cruzee UltraLite Balance Bike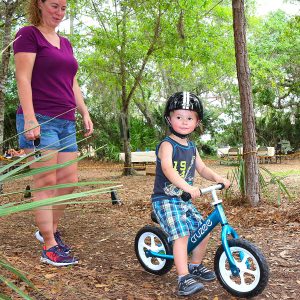 Read Parent Reviews | Check Best Prices
The Cruzee is the best way to get your toddler riding a bike! It nixes the training wheels and teaches balance in no time! Coming in a variety of colors as well, your little one can personalize his/her ride too.
A no pedal bike is a great way to watch your little one explore and get comfortable with the idea of being free on their ride. These bikes come with a lifetime warranty too and if your child doesn't take to it, you'll get your money back hassle-free. Buy from $159
---
The Piki Piki Bike
Read Parent Reviews | Check Best Prices
The Piki PIki Bike is super lightweight making it easy for both parents and toddlers to maneuver, there's no assembly required, and super easy to steer. Basically, this bike has the benefits of a simple afternoon of fun outside. Actually, you can easily keep this bike inside as well, if you have space for your little one to ride. The design is from South Africa and features a sturdy, balanced, 3-wheel piece that helps toddlers become a bit more efficient on their bicycling adventures. Buy from $70
---
Fox Air Beds Bike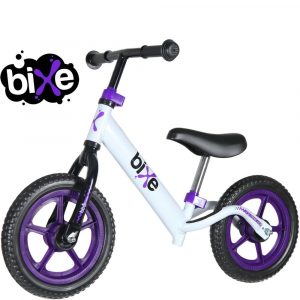 Read Parent Reviews | Check Best Prices
This is another push and stride bike that's perfect for toddlers. It develops balance without the use of pedals. And it comes in some really rad color combinations like this crisp white and dark purple beauty. It's only four pounds so it's lightweight and easy to carry and the seat is adjustable for growing legs. The setup it simple for parents – as it comes partially assembled already – and the reviews are fantastic so it's easy to see how much families are loving the experience it's giving. Buy from $70
---
Radio Flyer Deluxe Steer and Stroller
Read Parent Reviews | Check Best Prices
The Radio Flyer Bike is one of the classics on the list. It's safe, it's comfortable, and parents get a lot of control over playtime with its push frame – although that steer is removable for when your kiddo is ready to soar on their own.
Perfect for ages 2 – 5, the seat is adjustable for growing tots and there's even some storage in the back to carry some toys! There's a bell too making the ride even more interactive and fun. Buy from $69
---
KaZAM No Pedal Bike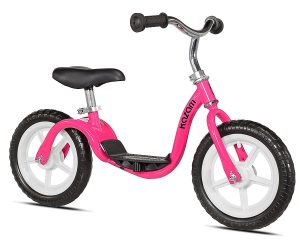 Read Parent Reviews | Check Best Prices
Your little guy or gal will feel like the ultimate "big kid" with one of these awesome KaZAM bikes. Coming in some super sharp colors and at a price-point that can't be beaten, it's one of our personal favorites found on the list.
The design accommodates kiddos up to around 5 years of age and does what other no-pedal bikes do – helps to build confidence and strengthen balance. You may have even seen this product on Shark Tank! Buy from $59
---
Banana Bike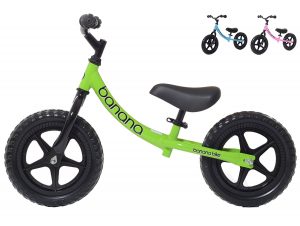 Read Parent Reviews | Check Best Prices
Here comes the "banana" bike! With a unique shape and cool colors, your little one may gravitate towards its offbeat vibe. Pink, blue, or green, there's a shade for every child to love. This particular model has been updated, so it's even better than it was before! The seat, the frame, and the wheels were all upgraded – but the design itself is a great way for little ones to begin their biking experience. Buy from $59
---
JOYSTAR Bike
Read Parent Reviews | Check Best Prices
We're loving the overall style and vibe of this design! The multi-toned look gives us a funky, 80's vibe and it has training wheels, making it a good start on your toddler's journey to learning how to ride a bike like a big boy or girl! What's great about this one is that it can be ridden with or without the training wheels. It also comes with 4 pieces reflectors for handlebar, seatpost, front and rear spokes, and a roast brake. Buy from $90
---
Paw Patrol Bike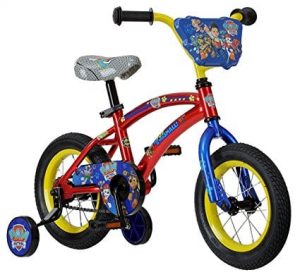 Read Parent Reviews | Check Best Prices
Finally, we have a Paw Patrol bike that will most certainly strike the fancy of tons of toddlers. It's at a great price point and it will certainly do its job in terms of teaching little ones how to pedal and be comfortable in the bike's seat. The bike is great for 3 – 5 years old and because of its lively, character-inspired design, it's the perfect gift for the holidays or for birthdays! It's also one of the most highly-rated bikes on Amazon's Choice list, so if that doesn't seal the deal we don't know what will! Buy from $89