How to Choose The Best Pads For After Birth and Our Top Picks for 2017
Choosing The Best Pads For After Birth
Giving birth is a tough and very rewarding experience. A woman's body goes through a great deal during this time, and healing afterwards can be a lengthy process as well. What is in store for you once you meet your precious new bundle of joy?
Whether you give birth naturally or through a cesarean section, chances are you'll be pretty sore afterward. Along with this, begins a prolonged period of heavy bleeding, known as lochia. This can occur anywhere between a few days to several weeks.
Maternity pads will be necessary at first, and picking the right fit for you will help make things easier as your body recovers. Knowing ahead of time which brand is the best pad for after birth will help you be prepared from the moment you leave the hospital.
Best Pads For After Birth for 2017
---
What Makes A Good Maternity Pad?
As mentioned, maternity pads are much more heavy-duty than standard pads. They are longer, thicker, and some are packed with highly absorbent material in every surface to give you the best chance to stop leaks. Some are made of natural material, which can be important to choose after a surgical intervention during birth.
You will definitely want to make sure the pad you choose offers these features:
Absorbency
Soft material
Longer shape
Optional cooling ability
The right pad will carry you comfortably through the first few days when bleeding is at his heaviest, so continue reading to get a better idea of which to choose!
Absorbency
While some heavy duty maxi pads will be more suitable later on during the course of your healing, you may need as much absorbency as possible for the first few days immediately following birth. Choosing a pad that is specifically marked for maternity will be your best bet.
Many brands claim to have the most absorbency available, but sticking to a brand that has a type of anti-leak core indication, as well as in the front and back, will provide a better experience.
The Softer The Better
After you give birth, specifically if you deliver naturally, you will be very sore. The softer material you are sitting on is, the more comfortable you will be. In general, after the first week or so, the soreness should subside to a more manageable level.
Materials like cotton, bamboo, and hemp are the softest and best natural wicking materials to look for in free and clear brands. These fibers can replace the need for chemicals, which can be desirable for eco friendly women or women with extra sensitivity needs in preventing rashes and irritation.
Shape
When considering how long your pad should be, think of an overnight pad. These are longer and have more absorbent channels all the way to the ends. You will definitely want an elongated shape, with the option for wings or a wider surface area.
The best pad maternity pad shape is similar to the traditional 'figure eight' shape of most pads, except longer and wider. The amount of bleeding experienced while healing from birth is substantially greater than most periods, so more material will be needed to compensate.
Leave The Peas In Freezer
The option to have relief from cool temperatures through efficient moisture wicking is a feature you may definitely want to consider, especially for the first 2 to 3 days when you will be the most sore. For most women who deliver naturally, bleeding and soreness subsides after the first week, and regular pads can be used. Cesarean births require more healing time, usually 2 to 6 weeks.
A helpful tip mentioned from many who have given birth is to find an additional sleeve that holds a cooling gel that can be worn with a pad, or freezing the actual pad itself for a few hours before use. This is suggested in situations where hemorrhoids or stitches are present.
Reviewing The Five Best Pads For After Birth On The Market
Below is a compiled list of the five best brands of pads for after birth, designed to suit your needs best.
1. Always Infinity Overnight Pads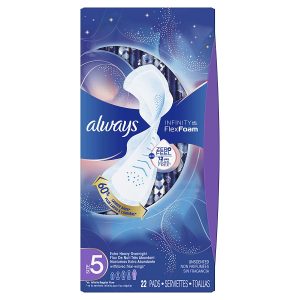 Read Parent Reviews | Check Best Prices
FlexFoam allows this pad to stay incredibly thin and discreet, while also being incredibly absorbent. It's capable of absorbing 10 times its weight, which means fewer trips to the bathroom. The material is very soft, and it's ability to adhere to any shape means even more comfort.This is perhaps one of the best brands of maxi pads available, and can stand to the demands of postpartum bleeding. I used this brand after my cesarean section, and for all five weeks that it was needed, it never let me down.
The wings themselves or absorbent as well, which help stop leaks. A highly absorbent core lines the entire length of the center of the pad, keeping the majority of the bleeding away from the edges. While this pad's overnight version is lengthy, it's not quite as long as some other available maternity brands.
Pros
The thinnest and lightest pad available
FlexFoam offers extreme softness and absorbency
No bulk
Adheres to any shape for secure fit and no leaks
Absorbent wings keep pad in place
Cons
Not as long as other maternity brands
---
2. U by Kotex Long Super Maxi Pads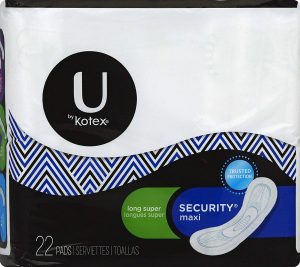 Read Parent Reviews | Check Best Prices
This pad offers good coverage and secure adhesion, helping new mothers worry less about healing and focus more on baby. Five adhesive strips line the outline and center of the pad, affixing it securely to your clothing. Quiet wrappers ensure that your usage stays private and public, a welcomed feature among women everywhere.U by Kotex is known for its natural shape, helping fit underwear and shiftless throughout wear. The highly absorbent pad is unscented, helping reduce rashes and irritation. Kotex's Security guarantee offers reassurance in leak prevention.
These pads are considered quite bulky, so they may not be the best choice for tighter fitting clothing where a low profile is desired. While unscented, they are reported to have a slight chemical smell to them from the absorbent gel contained in the anti leak core.
Pros
Extra long
Highly absorbent
Very soft
Unscented and suitable for sensitive skin
Security* guaranteed
Quiet wrapper for discreet public use
Cons
---
3. Always Maxi Overnight Extra Heavy Pads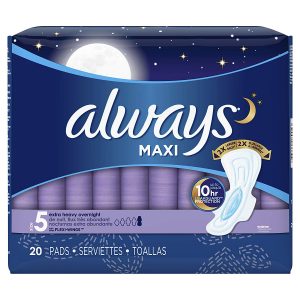 Read Parent Reviews | Check Best Prices
The extra wide and extra long shape is great for stopping leaks, with large absorbent wings to further provide advanced absorption. The material is soft and thick, which may provide extra comfort for more sore areas. The thickness may be unfavorable for discretion.This is the most absorbent pad Always has to offer, made for the heaviest flows and a go-to for new mothers. Designed for overnight use, this pad allows the wearer to wear them for more prolonged periods of time.
These pads do contain chemicals in the absorbent material, which may not be the best choice for new mothers who prefer a free and clear alternative.
Pros
Suited for extremely heavy flows
Designed for long periods of use
Very soft
The most absorbent pad from Always
Extra wide for extra protection
Winged
Cons
---
4. StayFree Overnight Maxi Pads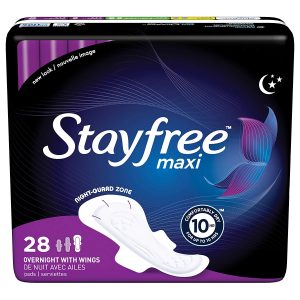 Read Parent Reviews | Check Best Prices
Inspired by athletic fabrics, these pads have Thermo Control technology, which helps wick moisture away quickly for a cool feeling. An odor neutralizer is present to help stop odors, but should not be mistaken for scented padding or perfume. Some women are sensitive to scented products and may want to avoid this brand.StayFree's overnight maxi pads provides the absorbency and lick protection that new mothers need. A highly absorbent core traps liquid, and works with the nightguard zone to help leaks stop before they start from all sides. An extra wide size covers all needed surfaces.
Since these pads are designed for overnight use, they are bulkier than some thinner versions. While comfortable, they are not the most discreet. Some women noted that the pad still felt noticeably dryer after use than some other brands, making this a great option for the first few days of healing.
Pros
Extra long
Soft material
Highly absorbent anti-leak core
Night-guard zone helps stop leaks from sides, front, and back
Thermo Control technology
Odor Neutralizer
Cons
Bulky
Stronger scent than other brands
---
5. Natracare Ultra Extra Pads
Read Parent Reviews | Check Best Prices
100% organic cotton sits next to the skin, offering moisture wicking and organic absorbency. No extra chemicals means no odor during use, which can occur with other conventional brands of pads. Those prone to rashes may benefit from using this pad.Some women prefer a chemical free approach to feminine products. Natracare specializes in organic and chlorine/plastic free alternatives to sanitation, being sure to deliver extra needs for maternity. This ultra thin pad is extra absorbent, soft, and reliable.
These pads are ideal for someone who has had stitching from tears or a cesarean section, and needs a chemical free pad to reduce the likelihood of infections during healing time.
Pros
Chemical free for a natural approach
Organic cotton next to skin
Ultrathin design with wings
Highly absorbent
Cons
Adhesive is not as strong as other brands
Slightly thinner coverage shape
---
The Winner of Best Pads For After Birth Is…
Always Maxi Overnight Extra Heavy Pads are the best choice for the postpartum needs of recovering mothers. These pads are reliable, super absorbent, and big enough so that you don't have to worry about leaks. Some others even suggest putting a few of these in the freezer before using for the first few days when you will be the most tender!
The other brands had higher reports of leaks or bulkiness. Always is one of the leading brands for offering a thinner pad that's still a workhorse. With the invention of FlexFoam, no other pad can provide the amount of absorbency while maintaining an ultra thin profile.
Once you leave the hospital, it's up to you which brand to choose. The right maternity pad can make a difference in how well your healing goes, helping you be more at peace.