Hands On With Decoka Active Noise Cancelling Headphones
The sound of the modern world is simply deafening. At least, it would be if I could hear it.
Thanks to the 28 dB active noise canceling (ANC) functionality of these affordable Decoka headphones I'm wearing, the world outside is little more than a gentle hum that barely registers above the ANC's white noise.
Remove the ANC, and these Decoka headphones are standard fare as far as headphones go.
Like most headphones available today, they come with an inline control that also has a built-in mic.
Perfect for the modern smartphone user, so long as you're not too modern: these Decoka's use the 3.5mm headphone jack.
These affordable noise-cancelling earbuds are a prime example of top-tier technology trickling down into ever-more affordable devices.
Product Information & Specifications
---
Full disclosure: Decoka sent me these headphones at no-charge for my review. Prior to writing this review, I've worn the Decoka's for approximately 42 hours (two complete charge cycles).
Specifications
Price: $39.99 (Jan 28, 2018)
Coupon Code: DK100 (15% off)
Built-in active noise canceling
Great ANC functionality
20 hour battery life for ANC
Inline volume control
Inline microphone control
3.5mm headphone jack
Charged USB cable (included)
3 x eartips
3 x wingtips
Where to Buy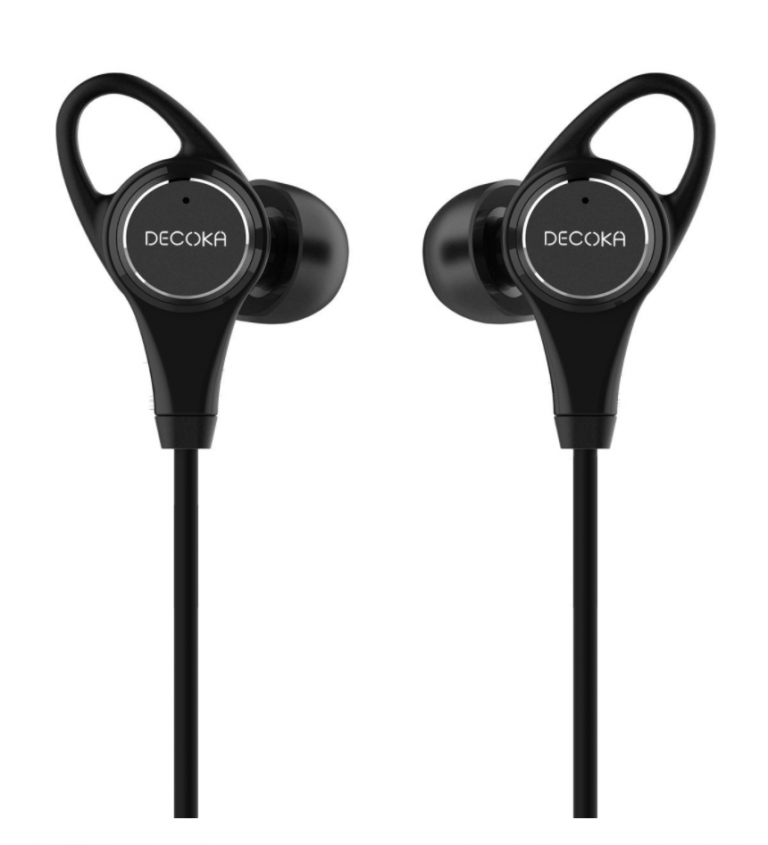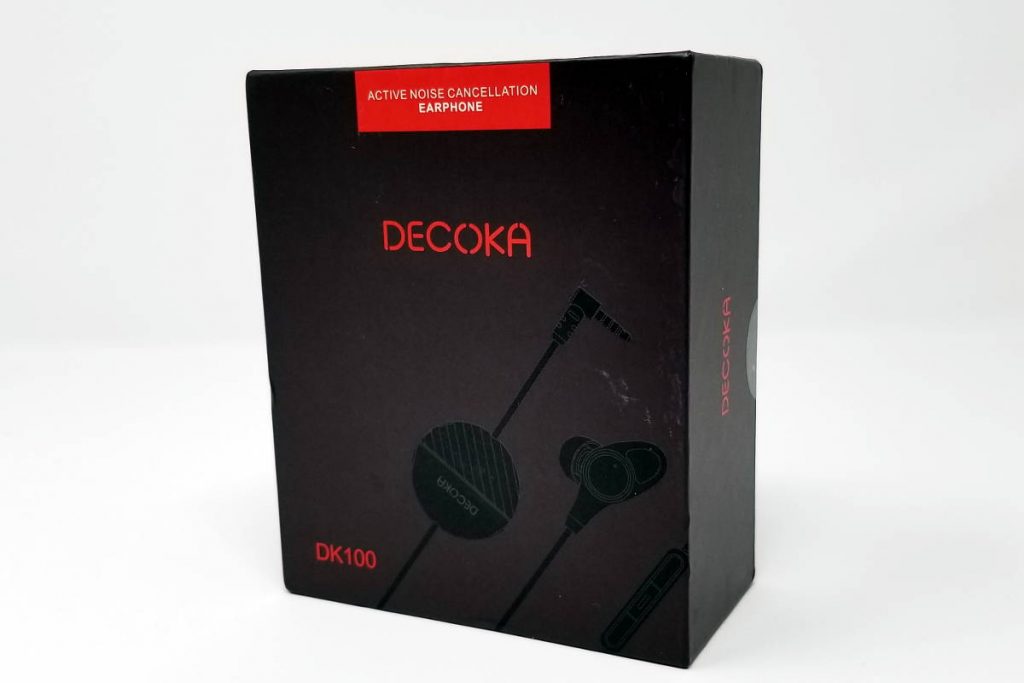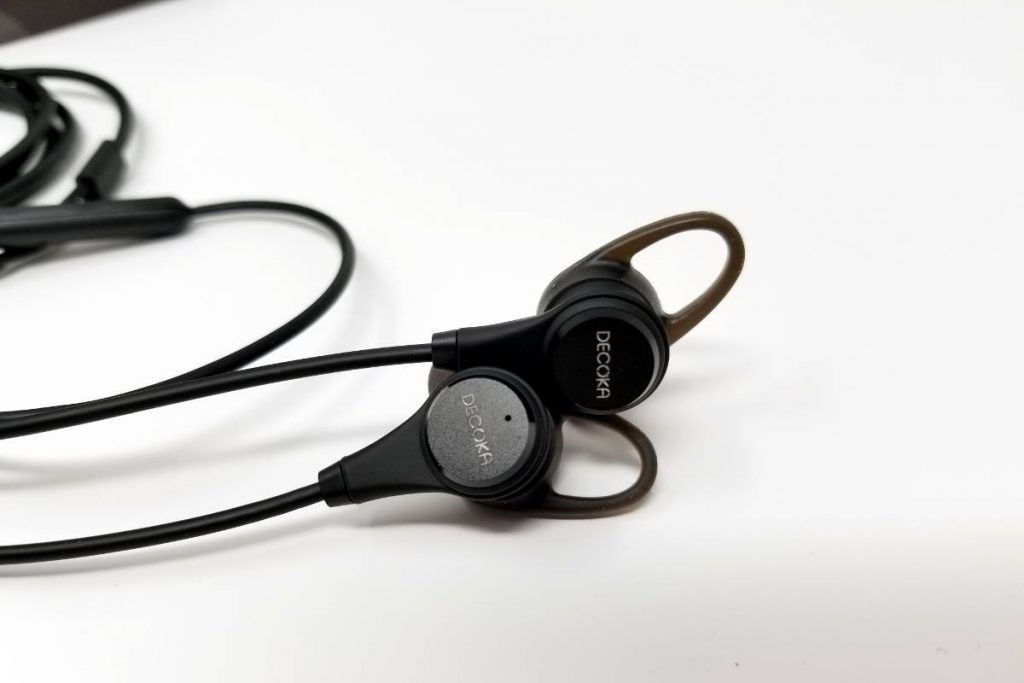 The Brand Factor: Who is Decoka, Anyway?
---
If you've never heard of Decoka before, you aren't alone: until they e-mailed me, I'd never heard of them. Their business model isn't one that places much emphasis on branding; they are what's known as a FBA brand– Fulfilled by Amazon. The goal of the FBA business is to over consumer goods – such as these headphones – are discount prices in an effort to gain visibility on the Amazon marketplace.
It's not too dissimilar with how websites compete to get ranked on the front page of Google: generally speaking, the better product – with the most reviews – is the one Amazon will show the most. Decoka wants to be included in that list.
Comfort
---
Working from home affords me plenty of advantages when it comes to testing products like this. To sample the might of the ANC, I decided to run them for a few days and see how they did.
I found the medium eartips to be the perfect size; the same goes for the medium wingtips. With the mediums, the Decoka's stay snug in my ear. They fit securely – not quite too tight – and are fine to wear for a couple of hours at a time. I found that my inner-ears started to get a little uncomfortable after two continuous hours of wear, which is forgivable given their design and price.
Sound Quality
---
Given that these headphones are not amplified beyond what the source signal sends, they sound reasonably good. A few points stand out:
Bass is minimal, as is to be expected from small in-ear earbud-style headphones like this
Mid-tones are over-emphasized, which is typical of most budget headphones
Highs are tinny at times, but are actually pretty good
Overall, they won't be winning any sound quality awards, but they are a definite step-up compared to the headphones that came with your smartphone.
Active Noise Cancelling (ANC) Functionality
---
So, if you aren't buying the Decoka's off of the strength of their brand (ha), why are you buying them? Surely it is because of the noise cancelling feature. With a push of a button, the Decoka's remove a claimed up to 95% – or 28 dB – of ambient noise. Those that already own a pair of noise cancelling headphones will likely find the ANC in these Decoka's mediocre at best, but if you've never owned a pair with ANC before, the effect is impressive indeed.
Besides, the ANC works quite well for a pair of $40 headphones.
Few Things to Remember…
The ANC only works when charged – The round "puck" has a micro-USB port that charges the internal battery.
A full charge = 20 hours of life – Once fully charged, these Decoka's will give you about 20 hours of ANC life. Note that the battery does not need to be charged for the headphones to function without ANC.
The ANC will mute most sound from the mic – As I found out when trying to record a few video clips, the trying to record audio via the built-in mic will the ANC is active will result in severely muted recorded audio.
The monitor button mutes sound through the headphones, too – If you've got your phone at max but the sound from the headphones is only average at best, it's because you've got the ANC on and the monitor function enabled. Once enabled, monitor reduces external and internal audio to make it easy for you to hear what's happening around you.
Conclusion: Not a Bad Way to Spend $40
---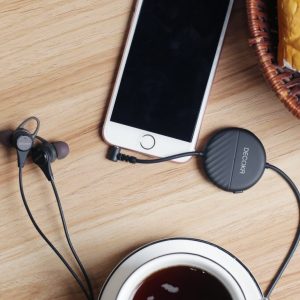 As far as FBA businesses go, Decoka is one of the better ones. Compared to branded headphones of similar quality and functionality, these Decoka's are at least 33% less expensive.
As far as I can tell, the quality is comparable to any other headphones you might buy. Take the Decoka name off the earbuds and ANC mechanism and these could easily be labelled Sony (or whatever other name-brand you favor).
Given the average sound quality, average mic quality, and average quality of the ANC, the fact that these headphones are priced below-average in the market makes them a good value. I'm satisfied with them and will continue to enjoy them.