Defend the Cake Tower Defense App Review
App Info
Price: $4.99
Overview
Defend the Cake Tower Defense is a tower-defense-style game that will keep players hopping to protect their cakes from ants and other marauding bugs. It's family-friendly and fast-paced, encouraging higher order thinking skills, planning, resource management, and quick thinking.
Features include:
18 levels for hours of fun
3 bonus levels
6 types of defenses with two level ups for each
Easy-to-use day and night system to control when bugs attack
Built-in leaderboard to share your ranking
Quality
Defend the Cake Tower Defense Game is a high quality app that will provide loads of fun to adults, children, and families who enjoy tower defense. The game is quite family-friendly and suitable even for younger children. There is a tutorial and a handy guide to game elements. The settings control the language of the prompts (choice of 6 languages), music and effects volume levels, the capability to restart the level, and even a map of the world.

Education
This app is not intended to be educational.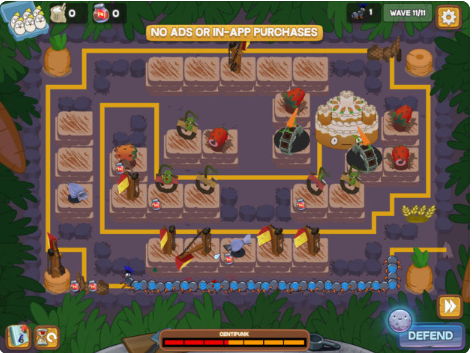 Entertainment
Young children especially will love this tower defense game. Much like Plants vs. Zombies and others in its class, the game has the trappings of more grown up games, but is appropriate for younger players while being engaging for more mature players. This means it's an ideal family activity or something that siblings can enjoy together. The game will encourage strategic thinking, planning, and timing, allowing players to build skills and play on their strengths to move through the levels. There's enough complexity to keep the interest of older players, and it's simple enough that young children can get the idea of how to play.
The game consists of building and placing a cake during the "day", then defending the cake from marauding bugs at "night."  The primary means of defense is to create walls of toast that form a maze to guide the bugs past weapons and stretch out the time it takes them to get to the cake.  It's a battle of wits with bugs, and kids will love it!
Value
This game costs $4.99. For dedicated TD fans it may seem a little pricy for only 18-21 levels, but for more casual players, the cost is well within lines. It's also a fair price to find a tower defense game that plays like the big kids like while being appropriate for younger users.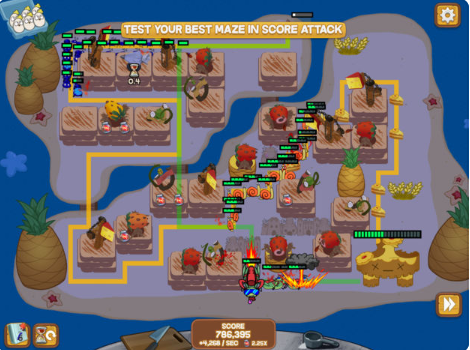 Child Friendliness
Defend the Cake Tower Defense is mostly child friendly. There are no in-app purchases or outside advertisements. However, the settings button is unprotected, and within that section, children can access not only game settings but also have unfettered access to the internet. It takes quite a few button presses to actually get on the internet, but it is possible.
NO social media

NO 3rd party ads

NO in-app purchases

YES unprotected access to the internet

Defend the Cake Tower Defense
Defend the Cake Tower Defense
Defend the Cake Tower Defense is a fun game that will help young players feel quite grown up and at the same time has enough meat to it that more experienced players will enjoy the game. It's a great game for family competitions!