A Swing Set is one great toy where children could benefit most: not only will they be able to do a good amount of physical activity but also kids learn social skills when they bond with playmates, and parents as well.
One of the most important factors to consider when choosing a swing set is safety. As the more known (and sturdier ones) are of metal, parents would not want their children bruised to the detriment of physical activity. We have compiled here a summary of the best swing sets in the market to give parents an idea of what to consider when deciding on that best swing set for their children.
---
Top 5 Best Swing Set Recommendation
Top 5 Best Swing Set 2016 Comparison Table
Product Name
Material
Dimension
(inches)
Price
Our Rating
Lifetime Heavy Duty A-Frame Metal Swing Set

Steel

112x 125.5x 162.5

$$$

 5
Flexible Flyer Backyard Fun Swing Set with Plays

Steel

87.5 x 17.5 x 10.8

$

 4
Swing-N-Slide Orbiter Swing Set

Wood

113 x 96 x 84

$$

 4.5

Flexible Flyer "Triple Fun" Swing Set

Steel

152 x 122 x 72

$

 3.75

Home Playground Equipment (by Kettler)

Metal

140 x 136 x 78

$$$

 5
---
Lifetime Heavy Duty A-Frame Metal Swing Set (by Lifetime)
 Read Parent Reviews | Check Best Prices
A heavy duty metal swing set designed for kids of all ages, it provides children with hours of fun play right at your backyard.
Includes two belt swings and a trapeze bar with gym rings.
Made of powder-coated steel and UV-protected polyethylene plastic.
Swing can stand on its own: does not require cementing or anchoring to the ground.
Dimensions: 112″ H x 125.5″ W x 162.5″ D.
Pros
Cons

As it is designed for safety, contact areas and hard edges like seats, chains, and gym rings are covered with plastic caps or soft rubber grips to prevent pinching.
The playset is made with all-weather, high strength, low alloy steel so that will not peel or crack like wood playsets.
3" diameter pole is rust resistant so it can be enjoyed by children as they grow up.
Can comfortably be used even by adults (up to 150 lbs).
Practically maintenance free.

May need anchoring especially when users are kids who swing high. Has a tendency to "walk" a few inches when powerfully pushed by kids.
Will need at least a ground dimension of 16 x 18 ft if children would like to enjoy high swings and would need the help of an adult to push them.
---
2. Flexible Flyer Backyard Fun Swing Set with Plays (by Flexible Flyer)
 Read Parent Reviews | Check Best Prices
A 4-legged all in one tubular steel gym set that includes a 6-foot wave slide, two swings, a two-seater air-glider, trapeze swing and a see-saw all equipped with deluxe seats and handles.
Swings have plastic-covered adjustable height chains and green kid comfort seats that match the color of the tubes and slide.
All painted and plastic parts have UV protection so they won't fade.
Targeted for use by children between 2 to 10 years old.
Dimensions: 87.5 x 17.5 x 10.8 inches ; 89 pounds.
Pros
Cons

Swing set comes with a variety of activity toys which the children will enjoy (slide, glider, see-saw).

Not very durable. Customers had problems on chairs either snapping off or having cracks, slide surface splitting.
Set has to be anchored otherwise could topple over
No rust-proofing so might not last for long.
Swing cannot support children up to 10 years old as it claims. Most users say that swing seat only braces children safely up to 5 years.
Swing set height limits the height of the slide so that children do not enjoy their glide down
---
3. Swing-N-Slide Orbiter Swing Set (by Swing-N-Slide)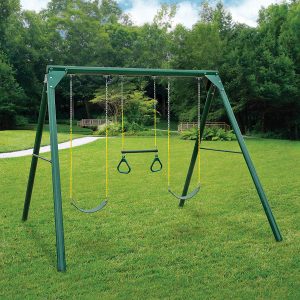 Read Parent Reviews | Check Best Prices
This swing set provides enjoyment to children while maintaining the highest quality of standard in safety and durability. Has two swing seats and a ring/trapeze.
The swing set includes two swing seats that can carry people up to 115 lbs. each.
Children up to 115 pounds can experiment swinging, soaring and hanging in as many ways as possible using ring/trapeze combo.
Tubular posts are made of wood. Woodguard covers the posts to protect it from elements.
Meets strict ASTM (American Society for Testing and Materials) standards of safety.
The swing set comes with an anchor set.
Dimensions: 113″ L x 96″ W x 84″ H.
Pros
Cons

It comes with an anchor, although most buyers did not find a use for it as the swing set is heavier and sturdier than its metal counterparts.
    Easy assembly because aside from having instructional materials that you can just follow, even just one person can put it up after an hour or two.
    The swing is tall enough so that parents would not have to stoop down to give their children a push on the swing, but it is not so high as to require a ladder to make adjustments in the swing.
    The wooden posts are covered in Woodgard so that the posts are protected against rot, decay, and insects.
    Because of the Woodgard, the swing set is very low maintenance as there is no need for sanding or repainting. There are no splinters to take off as well. 

Some customers had difficulty in fitting the screws in the pilot holes as the pre-drilled holes were not big enough to accommodate the size of the Phillips head pan screws.
---
4. Flexible Flyer "Triple Fun" Swing Set (by Flexible Flyer)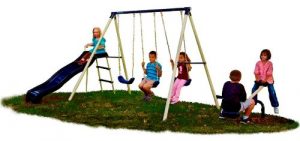 Read Parent Reviews | Check Best Prices
A multi-activity metal swing set that comes with adjustable height chains, a see-saw, and a plastic wave slide. Steel tubes are painted in ivory and paired with midnight blue seats, slides and handles for that classic look.
Children up to 105 lbs can comfortably play with the set. At any one time, six children with a combined weight of 630 pounds can be safely accommodated in the set.
Steel frame design; powder coat painted finish.
Dimensions: 87 x 17 x 10.5 inches; carton weight is 70 lbs.
Pros
Cons

All painted parts have UV protection so it won't fade.
Slide is made of hard plastic, so children did not complain about it being hot.
The swing set held off well despite the absence of a snow cover.
The metal posts did not show any signs of rusting despite being under the rain and snow.

Those who bought the swing set advised against extreme swinging.
Doesn't move much with toddlers when on concrete but may have to secure the set in concrete when used by children five years and up.
Slide is good enough for toddlers but not children five years and beyond.
---
5. Home Playground Equipment (by Kettler)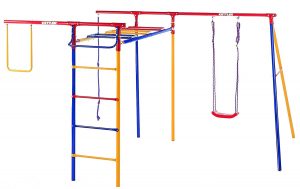 Read Parent Reviews | Check Best Prices
This playground equipment will keep the children busy while providing the much needed physical activity while trying to be physically fit.
This all-metal play equipment has a vertical ladder with swing bars, a swing seat, a suspension bar, and a pull-up rope.
The playset is made of sturdy metal with UV protection for a non-fade finish and a powder coat finish that resists rust to ensure prolonged use.
Assembly is required, and playset should be anchored in concrete.
Recommended for use by children between 3 to 8 years old.
Play set Dimensions: 140 by 136 by 78 inches (LxWxH), assembled weight is 140 pounds.
The equipment can withstand a maximum combined weight of 300 pounds.
Pros
Cons

The playset will prove to be very sturdy when anchored to the concrete as advised.
The set will not rust despite the all-metal frame as it is coated with a thick paint.
The playset is like no other playset as it has features which enable children to build up strength (monkey bars and climbing rope).

The only downside which the manufacturer has been clear about is the anchoring of the set where buyers spend time burying holes and cementing for safety.
---
Swing sets are remarkable toys parents can get their children because they not only provides fun but also gives the needed physical activity growing children need. They also get to learn social skills interacting not only with their playmates.
More importantly, this results in a great bonding activity between parents and their children. Safety is a top priority when choosing the right swing sets for children. But after this, the length of use should also be a consideration, for, after all, swing sets should not only be for toddlers but for growing children as well.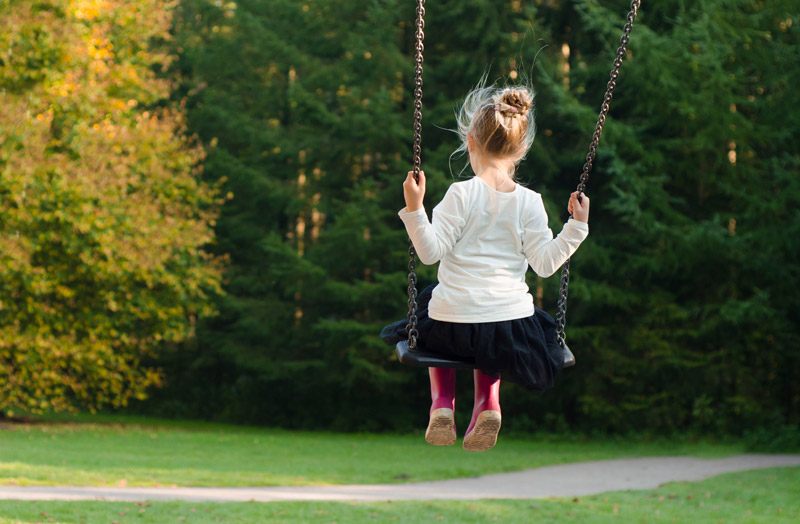 And after considering all the features of the five top swing sets reviewed, we find that the Kettler Home Playground Equipment takes top spot swing to its durability and ability to be used by children from 3 to up to 10 years of age. The playset is also unlike most other sets as it focuses not only on play enjoyment but honing of physical strength as well.
Of course, customers have his or her reasons for choosing which "right" playset will be best for their children. We hope that the above product reviews will shed light as to the considerations that you will have.