Before you get into the dilemma of finding the best dirt bike for kids, first ask this question: is your child ready to ride a dirt bike?
A dirt bike is a two-wheeled electric or gasoline powered bike patterned after the adult dirt bikes, but without the extra bells and whistles found in the adult dirt bikes. More importantly, suspension is not in the kid's dirt bike vocabulary, at least for most of these bikes, as the kids are just supposed to have fun riding their bikes and enjoy greater adventure it brings, having to operate these "toys" between maximum speeds of 15 to 18 mph.
It is for this reason that kids' dirt bikes are not allowed on the roads, as they do not meet the required minimum standards on road safety. Thus, dirt bikes are relegated to off-road locations: mountain trails, dirt road parks, and all-terrain-vehicle (ATV) parks.
---
Why Dirt Bikes?
Children who have made it to riding the regular bikes are more inclined to be interested in advancing to the kids' dirt bikes. Dirt bikes provide the adrenalin rush that growing kids would look for in their activities. But more than the excitement the use of the dirt bike brings, children get the following benefits:
Promotes a healthy physique: Kids who get into dirt biking are assured of an overall healthy body: physically, emotionally, socially and mentally. Riding a dirt bike requires full concentration as well as coordination of the different parts of the body.
It promotes the value of safety even at play. Dirt biking is a very physical activity. And because most kids start with the sport at a very early age, physical contact, though not deliberate, cannot be avoided. Thus, first- time dirt bike users are introduced to the different accessories (helmets, knee pads, fairings, etc.) that enhance their looks but actual play the primary role in protecting the kids in case of collisions or slips.
It helps the child focus. It sometimes is not easy to ask children to put their attention to an activity most especially if they do not see the importance of doing the task. In dirt bike riding, this cannot be overlooked: one second that the rider loses focus could lead to disaster. As soon as the child learns the importance of attention, he can apply this not only to play but also in the other aspects of his life.
The above encapsulates the most important benefits that a child could learn while embracing dirt biking. Once these are followed, then the child would find his new found activity not only physically fulfilling but emotionally and socially rewarding as well. To help you in you choose which dirt bike is best for your kids, we have made a review of the five most bought dirt bikes for kids in the market. We hope this helps you find the best one fitted for your child.
---
Top 5 Best Dirt Bike For Kid In 2017 Market:
Our Review About 5 Best Dirt Bikes For Kid
Razor MX350 Dirt Rocket Electric Motocross Bike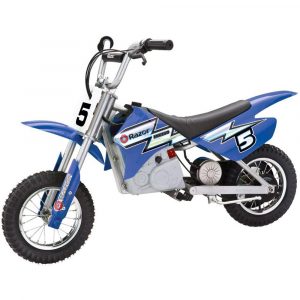 Read Parent Reviews | Check Best Prices
A scaled down electric powered dirt bike, this single speed dirt bike runs at a maximum speed of 14mph. The bike has 12" pneumatic knobby front wheels to give it more power transfer and a hand operated rear brake. It has a quiet chain driven motor and a twist grip throttle controller. Designed for kids 13 years and up.
Pros
Cons

one of the few dirt bikes that have dual suspension which allows for a more comfortable ride.
The hand operated rear brake takes away the challenge of your foot reaching the brakes which are most especially hard to do if you are in the forward seated position (most likely for smaller kids).
Fully charged, you can either have 30 minutes of continuous use or 10 miles on a single charge.
The bike has a high torque which enables it to accelerate faster.

The newer models carry a solid frame, which lacks the front and rear suspensions.
Battery replacement costs are quite high although this would not be a problem for the first few years of a newly bought bike. Would be best to test the batteries on a new bike though before you make the purchase.
Battery charging may take a few hours (3-5) depending on current charge of the battery

 
---
Vroom Rider VR098 6V Battery Operated Dirt Bike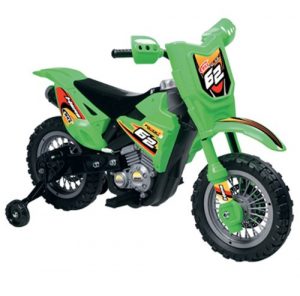 Read Parent Reviews | Check Best Prices
This dirt bike is a 6-volt battery operated bike that is suitable for kids 2-5 years. It is made of plastic and has two detachable training wheels that act as a support. It runs at maximum speed of 2mph. It has a button that allows forward and backward movement (with the use of a pedal) and another one that provides music. It is equipped with working headlights. It comes with a 6-volt battery and a charger.
Pros
Cons

Very good quality for the price.
Can easily be operated even with a 2-year old child.

 

 

Charging of battery takes a couple of hours (10-12) although bike can run on days after charge.
A bit on the loud side when in use.
This dirt bike runs only on smooth surfaces and won't go well on grass.
Unlike other kids dirt bikes which have a throttle to turn it on, it has a button that the rider presses to have it running.

 
---
Moto Tec 24v Electric Dirt Bike 500w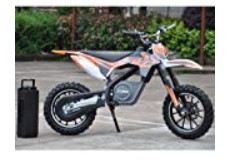 Read Parent Reviews | Check Best Prices
Electric-run, adjustable twist grip throttle. Speeds may be selected at 5, 10 and 16 mph with key lock. It has front and rear brakes. The bike runs on 24V 500-watt batteries (two 12-volt batteries) The bike's batteries charge in 4 to 6 hours.
Pros
Cons

The bike has two front shocks and one rear shock making the ride more comfortable.
The three speeds enable riders to do practices slowly a
nd advance to the other speeds once they get the hang of operating the bike.
The battery lasts 3 hours on a regular run and 45+ minutes with the works. The battery recharge time is faster as well compared to those of other dirt bikes.
Ground clearance is 9″, and seat height is 23″ so can comfortably be used by an average 6 to 10-year old kid.

The turning radius has been a concern: it does not rotate as much as do other dirt bikes.
There seem to be some problems in quality control and packaging as some parts arrived either damaged or broken.

 
---
Dirt Bike 70cc Semi-Automatic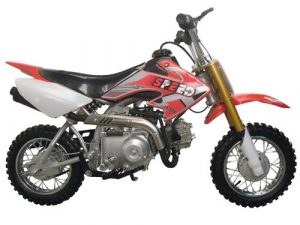 Read Parent Reviews | Check Best Prices
This bike is a three-speed, automatic bike, equipped with a 70cc air cooled engine. The bike runs at a maximum of 55 miles per hour. It is turned on using kick-start engine-oil; has rear wheel force suspension and front and rear brakes.
Pros
Cons

The bike's engine (70cc) is so powerful as to enable the bike to do mountain climbs and off road trails.
The bike can carry a maximum load capacity of 110 lbs., and still perform at its best.

 

Regular maintenance of the bike is needed to ensure continued good performance (tightening of bolts, changing oils, etc.)
As this bike is non-branded, a little knowledge of motorcycles and engines is needed to address minor repairs that may be brought about by wear and tear.
---
Razor MX400 24 Volt Dirt Rocket Electric Motorcycle Bike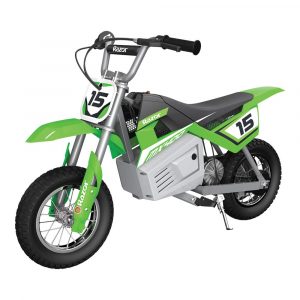 Read Parent Reviews | Check Best Prices
This bike is a scale down electric powered steel dirt bike with a 350-watt chain-driven electric motor. Equipped with knobby 12″ pneumatic tires. It runs at maximum speeds of up to 14mph and can carry as much as 140 lbs. The bike can provide up to 30 minutes of continuous use and can run 10 miles on a single charge.
Pros
Cons

A decent starter dirt bike as though scaled-down, is equipped with a twist grip throttle control and a retractable kickstand which is also found in the adult models of the dirt bikes.
The maximum speed (14mph) is just enough for a rider not to get bored but not too fast to traumatize riders in case of falls.
This bike doesn't have the "noise" that disturbs people around it. It also does not destroy grass when ran over.

Although made for off-track use, the bike is not as powerful to traverse through slight inclines.
---
Which is the Best Dirt Bike for Kids?
The choice of the right dirt bike for your kid would be dependent upon many factors. First, you should make sure that your child is ready to ride one. Even a kid's dirt bike will not augur well most especially if he has not had experience in riding the simpler ones as the tricycle or the strider.
Confidence is one trait you child has to have before he can sit and run a dirt bike. Without this, your child might forever shun its use. If however, you feel that your child is ready to ride one, choose a dirt bike that he will not have a hard time operating. Buying one that is larger than what he can handle for fear of having to outgrow it soon is not a good decision.
Thus, for small children, we recommend the Vroom Rider VR098 6V Battery Operated Dirt Bike because despite being a far cry from the scaled down dirt bike model for kids, this will give him a feel of how it is to ride one where he has control of movements with just the push of the button. Your child will also learn the values of coordinated action.
As he outgrows the Vroom, he would have had a simple understanding of controls, and then he could graduate to using the Razor MX400 24 Volt Dirt Rocket Electric Motorcycle Bike. The speed of the bike will be safe for him as he discovers the joy of biking outdoors. By this time, he would be more confident in in riding on his own and would not suffer the trauma of operating an electric powered bike for the first time. He can already hone his skills, gaining biking experience by trying trails and ATV parks. Dirt biking would not only build his confidence, but it will prepare him to be a better person physically, socially and emotionally as he interacts with kids who share his same interests.