Best Diaper Rash Cream
At some point in most parent's lives, the need to treat a case of diaper rash will arise. Irritation, swelling, redness, bumps, warmth, and general fussiness are signs to look out for when identifying when and what to treat.
While it can seem troubling at first, with the right diaper cream, even the worst cases can quickly heal and help your baby get back to feeling like themselves again. This review will cover ways to find the best diaper rash cream for your child.
Hands On Review of the Best Diaper Rash Creams – Which Is Right For You?
Below are reviews of some of the highest rated diaper rash creams for different needs. Whether you cloth diaper or prefer a different set of active ingredients, there just may be something perfect for you.
---
Era Organics Honeybuns Diaper Balm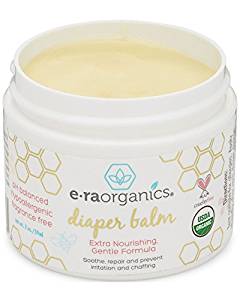 Era Organics offers a money back guarantee if not completely satisfied with their product. This is a good brand to try if you're experimenting with zinc oxide free creams, or if your baby has extra sensitive skin.
A new brand on the market, Era Organics Honeybuns is receiving high ratings among those who prefer a completely organic product. The balm-like cream spreads on evenly and soothes irritated skin, containing no harsh chemicals or dyes that could potentially worsen any irritation.
This cream is safe for cloth! The natural coconut and sunflower oils will not clog fabric, and the absence of petroleum means it will not disintegrate natural fibers, keeping your cloth diapers absorbency at their peak for longer periods of time.
Pros
USDA approved organic ingredients
No harsh chemicals or dyes
Contains coconut oil, calendula, sunflower oil, beeswax, olive oil, chamomile, and more
Free of toxins, parabens, phthalates, mineral oil, and petroleum
Hypoallergenic
Safe for cloth
Cons
No zinc oxide
Not as thick as other creams
---
Burts Bees Baby Multipurpose Ointment
This diaper cream can be used to treat diaper rash, as well as any other skin irritations anywhere on your infant, making it an essential item for the medicine cabinet. Coconut oil also aids in softening any rough skin, which is good in treating eczema or mild psoriasis.
A mild and clean honey aroma from naturally present beeswax is not overpowering or chemical in nature.Burts Bees specializes in natural products that are good for people with sensitive skin. This ointment is very effective in treating diaper rash, and I have used it throughout my child's diapering stage.
One tub of this ointment can last for a long time, doubling as an effective and budget-conscious product.
Pros
Natural ingredients well suited for sensitive skin
Pleasant smell
Stays on well after application
Works fast
No white petroleum – safe for cloth
Contains natural beeswax and coconut oil
Tested by pediatricians and approved for daily use
No parabens or phthalates
Cons
Thicker than other diaper creams
May not be strong enough for severe cases of diaper rash
---
Desitin Maximum Strength Original Paste
This cream has a stronger smell than others, but contains the maximum non-prescription dose of zinc oxide, rendering it nearly as potent as prescription diaper rash creams. While this may be unfavorable among some, when a stronger cream is needed, this brand has proven effectiveness.
In more severe cases of diaper rash, if your baby needs fast relief, Desitin might be the cream you want to reach for. It works very quickly, providing immediate relief from discomfort and overall relief of redness and irritation within 12 hours.
Desitin is widely carried in hospitals and clinics, and is pediatrician tested, making it a popular choice among parents everywhere.
This diaper cream is not compatible with certain cloth diaper materials, so check the manufacturer's notes before using. A liner may be required for use.
Pros
Works quickly – clinically proven to provide relief within 12 hours
#1 choice of pediatricians and moms
Helps prevent future cases of diaper rash
Cons
Stronger odor
White color may be messier compared to clear ointments
Can't be used with cloth diapers
---
Weleda Calendula Baby & Child Diaper Rash Cream
I have used this brand's products for quite some time, and the smell is pleasant. If you enjoy honey and flowers, this product may suit your needs for a natural product.
Rated #1 across Europe, this diaper rash cream was created with a team of German midwives. Calendula is a natural anti-inflammatory herb and flower that has been used for years in natural products, and is gaining popularity in other countries. Used in body and face creams, calendula and natural beeswax are effective in helping treat irritation.
This product is very smooth and spreads evenly with minimal effort, making it a good cream to quickly apply to troubled areas. The cream is white and dissolves into a clear thin layer as time goes by. A little will go a long way, meaning the tube will last for many applications.
This product does not contain high amounts of zinc oxide like others, which may be helpful in children who react quickly to topical ointments. This cream is recommended to treat other areas of irritation and roughness, such as on arms or faces.
Pros
Pleasant smell
Goes on evenly and smoothly
Contains calendula oil, a safe and effective natural soothing ingredient
Europe's leading brand of diaper rash cream
Free of synthetic materials
Safe for cloth
Cons
May cause irritation in children with beeswax allergies
---
Boudreaux's Butt Paste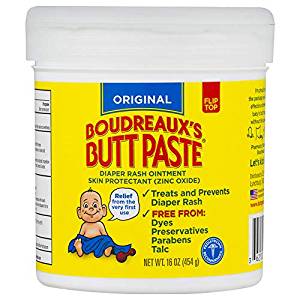 Boudreaux's Butt Paste contains 16% zinc oxide, improving the effectiveness in treating more stubborn cases. This ingredient is safe to use on sensitive skin without worsening the rash.
This product is a tried-and-true trusted cream for decades, both recommended by pediatricians and pharmacists worldwide. It works quickly, helps clear up hard cases of diaper rash, and has the thickest barrier among available creams, sealing out wetness and staying on long enough to treat.
It is important to note that this cream contains an ingredient called 'Peruvian balsam', which is on the list of the top five allergens babies can be sensitive to. While this cream is designed for sensitive skin, some children are allergic to this ingredient, and will develop a rash in reaction to coming into contact with it. If your child develops a reaction when using this product, an allergy test is recommended to rule out this ingredient.
Pros
Most effective in treating diaper rash while remaining gentle for baby's skin
Thickest barrier compared to other diaper rash creams
Seals out wetness
16% zinc oxide
No harsh chemicals – free of parabens, phthalates and talc
Developed by a pharmacist and trusted for over 40 years
Pediatrician recommended
Cons
May cause allergic reaction in children sensitive to Peruvian balsam
More difficult to clean off of skin
---
How To Choose The Best Diaper Rash Cream
When considering what kind of diaper cream to purchase, note a few key points:
Do you prefer an all-natural product?
Does your baby have sensitive skin, or allergies to certain products?
How often does your baby get diaper rash? Are they prone to it?
Do you cloth diaper, or use disposables?
Any time a topical cream or medication is used, it's imperative to decide beforehand what is most important to you. Natural diaper creams are becoming increasingly popular as environmental concerns are becoming more prominent, and that may be a preferred option for you. You may instead wish to stay with the tried and true brands, favoring active ingredients over organics.
Organic or Not?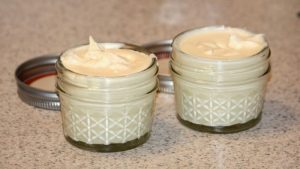 Opting for only organic ingredients can bring peace of mind while offering relief to your baby. Some products can contain allergens or harsh chemicals that can make diaper rash worse. Choosing products that only contain natural oils and minerals may be a better choice for you.
Sensitive Skin
For babies with sensitive skin, choosing a natural product may be the route you decide to go. When treating diaper rash, certain creams can contain higher amounts of zinc oxide, the main active ingredient in several store brands. There are many alternative ingredients, such as coconut or jojoba oil.
Cloth vs Disposable
One very important factor to keep in mind when choosing diaper creams is the method in which you diaper your baby. Not all creams are alike, and cloth diapers require different diaper creams that are compatible with cloth! Always check the label for statements like 'cloth friendly' or 'cloth compatible' before buying.
Cloth diapering is becoming increasingly popular among the eco-conscious parenting community, and can help reduce incidences of diaper rash in children with sensitive skin., Though they require special detergent, more frequent changes, and specialized products, they can be the key to reducing incidences of diaper rash in your infant.
The key ingredient to avoid for cloth diapering is petroleum. If natural fibers such as bamboo velour, hemp, or cotton, liners are not required, but should be washed with the proper detergent in hot water. Appropriate cloth creams will be covered further down in this article.
​Top Pick For Overall Best Diaper Rash Cream
When comparing the reviewed diaper rash creams, the product that best meets all desired characteristics is Era Organics Honeybuns Diaper Balm. Mindful of sensitive skin with organic products, effective in speedy treatment, and compatible with cloth diapers, this diaper rash cream is the best suited for all needs. It is the only cream with multiple USDA approved ingredients.
Choosing a diaper rash cream can seem intimidating, but helping your baby get on the fast track to healing is essential. Most creams available are designed to give parents everything they want out of a soothing product, and with the aid of this list, the choice might now be easier to make.
Remember to allow your baby to go diaper-free for a period of time while using any one of these listed products, and clean and dry the area after every diaper change to feel better fast