Issa's Edible Adventures app Review
App Info
Price: Free (In-App Purchases)
Overview
Issa's Edible Adventures takes young users on culinary adventures around the world to gather ingredients for important recipes. Users will be treated to gorgeous graphics, tidbits of interesting cultural information, and a mostly realistic look at the workings of a commercial kitchen.
Features include:
Learn about ethnic foods
Fly around the world to visit many cultures
Get a first-hand look at a commercial kitchen
Learn important facts about people from other countries
Print the unique recipes and make them at home
Quality
Issa's Edible Adventures is a very high quality app that will engage and entertain young users with a play-based exploration of cultures and foods. The app features gorgeous artwork, interactive screens, and enough cultural information to fill an ebook. All of the app's features work smoothly and are absolutely intuitive to use, so young users will have a relaxing and fun experience, free from frustration.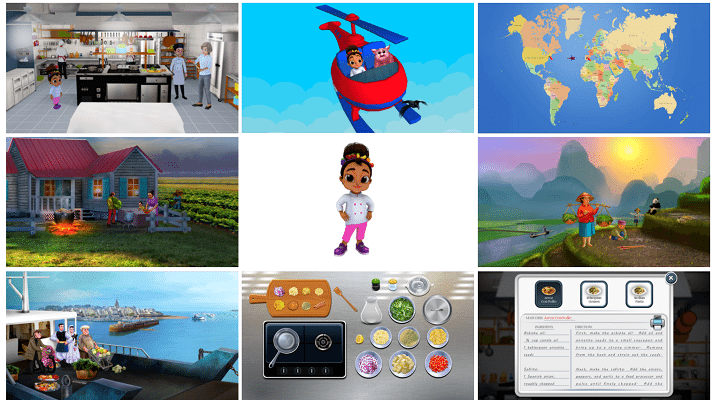 Education
This app is very educational. Users join young Issa as she explores a commercial kitchen where equipment and ingredients are not only labeled, but many include other information about usage and other facts. Issa gets to travel the world in her magical helicopter to find ingredients the chef needs to make ethnic dishes for important events.  It's almost like a treasure hunt, as players travel the world with Issa to visit the places where the ingredients can be found. Each screen features tons of hotspots where a tap from the child opens up a world of information about the place, the people, the culture, and even some history.
One of the neatest things about this app is the way it uses high-level vocabulary.  There's no "talking-down" involved here! Youngsters will be exposed to words that many adults won't know. However, the narration is carefully crafted to include context clues that will help everyone understand the new words.
The multi-cultural nature of this app is also impressive. Issa's magic chopper takes her around the world, to places that will seem exotic to most children. Issa visits bustling markets, farms that grow ingredients, and more. Each scene features a wealth of interactive hotspots that open up even more information about the area, as well as realistic sound effects that create an immersive experience.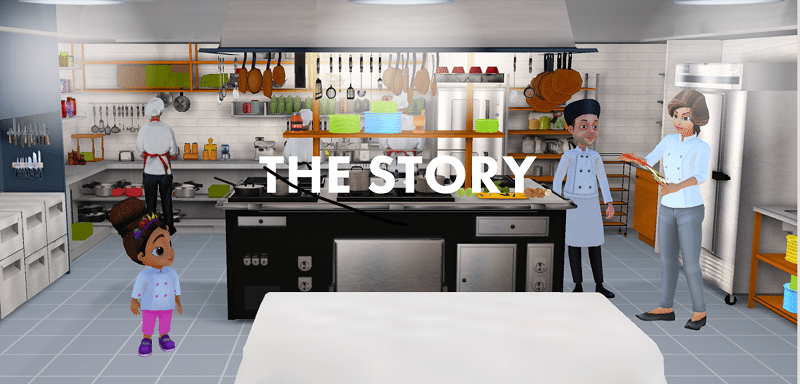 Entertainment
Issa's Edible Adventures is highly engaging and entertaining. The young main character is confident, yet relatable and the story is loads of fun. The app is a low-key invitation to explore. There are no time limits, scores, or other artificial play incentives, just an inviting screen that encourages kids to learn for the sake of learning.
Value
This app is free on the App Store. It currently includes two adventures where Issa helps the chef to gather ingredients for dishes.  The app also includes the recipes from the fictitious kitchen so that families can actually make the foods at home if they wish. Such hands-on experiences are wonderful learning opportunities for young children, and it's great to find an app that encourages real-world fun.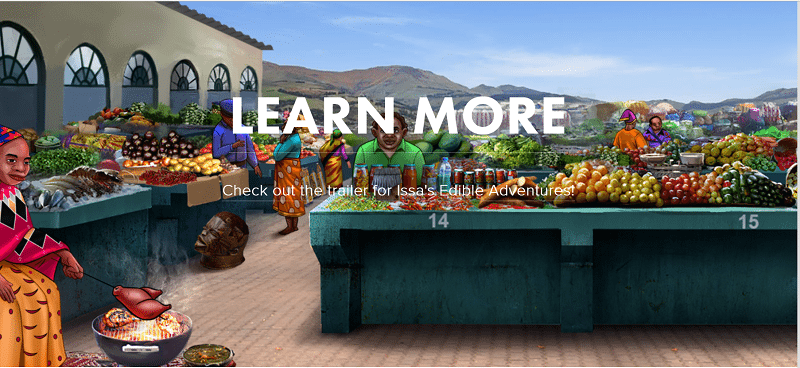 Child Friendliness
This app is very child-friendly. Ratings links, social media, outside links, and a store where it looks like additional recipes will eventually be available for purchase, are all protected by age-appropriate parental gates that require simple addition. There are no outside advertisements.
NO 3rd party ads

YES visible but protected links to social media, ratings, developers' website
Issa's Edible Adventures
Issa's Edible Adventures
Issa's Edible Adventures is a great app that will encourage young children to play and explore cultures and other lands. It's engaging and entertaining, and best of all, it encourages real-world experiences in addition to the digital play.