This Minecraft Village Is Full Of Surprises And Danger! Will Swords Be Enough To Keep the Villagers Safe?
That's right! Not only are villagers there when Alex and Steve – our Minifigure heroes – arrive after roaming for supplies to survive, but so too are zombies, creepers and the strong and powerful Enderman.
Good thing Iron Golem is included or this could be real bad for our favorite blockheads.
Inspiring builders for years with their high quality, well-fitting pieces and easy to follow instructions Lego has created another way for kids to feel like engineers.
This set has everything going for it: Minecraft? Check! New minifigures? Check! All the hardware needed? Check! A satisfying build? Check!
Priced at around $250-$275 on Amazon, it is priced more than many of the other Lego Minecraft sets… so why choose this one? Is it good value? We set out to answer those questions in our hands-on review.
Let's get building!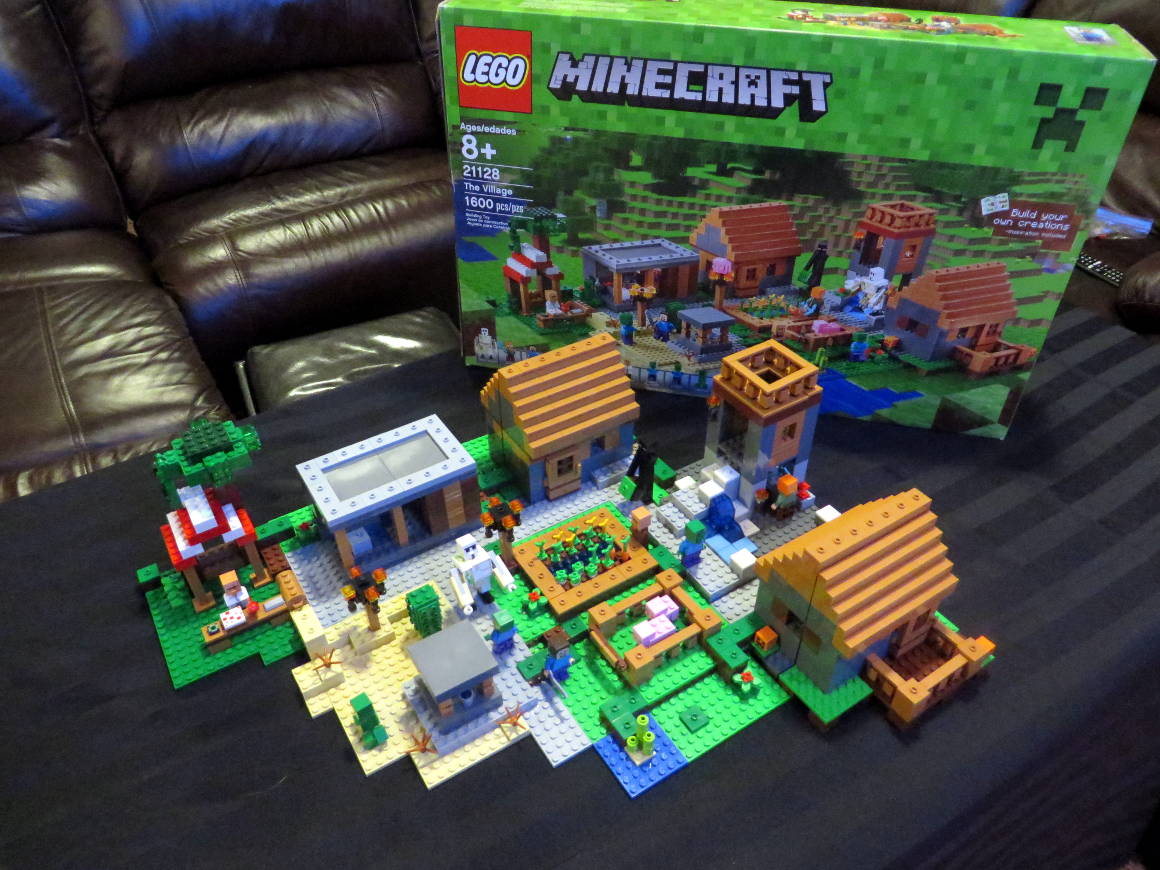 What's In the Box
Model Number
Price
Box Size
23 inches x 14 ¾ inches x 4 ½ inches
Bag count
11 Individually Numbered, 1 Un-labelled
Piece count
1600 pieces
Instructions
2 Manuals (#1 is 219 pages and #2 is 75 Pages)
Putting it All Together
Time
The entire village was built by a 9-year-old during a 4 hour period (broken up into 3 different parts).
Build Process
Following the step by step, page by page 219 page instruction manual we opened and built 1 numbered bag at a time, in chronological order (also using sporadic larger pieces from the unlabeled bag when needed), to work towards the final product.
Kids will want to jump ahead to build their favorite pieces/sets, but we recommend against this. 1600 pieces is a lot of Lego, and you don't want to be missing a piece on bag 8 because you took it to build something in bag 4!
Highlights
There were many highlights along the way, like how this set provides a Lego separator. Sometimes humans inadvertently put the wrong pieces together and taking them apart without the Lego separator is difficult (especially if fingers are sticky or greasy from snacking while building).
The Villagers' level of detail was very much appreciated, especially the arms and legs because they looked just like from the game. Also, the nose is in amazing 3D detail, unlike the noses which are normally painted on the figurines head – not in this set!
Like many kids, mine is impatient and really wanted to build The "Eye of Ender" and one of the Villagers as soon as the box was opened. What an incredible surprise to see that he was able to experience the thrill of building both of these in bag #1! How cool!
More highlights came inside of bag #3, like Steve's iconic sword (which looks so close to the real thing that it must be entirely unique to the Minecraft sets). There is so much value in that and it is so special to get those new and unique pieces in a set like this.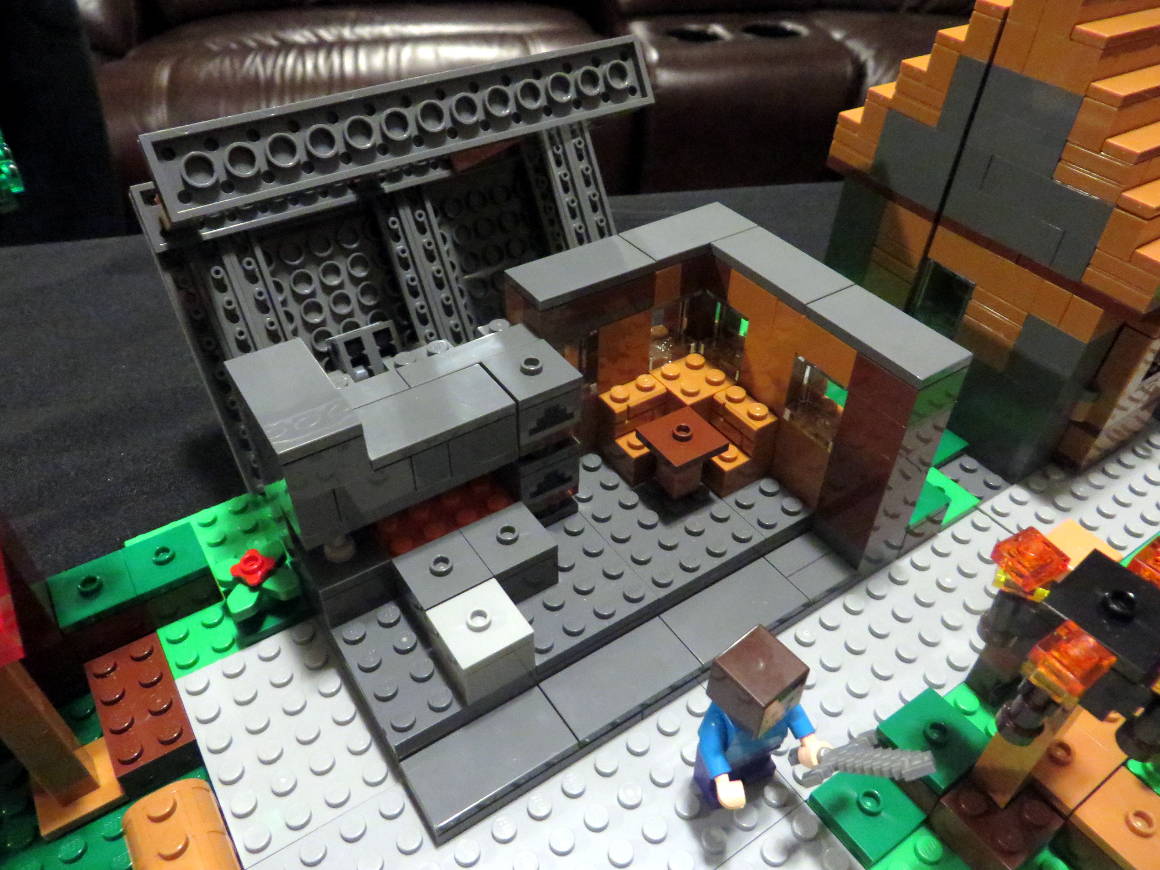 Another highlight is the double furnaces in the blacksmith shop, not just because they were rewarding to build or that it uses new pieces (unseen to us prior), but because of its thoughtful design and SURPRIZE: the roof opens up to see and play inside after the final build. ????
Bag # 4 and 5 contained the what was needed to build a common villagers house and introduced another new piece, the Enderman figurine. The house itself is not very impressive, highlighted by a large floor to ceiling swinging front door that, when opened, gives you a glimpse into a living room with a large seating area.
Bag 6 and 7 allowed us to create a villager house, that compared to the one we built prior, has a smaller living space but is taller and very unique. Bag 7 also starts with creating the Iron Golem, who protects the villagers from roaming zombies.
These villagers need to eat to keep up their strength up so bag 8 comes with what's needed to build a garden full of greens and a very cute 6 piece pig. Bacon…mmm.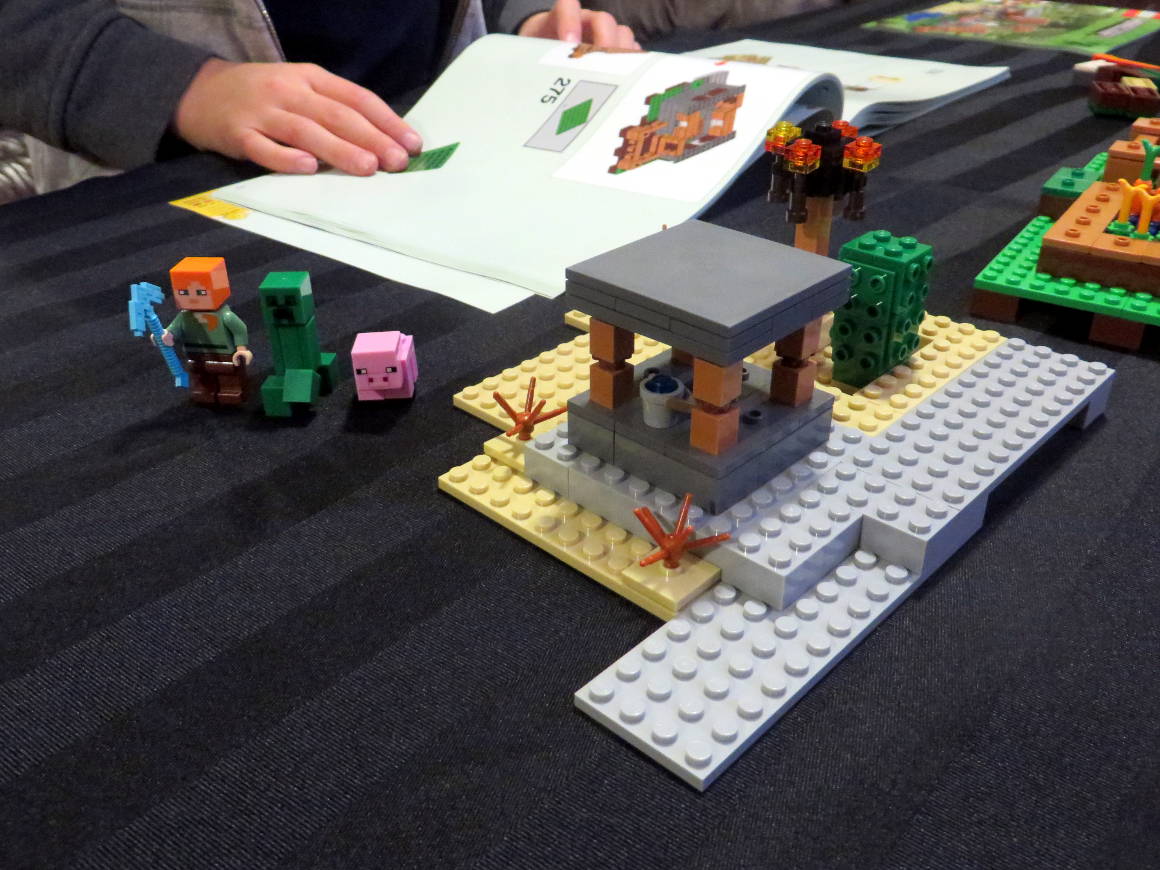 Pigs don't just make bacon…they make piglets! Bag 9 is where to find one! Not only that, but Alex and a creeper are ready to be assembled too! While you're digging into the bag, be sure to pay attention because inside is a cactus ready to be built – watch out. There's also a wishing well if you want some extra luck.
Similar to bag 4 and 5, bag 10 and 11 with your help will make another villager house, this time it has a 2nd door and a porch to spend time outside.
The Finished Product: We've Got Ourselves a Lego Minecraft Village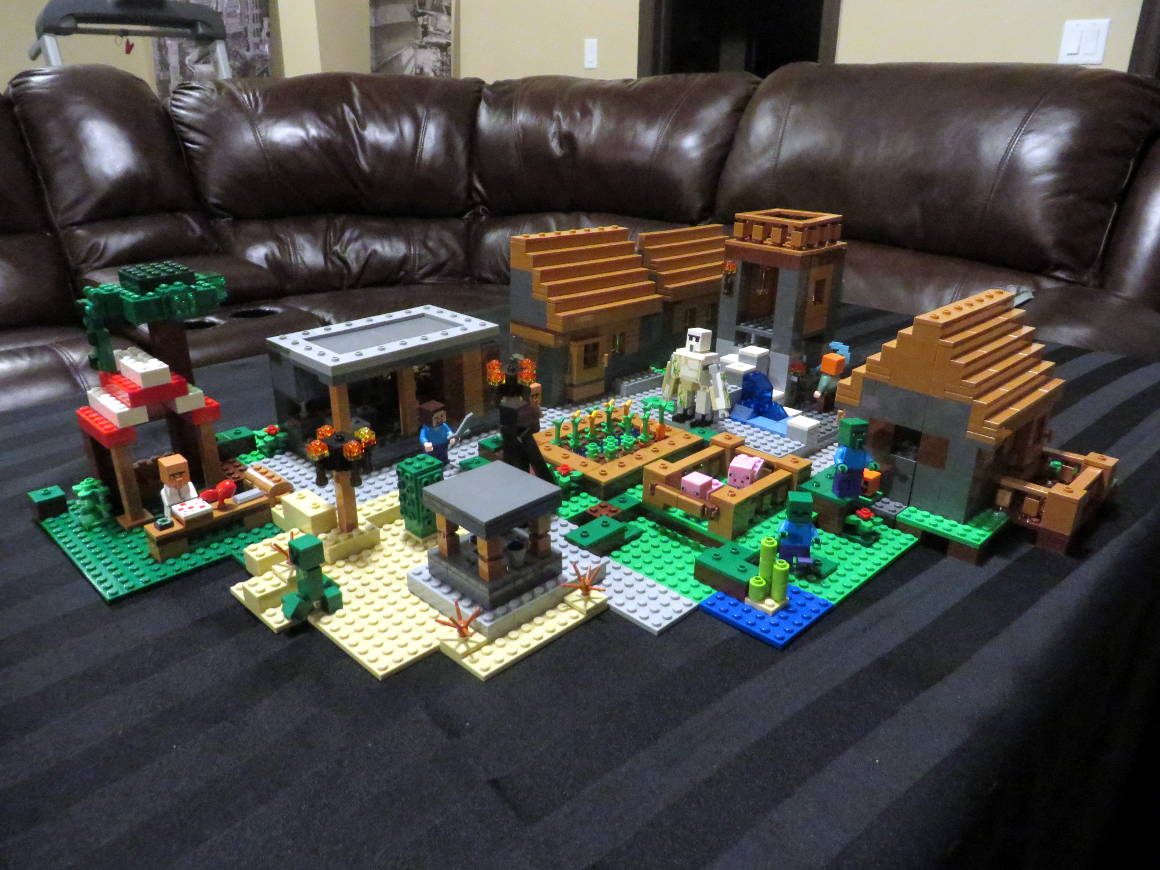 Important Things to Remember
This set is rated for ages 8+ and in typical Lego style, building Minecraft The Village is made easy for kids and adults alike by following the instruction manual and using the corresponding numbered bags.
Final Thoughts
Lego has created a brilliant system which is used across its many different building sets. This is one of the reasons Lego is a favorite choice in our house and when buying gifts for kids' birthdays or Christmas.
Where to Buy
LEGO Minecraft The Village 21128
Read Parent Reviews | Check Best Prices
Amazon is a great place to shop for Lego! We are also affiliates of the Amazon Associates program. A small percentage of your purchase will be given to us as commission. This commission helps us buy new products to review (we purchased this set for our review to ensure no bias). Thank you for supporting us! Buy from $349
Photo Gallery