Mixerpiece App Review
App Info
Price: $2.99

Overview
Mixerpiece is a creative and playful look at masterworks of art. Users can mix and match various pieces pulled from famous works to make a brand new and unique masterpiece. Choose from selections of backgrounds, shapes, objects, body parts, and many other categories, then slide the pieces around to place them just so. Shake the device to mix things up, or snap a screenshot of your work to share with friends.
Features include:
Hundreds of pieces to choose from
Includes art history information
Intuitive and easy to use interface
Protected social media sharing system
Easily swap and rearrange pieces
Quality
Mixerpiece is a very high quality app. The drag-and-drop interface is simple to use and the "shake" gesture is downright fun-it randomly swaps pieces and creates an entirely new work of art. Visual artists will love the possibilities created by mixing and matching parts with different artistic styles. Developers did a fine job of keeping the app simple to use, and included a handy guide that shows the app's features and how to access them.
Education
This app is loads of fun, just like mix-and-match books that have been popular for years that allow creation of pictures from a selection of tops, bottoms, and middles. However, the possibilities here are absolutely endless, and the mix-up shaking feature only adds to the fun. However, it is also quite educational. Each of the hundreds of pieces that can be added to the picture was "borrowed" from a famous piece of art from various artists, periods in history, and locations around the world. From backgrounds to specific noses, young artists can press and hold the specific item they add to the picture and get a quick overview of who created the work, where, and when, as well as see the piece as a whole. Talk about inspirational! It's like an entire museum at your fingertips.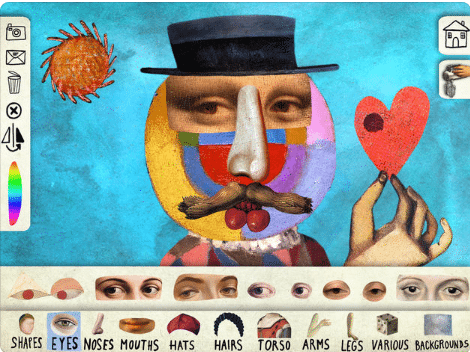 Entertainment
Who doesn't love mix-and-match games? This app is highly entertaining, and because of the power of digital media, the possibilities for silliness are absolutely endless. There are over 200 categorized parts of paintings that can be added to each picture, and these can be flipped, enlarged or shrunk, and can even have their colors modified. Best of all, a simple shake of the device changes absolutely everything and creates a whole new mix-and-match picture. Snap screen shots of the best ones and share them on social media (with a parent's permission).
Value
This app costs $2.99 and is a great value, especially for budding artists and anyone who enjoys a bit of visual humor. It can be used seriously to enhance the artistic eye and practice various art skills, or it can be an exercise in total nonsense and silliness, depending on the user's mood.
Child Friendliness
This app is very child-friendly. There are no outside advertisements or in-app purchases. There is an option to share pictures on social media, but it is protected by a parent gate that requires multiplication (and that is printed in Italian, to boot!).
NO in-app purchases

NO 3rd party ads

YES social media links (Parent Gate)

Mixerpiece
Mixerpiece
Mixerpiece is a creative and fun app that will allow users to explore the visual arts in a serious or not so serious way. The inclusion of information about and pictures of famous works of art adds a great deal of educational value, too.