Summertime is right around the corner and it's time to prep! Whether it's for your beach trip or for some serious hours at the pool, we're compiling the best of the best for your days in the rays. We've got several pieces that you'll want to grab and go with that will entertain and protect your tiniest member of the family.
Making Baby's Day at the Pool Fun & Easy
Below we've found 7 must-haves for baby's day at the pool. From top to bottom, we've got him/her covered. From floating to splashing, let's have a look at the absolute necessities when packing your bag for a day of fun – with all of the family's needs inside, including the tot's.
---
i Play. Baby Girls One-Piece Swim Sunsuit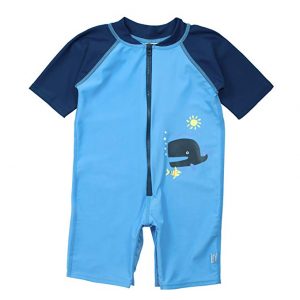 There are three big reasons to love this suit. It may not be super stylish but man, it is funtional. First, it provides all-day, UPF 50+ sun protection without having to apply sunscreen. Second, it has snaps!! When you need a quick diaper change, the snaps are the best thing ever. Last, the zipper. Everyone knows it is hard to get a wet suit off of a baby. The zipper helps make the process so much easier.  Buy from $25
---
Babyganics Mineral-Based Baby Sunscreen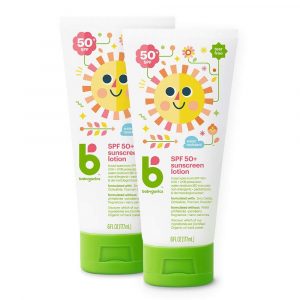 You simply cannot have a day by the pool without some sunscreen on your babe! And Babyganics Mineral-Based sunscreen is one of the best to use day in and day out on little ones.
This set comes with two tubes of the SPF 50, fragrance-free product. And the recipe for its success is a blend of sunflower, tomato, cranberry, black cumin, and red raspberry.
Additionally, this play set is easy to put together and guarantees lots of backyard fun for the kiddies. The imaginations will undoubtedly run wild as they enjoy this set day after day. Buy from $18
---
JIASUQI Baby Boys and Girls Barefoot Swim Shoes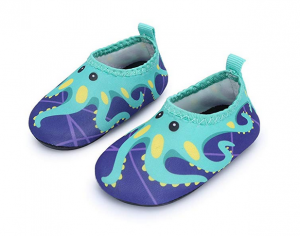 Some water shoes are an absolute must-have for baby. The hot cement won't be tender on those tiny toes. The protection comes in adorable designs from JIASUQI and at an affordable price. They have tons of great reviews from parents and a great selection of sizes as well. Choose from patterns that showcase an octopus, dinosaurs, bunnies, and more! Buy from $8
---
i play. Baby Flap Sun Protection Hat
Just like you'll want a hat for the sun, so will baby. Grab this gender-neutral design – that you can get in a vast assortment of colors – to take to the pool. It'll keep the rays off of baby's head and neck while offering up some sweet and adorable photo-ops too. It's 100% polyester, super affordable, and easily stays on with its chin closure. Buy from $11
---
SwimWays Baby Spring Float with Canopy
You won't want to forget something to relax in! Grab this SwimWays baby float! It's got a canopy to keep the rays off of baby's head and out of his/her eyes and an adorable octopus for playtime. And don't worry, that octopus includes places to latch on rattles, teethers and more! Your little guy or gal will be enjoying every bit of the pool experience with this addition. Buy from $27
---
SwimWays Disney Finding Dory Dive & Catch Game
You're going to have to bring some extra toys to the pool for our slightly older babes. And SwimWays also makes this Disney Finding Dory dive and catch the game that will have everyone splashing around for hours! The set includes a net and five figures for "catching." And it's also a great game for swim training and getting everyone prepped and ready for their first dive. Buy from $8
---
Tuga Baby / Toddler UV 400 Sunglasses with Two Adjustable Straps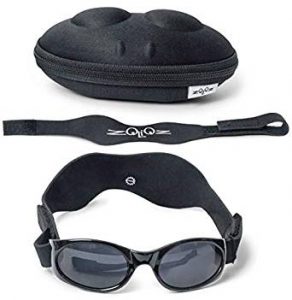 These glasses are super cool and they are far more durable and adjustable than anything we have seen on the market. There are other brands that have dominated the "aviators for babies" market, but this brand comes out on top. It has top reviews and more importantly, has two adjustable straps to keep these UV glasses on tightly. Plus, there are many colors to choose from. Buy from $15