My Little Pony: The Movie App Review
App Info
Price: $2.99
Overview
My Little Pony: The Movie is an interactive ebook app that carries the reader straight into the world of Twilight and all the other ponies of Equestria. Based on the popular movie from 2017, the ebook takes readers through a simplified version of the story and uses interactive screens and narration to hold interest.
Features include:
Unique 360 degree rotation system puts users "in" the scene
Control rotation with gyroscope or manually with swipes
Explore 30 scenes from the movie
Enable singalong mode and be a part of the concert
Meet new characters and have fun
Quality
My Little Pony: The Movie is a very high quality app that works seamlessly. There is an included tutorial in the parents' area that explains how to access the 360 degree feature that is very helpful. Each scene is narrated, with optional read-along captioning and includes interactive features that can be activated with a tap. Some are hidden and require activation of the rotation feature to find them, so it seems like there is always more to discover. There are two modes: Storybook, which retells the movie story, and Sing Along, which allows children to sing the movie's finale song with the characters.

Education
While this app is not really intended to be educational, it does support a number of developmentally appropriate activities that will help young children form a solid academic foundation. The rotation feature will help children learn about position in space, an important readiness skill that supports early reading. They will also enjoy activating the various hidden features, promoting deeper understanding of cause and effect. It's nice to have the option of captioning for young readers- they can turn on the printed words and see exactly what the ponies are saying.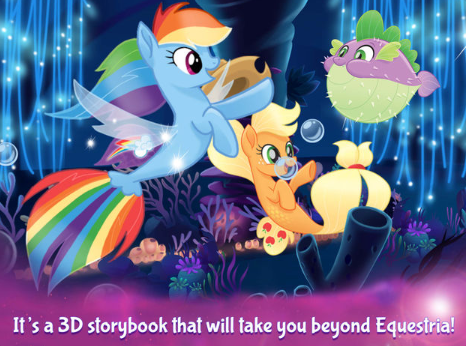 Entertainment
This app will be highly entertaining for young fans of My Little Pony. With 30 movie scenes to explore through the 360 degree rotation system, there's a lot of content that children are likely to discover gradually, increasing the replay value of the app. It's possible to jump to favorite scenes, and interactive features are subtly marked, so that, while they are easy to find, they are not overwhelming, and kids are likely to "discover" more and more each time they play.
Value
This app is a good value at $2.99 in the App Store and on Google Play. Parents do need to buy into the idea of the interplay between the imaginary (and visual) movie world and the commercial side of the My Little Pony empire.  Essentially, the app and the movie are extended advertisements for the toys. Once that concern is out of the way, if your child is a fan, then this app is a great value.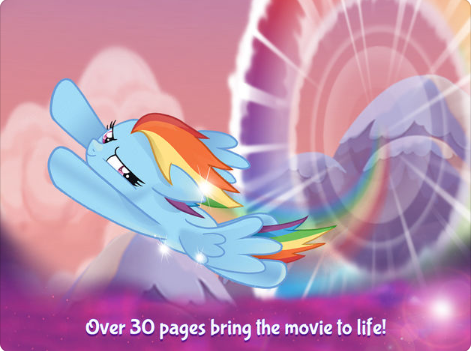 Child Friendliness
My Little Pony: The Movie is child friendly. It does contain links to in-app purchases, social media, developers' website and email, but these are all protected from young users by a parent gate that requires entry of a birth year. The in-app purchases link is visible on the home screen, however, and may prompt knowledgeable kids to do a bit of begging and pleading to see what else is available.
YES protected external links

YES protected social media

NO 3rd party ads

YES protected in-app purchase 

My Little Pony: The Movie
My Little Pony: The Movie
My Little Pony: The Movie is a fun ebook story that includes both a storybook and a singalong mode. The book is quite interactive and features 360 degree rotation, letting the reader feel like a part of each scene.