One of the few movies that I have seen where I watched it right when it was released – Disney's Moana. A very sweet and entertaining film.
And, there are a number of wonderful toys based on characters and events from the new Disney Moana movie. The "hot toys" that I spotted include dolls,playsetss (with figures), Pua (the pig), plush toys and games, the magical necklace – there are even some wonderful new Moana LEGO sets released!
Already available at major toy merchants, here are what look to be the "best of" Moana toys – the new Disney Princess in town. (These are the toys that are being searched for, recommended and given as gifts, especially for girls or – ahem, young ladies – it seems.
Let's take a look…
Quick Navigation
Disney Moana LEGO Sets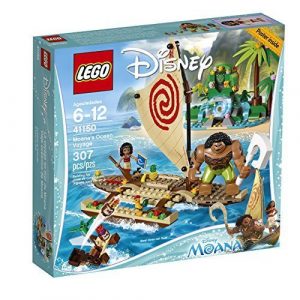 Which Disney Moana LEGO sets are coming off the online and offline shelves of the world? Here are some sets to consider as Christmas or other gifts:
LEGO Disney Moana's Ocean Voyage
This LEGO set features my own favorite part of the movie – Moana's ocean voyage. It includes a Moana figure, and of course those friends that accompanied her on her journey – Maui and Heihei (remember the funny rooster?). Other accessories come with it including the heart of Te Fiti. The recommended age from LEGO is 6-12.
LEGO Disney Moana's Island Adventure
My favorite part of this set is Pua the Pig – I think he was my favorite character in the movie. (So cute!) Yes, he comes as a minifigure with the set, as well as a Moana minifig, her house and other fun accessories. This set is a bit smaller than the one above – 205 pieces in all, recommended for kids age 5-12.
---
Disney Moana Dolls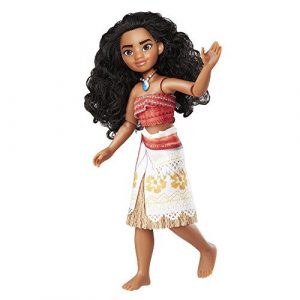 The Moana dolls stand out as being more plentiful in number – and some seem to be recommended more highly than others. (And – in my opinion, some are cuter than others! Here are the two that stand out as being the most popular so far, and likely will receive the highest consumer ratings as time goes on (don't quote me on that!). ?
Disney Moana of Oceania Adventure Doll
This doll has made the prestigious "Amazon's Choice" among new Moana toys (at this writing) – and it's pretty easy to see why. The amount of detail that goes into Moana – including the beautiful skirt and necklace – is wonderful. She is also pose-able, making her even more fun to play with. Recommended age for this doll is 3 years and up.
Disney Moana Singing Adventure Doll with Friends
The "Singing Adventure" doll is a bit of a younger version of Moana than the "Oceana Adventure." She is very sweet – and possibly the best part is that her friends Pua the pig and Heihei (her rooster) are included with her as a set. But the very best part is the necklace, which causes Moana to say specific phrases from the movie, as well as her song, "How Far I'll Go."
---
Moana Pua the Pig Toys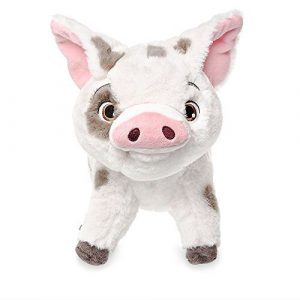 This little guy sure stole my heart – and probably the hearts of many children out there. I believe that kiddos might be asking for the "Pua" or "Pig" toys specifically from the Moana lineup – and here are a couple that are very hot sellers this season..
Moana Pua the Pig Pillow Pet
I don't know anyone that doesn't love Pillow Pets – and this one is probably my personal favorite among them. Silky soft and cuddly, this Pua has a dual purpose – to play and to provide a comfortable pillow for kids to sleep on. ? There are other Pua plush toys available too – but the above seems to be the main highlight of them all. Find them all here.
---
Disney Moana Toy Magical Necklaces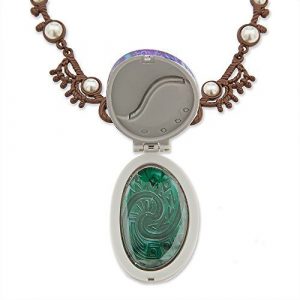 There are a couple of Moana toy necklaces that really stand out – we may see more of them in the future as well, but these are wonderful, and are great for any little lady who loves the movie, and fashion.
Moana's Magical Seashell Necklace
The perfect necklace for role play as Moana – the "seashell" opens up to reveal her lovely stone within.
Disney Moana Singing Necklace
This beaded necklace is enough to make any young fashion fan proud, and when the "stone" is touched you can hear Moana sing her song, "How Far I'll Go."
---
Disney Moana Toy Playsets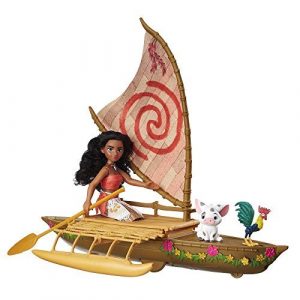 The playsets from the Moana film also look like they are created to fulfill the imaginations of children who love to re-enact scenes, or create their own scenarios. There may be nothing better than "let's pretend" playtime!
Disney Moana Starlight Canoe and Friends Playset
My first question about this playset was, "Will the boat float?" Apparently it is not intended for use in the water (perhaps a bit of a disappointment), but the playset itself is wonderful. The boat actually lights up to project "starlight" just like in the movie, and Moana is joined by her faithful friends Pua and Hei Hei.
Disney Moana Adventure Collection
This collection of action figures looks way fun – so realistic, and not only are Moana and her little friends present, but also Maui the (slightly arrogant) demigod are along for the adventurous journey.
---
When it comes to Disney movie favorites, the "Moana" film – in my humble opinion – is right at the top of the best. The new arrival among Disney Princesses is not only beautiful, she is probably the bravest among them all — and the new toys that have been released are more than a bit impressive with their detail and creativity.