Once springtime comes to call, it'll be time to take the kiddos outside for an afternoon of sunshine and laps around the yard! But, you'll want to fill up your own backyard with some outdoor treats for the little ones to be able to play around with, pretend, and get active alongside.
8 Backyard Toys for Toddlers
Below we've found awesome backyard toys that are perfect for your toddlers. Everything is age and level appropriate. And, you'll be able to sit back, relax, and enjoy some sunshine while you supervise their fun. We've got crazy-fun slides, water toys, golf sets and even a car to swing for.
---
Wet & Dry First Slide
Read Parent Reviews | Check Best Prices
Little tots and slip and slide on this Wet & Dry Slide! It's a 10-foot vinyl piece that's easy to set up and will provide hours of fun in the sun all spring and summer long. And what's great is that the slide can be used with or without the slide if the kids don't feel like getting wet. Parents just need to attach the hose and let it rip! It's the perfect addition to birthday parties or afternoon when you just need to let off some steam. Buy from $45
---
Game Time Sports Climber & Slide
Read Parent Reviews | Check Best Prices
Every kid needs a slide in the backyard but this one packs an extra punch with its basketball hoop addition and more. It includes a climbing ladder, slide, hoop, soccer goal, and a toss through wall making so many opportunities for active playtime and creativity. There's really so much fun to be had with this sports-themed gym. And kids up to 6 years old can utilize it. Buy from $90
---
Sprinkle & Spray Ring
Read Parent Reviews | Check Best Prices
Here's another backyard toy that will have your toddler itching to go outside in the sun! And the ring is big enough for the whole family to enjoy if need be. Parents can easily attach it to the garden hose and watch their little ones hop in and out of the sprinkles. It's a great upgrade to a regular sprinkler and just as affordable too. Buy from $20
---
Little Tikes Easy Hit Golf Set
Read Parent Reviews | Check Best Prices
Maybe you've got a little Tiger Woods on your hands. Check out this Easy Hit Golf Set to pique their interest in the sport. They can start practicing their swing at only 12 months old with this Little Tikes creation! Play putt-putt in the backyard or catch some giggles while your tot tries to swing for the furthest away bunker. The cart is easy to roll as well so no one will have any trouble moving it around throughout playtime.Buy from $25
---
Spill & Splash Water Table
Read Parent Reviews | Check Best Prices
Here's another fun way to get a little fun in the sun and water play. This Step2 Spill & Splash Water Table has so much to offer for little hand and curious minds. Coming with a lot of different activities for small diving dolls, toddlers can send them swimming, create waves, or even visit the mermaid lagoon! Just grab a swimsuit so regular clothes don't get soaked and slap on some sunscreen before everyone heads out the door. Buy from $70
---
Toss & Catch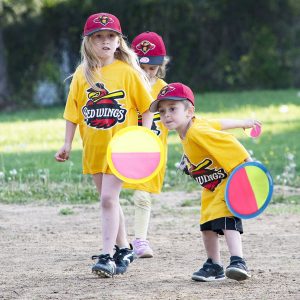 Read Parent Reviews | Check Best Prices
One of the most classic and easiest games to get the family involved with – but one that the tiniest of tots can be included in too! Toss & Catch (with Velcro) is such a fun way to learn the concept of "catch" and snag some vitamin D too. This inexpensive set includes two mitts and a bean bag ball. Pack up a few sets of these and jet off to the park! Buy from $9
---
Little Tikes Backyard Barbecue Grillin' Goodies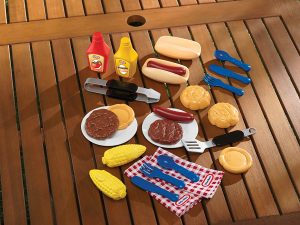 Read Parent Reviews | Check Best Prices
Have your toddler help out with the picnic this weekend! Grab a set of these Grillin' Goodies and watch their creativity explode while you make dinner for the fam. There's really everything he/she could want in this set. It includes twenty pieces such as ketchup, mustard, hot dogs and the buns! Buy from $14
---
Little Tikes Cozy Coupe First Swing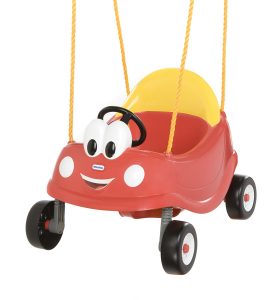 Read Parent Reviews | Check Best Prices
You could always grab a swing and have quality time with your little guy or gal. This classic Cozy Coupe swing is a safe way to get your little one moving, giggling, and soaking up the sun – right by your side. What's great about this piece is that it fits right into other outdoor swing sets and easily wipes clean. Start your little one out at 9 months but the design will last till they're 3 years old. Buy from $35