EGO is one of the most popular toys around and they have been for a while. Pair that with the characters, books, and movies we love and you've got a surefire way to make your kiddos happy throughout the holidays, for birthdays, or as a just-because present for being a great little guy or gal.
Every year we see more and more fantasy-themed LEGO sets appear on the shelves. From elves to fairies to superhero-inspired, there's something for every kid to enjoy and get lost in. First comes the building and then comes the imaginative play. Let's take a peek at 7 of our favorite sets!
LEGO Elves Rosalyn's Healing Hideout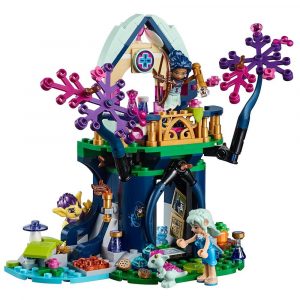 Read Parent Reviews | Check Best Prices
Dragons, elves, bears, oh my! You get a little bit of everything within this LEGO set. Build a magical treehouse hideaway and then watch as your kid's creativity unfolds during playtime.
The box includes 2 mini-doll figures: Rosalyn Nightshade and Naida Riverheart, plus Rimlin the Goblin, Sapphire the dragon, Lula the baby dragon and Lil' Blu the baby bear figures. The best part about these is that they're compatible with all other LEGO sets. Buy from $39
---
LEGO Lord of the Rings Wizard Battle
Read Parent Reviews | Check Best Prices
We know there are some definite Lord of the Rings fans out there and this is the perfect way to highlight that love of the fantasy. Grab this LEGO set – perfect for ages 8 to 14 – and watch them recreate a scene from the film!
The Wizard Battle includes 2 mini figures and their staffs, as well as everything else you need to create this specific moment in the story. Gandalf the Grey takes on his mentor and old friend, Saruman, in this 113 piece set. Buy from $34
---
LEGO Super Heroes ATM Heist Battle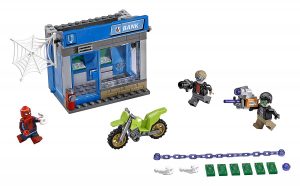 Read Parent Reviews | Check Best Prices
Maybe your little guy or gal is into superheroes. If so, we've got you a great LEGO set to snag them. It's a great rainy day activity, watching him/her build a scene and then act out the story that unfolds.
This "heist" battle is great for the 6 – 12 year age range with 185 pieces to work with. And those pieces include an interactive power blast weapon for even more creative play and imagination-building! Buy from $16
---
LEGO Star Wars Millennium Falcon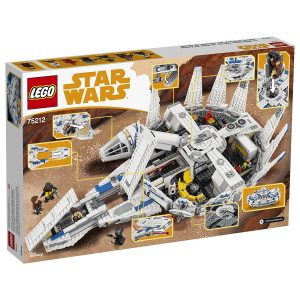 Read Parent Reviews | Check Best Prices
We couldn't create a fantasy-themed LEGO list without the Millenium Falcon! This building kit includes 1414 pieces and 6 minifigures: Han Solo, Chewbacca, Qi'ra, Lando Calrissian, Quay Tolsite and a Kessel Operations Droid, plus a DD-BD droid. Suitable for ages 9 – 14, the falcon itself featured a 2-figure cockpit and so many incredible features that a Star Wars lover would go nuts for! This is the perfect birthday or Christmas time surprise. Buy from $170
---
LEGO Disney Frozen Elsa's Magical Ice Palace
Read Parent Reviews | Check Best Prices
Elsa's ice palace is a real beauty and you'll have such a great time watching your little guy or gal build it to completion. And then, once it's up and running, they'll be able to act out their favorite scenes from the movie, including the famous "Let it Go" musical number. The set includes Elsa with shiny fabric cape and Anna mini-dolls figures, as well as Olaf, Marshmallow and four Snowgies, and 701 pieces that will help you create this magical spot for the sisters to enjoy. Your little ones will love all the details brought to life from their favorite Disney film! Buy from $63
---
LEGO Star Wars Yoda's Jedi Starfighter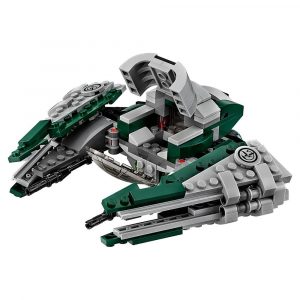 Read Parent Reviews | Check Best Prices
Here's another Star Wars treat that will make a Yoda fan super proud and pumped. It's Yoda's Jedi Starfighter and includes everything one needs to make it come to life! And that includes foldable wings, a cockpit, spring-loaded shooters and more. Don't worry, there's a Yoda minifigure in the box as well – so playtime after the building will take immediate flight. If there's already a Star Wars collection in the making, this is the best addition to the set. Buy from $20
---
LEGO Elves Naida's Gondola & The Goblin Thief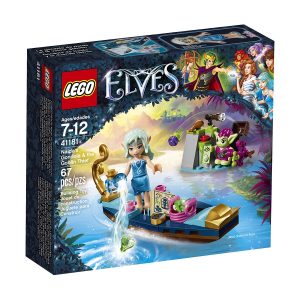 Read Parent Reviews | Check Best Prices
And finally, here's another Elves LEGO set that we immediately fell in love with and knew that the kiddos would too. This gondola scene includes 67 easy pieces and perfect for children 7-12. For an extra bit of an imaginative play and magical, storybook telling, this set is definitely the way to go. It's compatible with all of the other LEGO boxes as well, so you can mix, match, and build new stories throughout the play. Buy from $15