If you are looking for a big ticket birthday item, this is it. Kids love things that go and boy, does this Power Wheel have the power to take bigger kids up and around the yard. Of course like other Power Wheels, it is pretty expensive but unlike other models, this guy can easily entertain two kids at the same time (with supervision).
We dive deeper into this model and other benefits of Power Wheels.
Power Wheels Dune Racer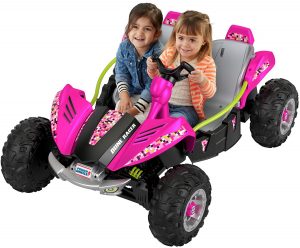 Read Parent Reviews | Check Best Prices
The Power Wheels Dune Racer is a ride-on toy that is battery-powered with a 12-volt rechargeable battery in a sturdy steel frame construction. It promises to offer your kids hours and hours of fun while still staying in a safe and stable space. The product comes with the dune racer, a 12-volt battery, charger as well as assembly materials and instructions.
​It has a longer running time compared to other similar products, some of which can only last 30 minutes. If you want to have a ride-on toy car that is secure and can potentially provide hours of fun, then this toy is perfect for your child.
There are also other models with similar specifications available, but none of them are as durable and compatible with rough terrains as the Power Wheels Dune Racer. Buy from $199
---
Things to consider before buying a ride-on toy
If you're not sure what you should buy for a child's birthday kid, then a ride-on toy car like the Power Wheels Dune race seems like a good idea. It is perfect for those who want their kids to spend more times outside and have fun while riding the toy by themselves or with a friend.
If you live in an urbanized area we don't really recommend you to buy a ride-on toy as the child will have no place to play drive it. Here are some things that you should consider before buying a ride-on toy:
Age
One of the most important parts of most ride-on toys is the age at which they are targeted. Most toys have a big room for driving which allows the child to use it even as he/she grows throughout the years. You should still keep in mind and research if the child is too young to operate with the toy or too old to use it.
Powered or Manual
Ride-on toys are usually categorized in two sections, powered and manual. Powered ride-on toys have batteries that can last for a long time on one charge, some may last only 30 minutes while some can even last an entire hour. On the other hand, manual toys will make your kid stay physically active and help them with their motor skills early on.
Features & Benefits
This toy car has many features and in order to make it easier for you to decide, we have compiled a list of the best features and benefits of this toy. Here is the list of the most important features:
Speed settings with parents control
In order to make this toy car safer for your child, it comes with speed modes that allow the car to go either at a maximal speed of 2.5 mph or for more experienced drivers at 5 mph. The speed and longevity of driving are all supported with a 12-volt battery that can be recharged. With the help of lower speeds, both you and your child can have your peace of mind when your kid is just starting out.
Once the kid starts getting more experience with the toy, you can let him have more fun with the 5-mph mode. The higher speed will make it more entertaining for them and it will add a change, which will remove any future boredom.
Brake safety
For a battery-powered toy vehicle, the most important thing is safety. With a power-lock brake system, you can prevent the toy car from going speeds faster than 5 mph even when going downhill. The power wheels toy will usually stop in a quick but under control manner that will make them safe while not disturbing them.
Since the age requirement for this toy car is in between 3 and 7 years, once your child gets older he can even make some slides with the help of this brake system.
Stable and quality construction
Ride-on toys are usually expensive; this goes especially for those cars that are battery powered. In order to make your buying decision firmer, you can rest assured knowing that this toy car has the construction quality needed to last a long time. It is made with a sturdy steel frame, metal tubing and it even has a good-looking chrome finish to it.
It is fairly strong so it can support up to 130 pounds of weight, with space that can accommodate two kids. The design also includes some neat features like a storage compartment under the hood, metal sidebars for hand support and bucket seats.
Riding off road
Kids will enjoy their ride-on toy car more if they can use it even in areas where the surface isn't as smooth or flat as it should be. That's why the Power Wheels Dune Racer can even maintain its stability off-road, in your backyard, lawns and even down hills.
This makes it the perfect choice if you want a ride-on car toy that can achieve speed and stability in almost all environments and especially the ones where it's most needed.
This toy car is specially categorized as an All-Terrain-Vehicle, it is designed for areas that have rough or bumpy terrain. With the help of its rugged tires, it will confirm its stability when it comes to rough areas. With the combinations of the wheel's superior traction compared to other models as well as a 12-volt battery, your child will be able to get through the worse terrains. Another important thing is that the tires are rugged and that they come with directional treads.
Security with warranty
Buying an expensive ride-on toy car surely won't be an easy decision, besides weighing the technical pros and cons you should also consider the durability of it and the entertainment factor. When it comes to durability, you have nothing to worry about as the Power Wheels Dune Racer comes with a one-year bumper to bumper limited warranty.
In case some parts break or get damaged, you can use your warranty by bringing this toy car to over than 300 services throughout the country. With this, you don't have to worry about your child breaking anything or about the toy not being durable enough, as long as you have the warranty papers everything will be fine.
Stylish design
When it comes to toys, one of the most important things in the eyes of our children is how it looks. You should weigh this choice even more when it comes to expensive toys like ride-on cars because you don't want your child to dislike the colors.
As far as the design goes, the dune racer is pretty stylish and practical as well, but if you don't like the color settings, then you can choose the Pink, Chrome, Camo, Green and Lava Red & Black versions of this toy car. Make your choice count by asking your child first!
What other people said about this product
The Power Wheels Dune Racer is surely one of the top rated and most popular ride-on toy cars, there are a lot of reviews on the internet from people that used it for a long time and you can find a lot of positive things said by people on all sorts of internet forums
The main thing that everyone liked was the sense of security that you get when deciding to buy this car. With the entire metal construction, safety brakes and even support bars for your kid's hands, it really was a no-brainer. But we did notice that some people disliked the battery charging aspect of this product.
Conclusion
Whether it is that you're buying a gift for your friend's children or a brand-new toy for your own kid, deciding to buy a ride-on toy car like the Power Wheels Dune Racer might be a good option. The main reasons why we liked it were that it added a sense of security which was insured with the help of its security breaks and steel frame.
It is also durable for all sorts of terrains and it is battery powered as well, which allows your kids to have fun for hours. If you're interested then click here to check out the dune racer.