Sfara Guardian Personal Safety App Review
App Info
Price: Free
Overview
Sfara Guardian is a personal protection app that offers numerous services to families that help keep family members safer out in the world. The app is particularly designed to provide a safety net for teens and young drivers in ways that allow parents to maintain some control by monitoring the app's usage. It is also designed for protection for the elderly and anyone on their own.
Features include:
(Note: These features are available within various paid plans)
On-demand roadside assistance
Driving report card
SOS button
Check-ins
Automatic Crash Response
Quality
Sfara Guardian Personal Safety app is a very high-quality app. Developers included a comprehensive tutorial that explains the app's many features and how to use them. The navigation is simple and intuitive and allows for many safety features that will improve users' peace of mind.
While I did not actually try out the emergency services responses, I did notice one minor disappointment- the Emergency Navigator system did not include much helpful information for my local area. This may be because we are very rural here, but the contact listed were primarily small doctors' offices with very limited hours and days of operation instead of the actual quick clinics and emergency rooms that do serve our county.  It would be wise to look at the list of suggestions for your area before relying on this service.
Safety Services
Sfara offers a wealth of safety services that will put nearly anyone's mind at ease in numerous common but risky situations. The app has lots to offer individuals of all ages as well as families, and the services are attached to the individual and the phone, not the car, so they work no matter who is driving. Some options include:
Roadside Assistance Plans
Turn-by-Turn Directions to Emergency Centers
Fake Call system to interrupt risky interactions
Emergency Operators and Automatic Crash Detection
It also allows parents to set up a driving report card that will show fastest speed traveled and other crucial information to help monitor teen drivers. There is a personal SOS system that will summon immediate help when problems arise, and a flexible checkpoint system that is designed for users to check in after a certain amount of time has passed.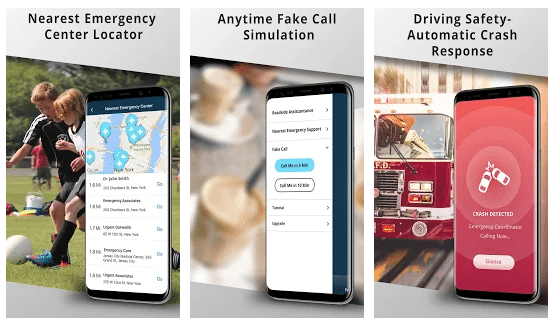 Value
The Sfara App is free to download on either Google Play or the App Store. A few features are activated for free upon download, and the others are available as part of paid plans via in-app purchases. There is an annual plan for $59.99 per year that includes up to 4 roadside events annually, as well as a monthly plan costing $4.99. Best of all, customers can sign up for a free 7-day trial to make sure the service is right for their needs.
Child Friendliness
This app is not intended for use by young children. When youth and teens have enough independence to head out on their own, this app will be appropriate for them to use.
NO social media

NO 3rd party ads

YES in-app purchase 
Sfara Guardian Personal Safety
Sfara Guardian Personal Safety
Sfara Guardian Personal Safety offers a range of services and plans to suit a wide array of needs for personal safety and protection. With options that include roadside assistance, crash detection, and personal SOS, it can be a source of peace of mind for the whole family.