Christmas is coming soon, and so are the presents. Do you have a sister or a niece and don't know what to buy for them? It can surely be hard to imagine what an 11-year-old girl would want. But with our reviews and buying guide here, you won't have troubles finding best Christmas gifts for 11 year old girls.
---
What Here
Buying Guide
What kind of gift should you buy?
Should you really buy an instrument?
What to look for when buying a gift?
what should you exactly look for in a gift?
What we recommend: Best Christmas Gifts For 11 Year Old Girls
Nabi Karaoke machine
Nintendo NEW 3DS XL
Fire HD 8 Tablet
Cat Messenger Tote Shoulder Bag
Big Joe XL Bean Bag
Conclusion
---
Buying Guide
Before we check out some of the most popular items that we reviewed, we should first explore several things. There may be a chance that you may not like any of the items that we reviewed. In that case, it is good to know what to search for when buying such a gift. With our buying guide, we will explain what kinds of gifts you should buy and what to look for in a gift.
What kind of gift should you buy Christmas gifts for 11 year old girls ?
Selecting the perfect gift for an11-year-old girl can be pretty hard, especially if you don't know a lot about the person. This is mostly because, at this age, they're splitting between wanting to be a teenager and still wanting to do what most kids do.
In order to get a sense of direction when buying a gift, you should know the personality of the girl. But if you don't, you should still keep the following gift categories in mind as they are the most popular ones for Christmas gifts:
Gift cards
Plush toys
Art sets
Fashion accessories like bracelets
Instruments
Out of these options, your safest bet may be the gift card. This can be a gift card from a clothing store, from an online shop, or even from a local store which catches their interests. A Plush toy may not be an equally expensive alternative, but it will still be an adorable choice.
If the girl likes to draw, then something like an art set filled with brushes and all kinds of colors would suit her. Small accessories like bracelets could also be worthy as a gift.
Out of all the items in this list, we think that instruments bring more value than any other gift. It may take a long time to learn how to play, but it will be worth it in the end.
Should you really buy an instrument?
We added instruments as one of the most popular Christmas gifts currently, but should you really buy one? It may happen that the girl may not be that much interested in music or playing instruments. But depending on her personality it is worth to keep it in mind. It shouldn't even be an expensive gift in which you will end up putting too much money
Most beginner instruments, depending on the type, can have no effect on your budget. Instruments like acoustic guitars often are very cheap when it comes to beginner versions. But some other instruments like a piano will definitely cost a lot more. Here are some of the most popular instruments that kids tend to learn to play:
Acoustic guitar
Electric guitar
Piano
Drums
Violin
We do recommend a budget option in the end as a gift. Most of these instruments can be bought starting at only 50 or 100 dollars. Beginner models of guitars and violins aren't that great, but for someone who is just starting out, it will be enough. A piano will definitely be a more expensive option as the beginner version tend to cost a few hundred dollars.
A piano, keyboard or a guitar would be a perfect choice for an instrument. Because not only will the initial learning curve bring some sense of achievement, they can also be used independently These instruments can be played by just one person without needing tracks of other kinds of instruments.
What to look for when buying a Christmas gift for 11 year old girls?
Now that you know what kind of Christmas gifts for 11 year old girls you should get, it is time to explore options. There are numerous gift types available and the same can be said for the models. But the question here is,
What should you exactly look for in a gift?
First things first, always make sure that the model you're buying is durable. It doesn't matter if it's an art set, plush toy or an instrument, make sure that it will last for a long time.
This doesn't mean that you should get something that she will use for a long time, but something that won't get broken within months. When searching for a perfect gift, make sure that it is:
Durable
A budget option
High-quality enough to bring hours of fun
Interesting enough for an11-year-old girl
The best way to buy a gift is to get something that you know she will love. But sometimes it is just better to get something randomly and hope that the person likes different things. Your safest bet might be a gift card to a clothes store, but buying ordinary toys for kids will still be a great option.
What we recommend: Best Christmas Gifts For 11 Year Old Girls
---
Now that you have seen some of the best gift categories for Christmas, it is time to check out some of the most popular items. We made the list so that every reviewed product would be liked by the average 11-year-old girl. The reviews contain features, as well as positive and negative sides of the product.
Nabi Karaoke machine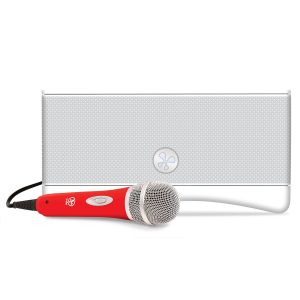 Read Parent Reviews | Check Best Prices
Everyone has fun trying to sing the most popular songs, but how about you properly do it with a real karaoke machine. The Nabi Karaoke machine will allow girls to sing the songs of their favorite artists and bands. It has a Bluetooth speaker which you can connect with any device and it comes included with a microphone.
Using this Karaoke machine won't be a problem as it is very simple to use. It has an additional input for another microphone which makes it great for more duets. You can also connect it to any smart device and from that, you can read the lyrics of the song you're going to sing.
Pros
Cons
With an additional microphone input, duets can be sung together
Using the karaoke machine is very simple and requires no special knowledge
Can be connected with any smart device in order to control the machine
You can customize the karaoke machine with the help of wraps, colored bumpers, and device stands
The speaker is great but the same can't be said for the microphone
It doesn't have any integrated screen for lyrics like most karaoke machines do
Quality gets worse if two microphones are used at the same time
---
Nintendo NEW 3DS XL
  Read Parent Reviews | Check Best Prices
Video games were always popular with children and they still are today. Nintendo has always been a gaming company that focused on video games and consoles for families. Most of the games coming from Nintendo are not gruesome or gory. Some of their best games are old-time classics like Super Mario, Zelda series, and Kirby.
This console is a portable one too. You are losing power by having a compact and portable console, but at least you can carry it around and use it anywhere. The hardware is also pretty powerful which allows great graphics on its screen.
Pros
Cons
The NEW 3DS XL is one of the best handheld consoles available
You can play games in 3D and turn it on and off
Comes with family friendly games that are made for all age groups
Hardware is powerful enough to provide a gaming experience without stuttering
This specific model requires you to buy a charger
Some customers complained about the durability of the sticks and D-pads
Not much of an upgrade if you own a regular 3DSa
---
Fire HD 8 Tablet
  Read Parent Reviews | Check Best Prices
The Fire HD tablet from Amazon is one of the best gifts you can give to a girl. It brings the best out of your usual smartphone but on a larger screen. The tablet is mainly made for reading books, but all sorts of things can be done.
In fact, everything that you do on your smartphone can be done on this tablet. You can stream videos, browse the internet and mainly, read Kindle books. If the girl you're buying a gift for enjoys reading books, then we recommend you this tablet as it's a perfect choice.
Pros
Cons
Comes in multiple color options
Has a battery life that lasts up to 12 hours
Has 50% faster ram and double the storage compared to previous models
Can be used by Alexa in order to remotely control it
You gain access to a lot of ebooks from the Kindle store
The speakers of this tablet aren't really that great
There is no GPS integrated into the tablet
Has a back camera but the quality of it is not good enough 
---
Cat Messenger Tote Shoulder Bag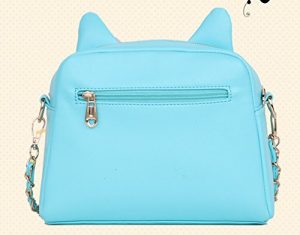 Read Parent Reviews | Check Best Prices
We mentioned that accessories should be bought as a Christmas gift, and we're going to say the exact same thing for this purse. Its design is quite adorable and it will be a great option for any cat lover. There are several zipper compartments in the interior that make this bag useful.
This bag comes in multiple color options and it is big enough to carry most of the items a girl will need. You can find this bag in blue, pink, and black, all options feature the same overall design. Besides the interior, there is also a zipper compartment on the back side of the bag.
Pros
Cons
Has one of the better designs for a bag
Comes in multiple color options and in the same design
Both interior and exterior have zipper compartments for storage
Big enough for a phone, wallet, makeup and other items to be carried
As a purse, it is much smaller than most models, but it will do the job
The strap is a bit heavy which might make it uncomfortable to wear
Some customers reported that they had trouble keeping the strap in place
---
Big Joe XL Bean Bag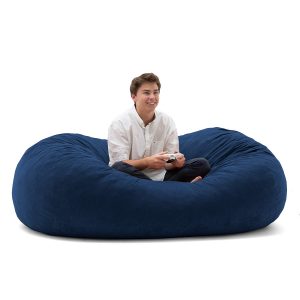 Read Parent Reviews | Check Best Prices
For the girls who just want to relax and enjoy their peace and quiet, we recommend the Big Joe bean bag. Sitting in a chair for longer periods of time can bring a lot of pain and discomfort. But If you're doing nothing serious and you just want to relax, a bean bag will solve the problem.
With the XL size, it is one of the biggest bean bag models available. It also comes in multiple colors which allow you to choose between different styles. Listening to music, playing on your table or watching the TV? A bean bag is perfect for such occasions.
Pros
Cons
It comes in a wide variety of colors and styles
This bean bag is one of the biggest models available
The Big Joe XL is quite durable and the interior is soft too
You can refresh the cushiness of this bean bag by refilling it again
It is really large so you might want to check if your room allows enough space for it
Since it is quite large it is also heavy, which makes it quite hard to move around
Consider another bean bag model as this model tends to get filled with dog hair
---
Conclusion
Finding the perfect Christmas gifts for 11 year old girls can be quite hard. But with the help of our buying guide and reviewed products, it doesn't have to be. As long as you know the personality of the girl you're buying the gift for, it won't be a problem to find the best option. Is the girl interested in music, art or still wants to play with plushie toys? Then just follow what she wants.
If we had to pick the best option for a gift, we'd definitely pick the Nintendo NEW 3DS XL. It is simply a must-have handheld console that will always have well-made games. It can bring hours of fun and all of the games are family friendly. We know how much kids love playing games, so get a handheld console as the next Christmas gift.