Summertime is probably the most fun season in the year. And adding a water table to the backyard will only amp up the fun. It's one of the best and most fun ways to help your child feel comfortable with playing with water; an activity table filled with water. It's an easy solution to the hot sun and backyard boredom!
Depending on what you're looking for, there are water tables that are designed with simplicity and those which come with different accessories and toys. Water tables are fun toys which help develop children's motor skills and encourage socialization and cooperative play.
Our TOP Three Favorite Water Tables
Check out our top three favorite water tables on the market right now. Each design works well for a variety of children depending on their age and what they're most interested in.
Step 2 Rain Showers Splash Pond Water Table | $77.87
April showers bring May flowers and then you're little guy or gal will have this fun activity table to play with all summer long! There's a large water pail that children can scoop up water with, rearrange maze pieces around the table, create rain, flip figures into the pond, and more. Buy from $77.87
Little Tikes Spiralin' Seas Waterpark Play Table | $41.49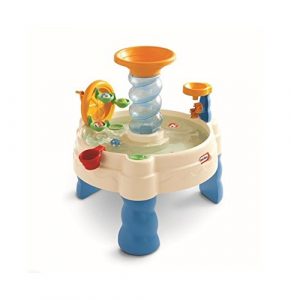 This table provides your kids with endless fun and a variety of features it comes with. Suitable for older and younger kids with its spiraling waterway, it has three waterpark-inspired activities attached as well. In addition, it comes with five character balls which can be used as squirt balls. Buy from $41.49
Little Tikes Fountain Factory Water Table | $51.78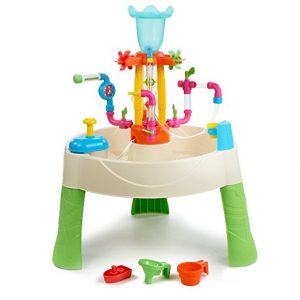 This water table takes a STEM to playing and learning. All of the activities surrounding this "Fountain Factory" include a cause and effect. The pipes are interchangeable and kids can really dig in and use their imagination during playtime. Buy from $51.78
Some Favorite Themed Water Tables
You can find some water tables that have a particular theme as well. From Disney pals to favorite TV shows, let's have a look at what the kiddos are going to go wild over.
---
Step2 Paw Patrol Water Table | $42.49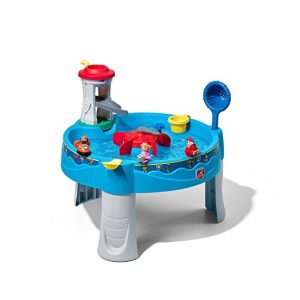 Save the day with Ryder and friends. Your little guy or gal will have such a great time splashing around with the characters from Paw Patrol! There's a lookout tower, a waterslide, and even a water launcher to make playtime even more fun and imaginative. Buy from $42.49
Little Tikes Anchors Away Pirate Ship Water Table | $85.47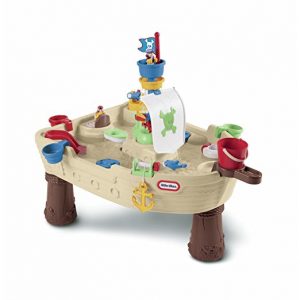 Yo ho, Yo ho, a Pirate's Life for …. Your Kiddo! Check out this pirate-themed water table. Filled with surprises and swashbuckling fun, you'll have a great time watching the captain of the ship dive in and splash around for a while. And it's got so many features to interact with including a steering wheel and squirt gun. Buy from $85.47
Step2 Finding Dory Swim & Swirl Water Table | $44.22
Who loves Disney Pixar films? If your kiddo happens to be a fan of Dory and Nemo, then you'll definitely want to take a second look at this water table. Filled with the favorites from the movie and whirling, swirling center, he/she will have such a fun time exploring this one. Buy from $44.22
The Best Backyard Beaches
There are some water tables that include a bit of room for sand play as well. These "beaches" can be set up right in your backyard and your child gets even more hands-on activity time.
---
Simplay3 Indoor/Outdoor Sand and Water Table | $74.99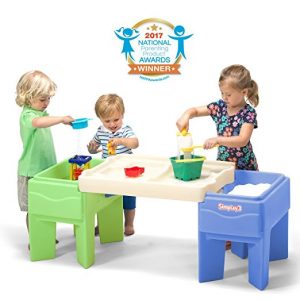 This table is perfect for both indoor and outdoor play. There's a space for water time, a spot for sand interaction, and there are even storage opportunities for when it's inside. It's one of the best sensory toys on the market. Buy from $74.99
Naturally Playful Sand & Water Center | $77.99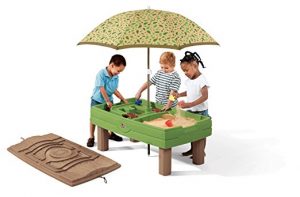 This table is perfect for both indoor and outdoor play. There's a space for water time, a spot for sand interaction, and there are even storage opportunities for when it's inside. It's one of the best sensory toys on the market. Buy from $74.99
Step2 Cascading Cove Sand and Water Table | $69.38
Separated by a roadway, this table features a two-sided design as well. Kids will get time with sand, time with water, and as any good parent knows – eventually the two will combine. This is a simple table that you can add your own accessories too as well such as cars, boats, and the like. Buy from $69.38
FAQ
What's the difference between a water table and a kiddie pool?
A kiddie pool is an inflatable pool which can be filled with water. It's a fun piece of equipment which can be placed outdoors. This will allow your child to swim right in your backyard. A water table, on the other hand, is more like an educational toy. It's an activity table which comes with a tub where you can place water.
Do you have to put the tables together?
A lot of these tables will require some adult assembly.
What's the best way to fill up the tables?
This is completely up to you! A lot of parents use pitchers of water or a hose to do the filling. Most tables old 3 – 4 gallons of water so it doesn't take too long to make it happen.
What to look for when choosing a great water table?
When it comes to selecting the right water table for your child, then you first have to think about the basics. Think about what size you want for your water table. If you have more than one child or if you want your child to play with the water table with friends.
Also, think about whether you will be using the water table outdoors, indoors, or in both locations. The bigger water tables are more ideal for the outdoors while the smaller sized ones are suitable for indoor use too.
Then think about the age of your child/children. Of course, the younger your child is, the simpler the table can be.
How do you get the water out and keep it from mildewing?
Most of these tables will come with drain plugs. Once playtime is over, unplug the drain and allow the water to spill out. Then, it's advised, to make sure the table is completely dried out in the sun before you bring it inside.