Can you say, "Woooo Hoooooooo!"? Well, that's frequently the noise heard when kiddos are playing in cold, spraying water on a hot summer day. ???? While breaking out the lawn sprinkler is always fun, there are also some pretty darned nifty toy water sprinklers for kids that are not only cute, but some that squiggle and wiggle, and are generally a (figurative and literal) blast for kids. Check out some of our parents' favorite toy water sprinklers and favorites from kids aged 3-7 we asked.
---
Tidal Storm Hydro Swirl Spinning Sprinkler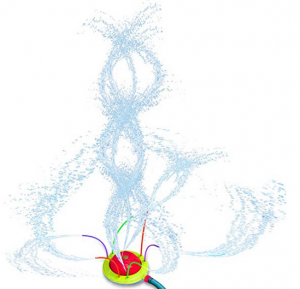 The colorful Hydro Spinning Sprinkler creates swirls of water that reach for the sky. It even features lil noodles for extra splashes of water. You will need to put your water pressure on high to get the most out of this sprinkler, however it is still a great buy. Kids will be mesmerized by the sprinkler's pretty colors and the jets of water that create a Vegas fountain-style show. It may even tempt the family pooch into getting in on the fun! Buy from $20
---
Bestway Limbo Sprinkler Inflatable Water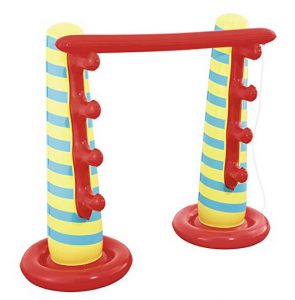 Use this sprinkler by itself or in conjunction with a slip 'n slide to make any backyard barbecue extra awesome. Bigger kids as well as adults will love playing this classic party favorite. Add it to your next outdoor shindig for a great time! Buy from $20
---
Sprinkle and Splash Play Mat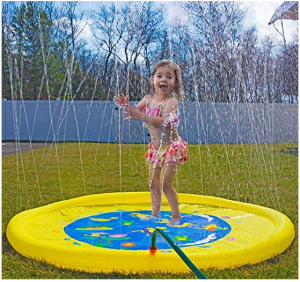 With 68″ in diameter this is flat pad is great for getting the smaller kids used to splashing in a pool or letting the water hit their face. It will not keep the older kids entertained so this is perfect for babies who are moving around and toddlers. Buy from $30
---
Giant Inflatable Whale Sprinkler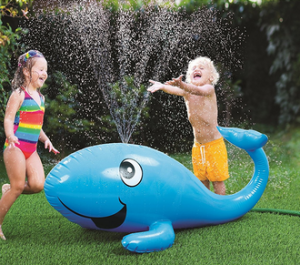 A fun and fantastic way for your kiddies to beat the summer heat. In the shape of a friendly blue whale, this sprinkler also works as a pool toy. All you have to do to get the "blowhole" working is connect the toy to your garden hose.
This sprinkler is ideal for toddlers and provides hours of backyard fun. Use it at your next pool or water party, or any time the kids are bored and want to cool off. It's a great first sprinkler! Have fun! Buy from $15
---
Fire Hydrant Garden Hose Sprinkler
This sprinkler is so cute! Hook him up to a water hose and this fire hydrant is good to go. Donning a funny expression, this sprinkler reminds me of a cartoony character from Who Framed Roger Rabbit. Spins and splashes! Buy from $12
---
Melissa & Doug Sunny Patch Splash Patrol Sprinkler Toy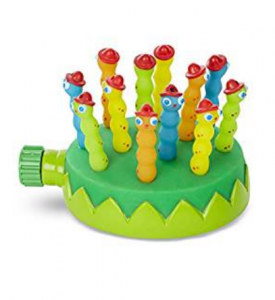 Bunches of splashing fun, this sprinkler, nicknamed the Sunny Patch, has a cute design that starts with a green patch of grass with a bunch of funny, wormy wrigglers on top. The wiggling, colorful grubs spout water in every direction. What fun! Buy from $18
---
Splash and Spray Ball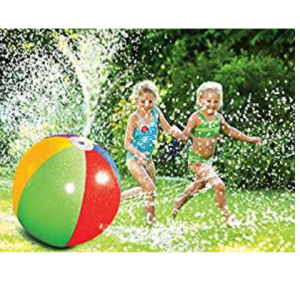 Adorable in chunky, colorful stripes, this beach ball sprinkler is all about cool down fun in the summer sunshine. Measuring 35″, the ball is inflatable, requiring a water hose for splish-splashiness. Buy from $10