Take Your Kids Out for A Fun Ride With These Awesome Bike Seats That Hook Up to Your Bike
Bike seats for children are an easy and fun way to connect with your child as you go on a stress relieving bike ride. They are available in different mounting styles and selecting the best toddler bicycle seat is vital. This child bike seat review will provide you with a guide to finding the perfect one for you and your child.
Prerequisites to using child bike seats
It is important to determine your needs before buying a bicycle seat. Child bicycle seats come in different designs and with different demands. In this child bike seat review, we will explain what you need look for to finding the right seat for your child's bike.
Compatibility of your bike with a child bike seat
Type of child bike seat you seek to mount
Once you determine your bike is compatible with a seat, choosing where to mount it is the next vital step. It is possible to mount the seat on different positions on the bike, but this is highly dependent on the requirements of your bike. There are three different mounting positions on a bike, all with their specific requirements:
Rear-Mounted Seats
These are the most common seats fit over the rear wheel of your bike. They are larger than front-mounted seats and provide extra features such as footrests, buckles, reclining, and suspensions.
Most rear-mounted seats are currently frame mounted as opposed to a rack, this means that they fasten to the bicycle frame. However, you cannot see what your child is doing while cycling. The following two conditions can adequately help in determining that your bike will properly fit this type of seat:
The seat tube needs to be clear of the presence of any brake and gear cables for proper mounting
Enough clearance between the child bike seat and frame of the bicycle
Center-Mounted Seats
​These seats come with a bar that goes between the head and seat tube (crossbar), therefore do not require a straight top tube.
​Front-Mounted Seats
​These seats are mounted between the rider's hands, and children often feel secure and are more comfortable to be involved in the cycling experience. They also provide a clear view in addition to enabling easy communication. However, the weight, and journey length are major limitations. You need to consider the following conditions for this type of child bike seat:
​The type of headset available on your bike. Handlebars with threadless headsets have bases that are too wide for the quick-release brackets to fit in comparison to threaded headsets.
Your bike needs to have adequate space to mount the seat
The distance between the seat tube and bicycle handlebars needs to be adequate to reduce the difficulty in riding with the front-mounted seat.
Age and Weight
​A majority of these seats are designed for children between the ages of 9 months to 4 years and varying weights. Rear-mounted seats provide the biggest range of between 20-48 pounds. Furthermore, rear-mounted seats are more accommodating in size and age.
​Safety
​It is important that any child bike seat include secure foot straps in addition to the footrests. Having only a footrest may endanger the child to feet in spokes accident by letting their legs dangle. It is also important to have knowledge of other things that may be entangled in the spokes such as scarfs and mittens, and untied shoelaces.
​For safety, most child seats come with a three-point safety buckle, with straps securing the child to the seat. In comparison to trailers, child seats are not as conspicuous and it may be necessary to have a reflective or LED light fixed on the seat.
​Comfort
​Bicycle seats for children should have a complete head and back support. A reclining seat is better for a child. Such as seat does not strain the child's back and neck. A padding to the seat is also important and should be easy to maintain if the child soils it.
​Suspension on a bike seat absorbs the shock of travelling on a bumpy road and cushions the child from such impacts. Suspension provides a more comfortable ride and is mainly provided on rear-mounted seats. As you cycle, wind blows past and for a child this may be a health danger. Rear-mounted seats do not have this flaw in comparison to front-mounted seats.
What we recommend
​It is very difficult to select the right bike seat for your child that meets your needs. If you have no idea which brand you want to buy, check our reviews below.
​iBert Child Bicycle Safe-T-Seat
If you are looking for the best toddler bicycle seat, it is necessary to search for one that combines features of safety and comfort in their design. The iBert Bicycle Safe T-Seat exactly provides parents with that.
The design also ensures that there is an interaction between the child and parents making the ride enjoyable.
​This seat can also detach or attach in a matter of minutes making it unnecessary to have it on your bike without your child. Furthermore, it encourages mobility for the rider because it is mounted at the center. It has a padded wheel; a feature that enables the child to turn the steering wheel with their parents as well as provides them with an unobstructed view.
The product is also attractive to your child as it comes in three kid friendly colors: green, red, and pink.
Features
It is made of tough molded plastic
It includes a padded steering wheel for safety and play
It is mounted at the center to provide increased movement for the rider
It has an innovative and attractive design
It is suitable for children between ages 1-4
The seat is securely positioned behind the bicycle handlebar providing safety to the child
Pros
Cons

It is simple to attach and detach from the handle bars
The mounting position of the seat provides the child with an unobstructed view
The ride is more enjoyable as there is more interaction between the child and the adult while riding
In comparison to trailers, this child bike seat does not expose the child to debris from the bicycle tires.

It is not compatible with bicycles that have gear-shifters and often necessitates re-positioning them to fit the seat.
It is difficult to fit on bicycles that have handlebars that cannot adjust.
Finding The Perfect Present For A 13 Year Old Boy
When thinking about buying the best birthday gift for your 13 year old boy, you might get intimidated. The fact is, buying presents for teenagers can be really tough. You have to think about the interests of the child (even if it's your own) then you can decide what gift to get.
If your teenager is fond of outdoor activities, you can get something to support those interests, such as a cool bike or a functional flashlight. Or if your teenager is more interested in current trends and modern gadgets, a hoverboard or a fun little robot will be a great choice.
Classic gifts such as air hockey table, scooter... can be fun too, not only for your 13 year old but for the whole family too. Read on to learn about the best gifts for a 13 year old boy, which are available in the market now.
How To Choose
If you are thinking about finding the best gift for a 13 year old boy, we are here to help you out. You need to know what the teenager is interested in to be able to decide which gift to get. Just like any other products out there in the market, gifts like these come in wide varieties, each with their own specific features.
Generally, 13 year old boys won't give you a concrete response when you ask them what present they would like for their birthday. Before you go out and buy a present, consider some important factors.
These are general factors which you can think about so that when you are making a selection of which gift to buy, you can narrow down your options. Toys for big boys such as bikes or hoverboards, functional items such as flashlights or a robot which can be controlled via an app on a device or even old-school toys such as a foosball table.
These are some of the great gift ideas which you can think about. Here are some features for you to think about:
Areas Of Interest
The very first factor you have to consider is the areas of interest of your teenager. When young boys are about this age, their interests are very different. They cannot be considered as kids anymore but more mature gifts aren't appropriate just yet.
Rather than asking point blank, "What do you want for your birthday?" and not getting a straight answer, try asking what your teen is interested in.
There are a wide variety of interests and once you know what appeals to your teen the most, finding the best toy will be a whole lot easier.
The Trends
Current trends are also something to think about. Each year, each season, trends change. And your teen may either follow the trends or not. If he does, then you have to follow the trends too. Be careful though, trends can come and go easily. So if you're planning to get a trendy present for your teen, make sure to get it near his birthday. If you get it way too early, you might run the risk that the gift you get is already "old news" when your 13 year olds' birthday comes around.
Safety And Functionality
Another feature to consider is safety and functionality, when applicable. Of course, if you get a toy for your teenager, you have to look into all the specs and how it functions. If needed, you may even have to learn how it works before giving it so you can teach your teen how to use it properly.
Safety is a feature which is important for gifts which involve outdoor use. For instance, if you buy a bike, a skateboard or something which can be used outdoors, then safety features are really important.
Something Educational
When searching for a gift for your teenager, you can also think about whether the item is educational or not. No matter what gift you are planning to get, if you think your teen will learn from it, then that's a definite plus.
Learning doesn't have to be academic. You can also find a gift which will allow your 13 year old to learn a new skill then keep on practicing it.
The Fun Factor
Another very important factor to consider is whether the gift you buy is fun for your teenager. Just because your boy is growing up doesn't mean he should stop having fun. In this world where kids and teens are too focused on gadgets and devices, finding a fun gift can be a refreshing break from the cycle. Giving a present which can provide hours of enjoyment will surely make a mark on your teen and will allow him to have fun with other things and broaden his horizons.
Your Budget
Finally, you have to look at your own budget. Different products come in different price ranges. Whether you're buying a gift for someone you know, someone you're related to or even your own son, the budget is an important factor.
If you have the means, then you can go ahead and look for more expensive products. But if not, then you can search for potential presents which are more affordable.
---
What we recommend
Monster Moto Classic Mini Bike
 Read Parent Reviews | Check Best Prices
The Monster Moto Classic Mini Bike is not for the faint hearted. It's an edgy, cool outdoor bike which is ideal for 13 year old boys who love spending time outdoors.
Boys need an avenue to release all their energy and this bike is the perfect thing to help them do it. This bike doesn't only look amazing but it's also very safe.
The reinforced steel frame and adjustable handlebars are features which ensure the safety of your teen.
Features
Cool and stylish design.
Has a powerful motor, sturdy frame and handlebars which can be adjusted.
Super grip tires allow for additional safety.
Steel frame is powder coated and welded for durability.
Can be used over different terrain.
Pros​

Cons

Rugged and cool design, perfect for boys.
Durable design allows for longevity.

Some assembly is required before use.
Some customers complained that the product arrived damaged or flawed.
---
 Schwinn Child Carrier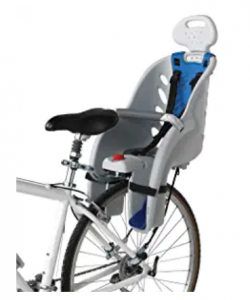 Read Parent Reviews | Check Best Prices
The Schwinn Child Carrier is a child bike seat mounted on a frame at the rear.
This design is suitable for those looking to protect their children from the effects of wind while riding, features that front-mounted child seats lack.
Schwinn also provides an affordable toddler seat in comparison to others. Moreover, it combines safety and durability in its design.
Features
It is made from polypropylene that is light and strong
It is secure with a quick release harness, padded handlebar and leg restraints for the child
It is suitable for children weighing up to 40 pounds and ages 1+.
It is a rear child bike seat that is frame mounted
Has a detachable headrest
The seat includes a seat spring guard and a spoke guard to protect the feet
Pros
Cons

It is quite inexpensive in comparison to other child bike seats
It is quite safe for the child because of the restraints and padded handlebars provided
It is easy to install on most bicycles
It is light and sturdy because of the material used
The rear frame-mount design protects your child from the wind

It is not suitable for short individuals with lower saddles
The seat is incompatible with any existing welded rack on your bike and you must use the one provided
---
 Belleli Pepe Rear Mounted Baby Carrier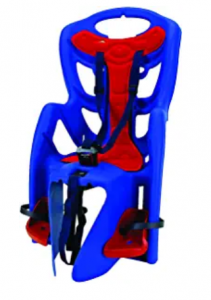 Read Parent Reviews | Check Best Prices
Coming in two different fitting methods, the clamp fit and the standard fit, this rear-mounted carrier has a contrasting color scheme attractive to both you and the child.
The simple mounting design also makes it possible to mount it at the front. The incorporation of safety harness and foot straps provides additional safety.
It is light, comfortable and capable of accommodating children of different heights because of its adjustable footrest. It is particularly useful for parents with several kids.
Features
Made for children aged 7 and below
It is versatile and can be mounted on the rear and front
For additional safety, it has a three point seat belt and foot straps
Made from plastic that is light, durable and washable
Quick release feature that makes it easy to attach and detach
Has height adjustable footrests
Pros
Cons

The rear mount design protects your child from wind and debris
The quick release makes it easy to switch it to another bike
Safe and comfortable due to incorporation of its safety harness
Does not require a rack to be mounted on the bicycle frame
It is strong, light and secure
Surprisingly easy to install the seat

The adjustable footrests may get in the way of the rider
The safety harness can easily come off creating a potentially hazardous situation
A rear mounting rack is not provided with the Bellelli Pepe clamp fit and necessary to purchase separately.
---
 Thule 2016 RideAlong Child Bike Seat
 Read Parent Reviews | Check Best Prices
For parents looking for a lightweight, easy to install and comfortable child bike seats, then the Thule RideAlong seat provides all these features.
The seat comes with a different set of options that provide safety and comfort to your child.
Its design provides the maximum comfort for your child on the next bike ride.
Features
Has a three point adjustable harness for comfort and safety
A secure seat belt to safely hold your child
A single-hand adjustable button for five different recline positions
Has a quick release bracket to safely secure the seat
Includes a height adjustable foot rest
Includes a double beam suspension system to absorb shock while riding
Has armrests that double as walls to protect your child's hands when the bike is against a wall
Pros
Cons

It is comfortable because it effectively absorbs shock while riding
Easy to maintain because of a waterproof padding
Quick and easy to install on your bike due to the quick release bracket
Suitable for children between ages 1 to 6
Provides advanced safety with its harness and childproof buckles
Increased visibility due to the built-in reflector

Necessary to separately purchase a low saddle adapter for bicycles with a lower frame
The headrest does not offer maximum support resulting in the child's head moving from side to side while riding
---
 WeeRide Kangaroo Child Bike Seat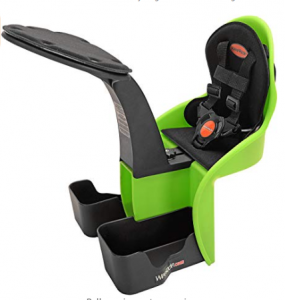 Read Parent Reviews | Check Best Prices
The center mounted WeeRide Kangaroo Child Bike Seat provides your child with the best viewing experience of the surrounding as you ride with them.
Parents who are overly concerned with the safety of their children can now keep a close eye on them as they ride with the center mount feature.
This child bike seat comes with instructions that make it easy to install.
In addition, it provides enough room for your child and does not interfere with the performance of your bicycle.
Features
Made from a strong steel-plastic combination that is usable on any bike
Has height adjustable foot bucket
Comes with a padded front bumper
Childproof safety belt for additional safety
Suitable for kids above 1 year
Has a steel support bar that does not hamper with the brake and gear cables
Pros
Cons

It is easy to install on your bike or beach cruiser
Very comfortable to the child and rider
It provides a great view to the child and rider
The seat is wide and roomy
It is of great quality at a reasonable price
The seat does not hinder with brake cables

It does not fit on all bikes and is the main interference when riding because you keep hitting the seat with your knees
The straps are too big and may be a safety concern for your child if you fall over with the bike
---
Conclusion
​For those into cycling and want to introduce their children to this way of having fun, getting the best toddler bicycle seat is a way to get them started. There is a wide variety of child bike seats all meeting different criteria, but from our child bike seat review, you will have to get the Thule 2016 RideAlong Child Bike Seat.
The rear-mounted seat provides safety and comfort to the rider and child and is easy to install in comparison to the other seats. It might not fit on all bikes but the varieties of its features for the price you have to pay, make it quite suitable.