Little ones love "let's pretend" activities — and what better way for kids to play outside than pretending they are playing in homes of their very own? These top 10 outdoor playhouses provide hours upon hours of entertainment and help your kids enjoy active, creative play instead of spending time in front of the television or computer screen.
Some of these playhouses are made of plastic, while others are comprised of wood. Each option offers pros and cons, but one thing is for certain: it will be a long darn time before your little 'uns get tired of their playhouses!
---
Step2 All Around Playtime Patio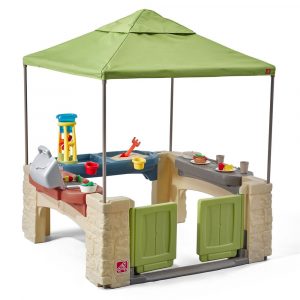 This pavilion style design is perfect for those that want to play in a more free-flowing space, especially for spring and summers that are extra hot! You'll get the right amount of airflow with this design but still the fun that a "playhouse" has to offer.
The set includes a sand and water area, a kitchen and a snack table. Little ones can "make" lunch and get their hands dirty with creativity. Buy from $185
---
Step2 Happy Home Cottage & Grill Kids Playhouse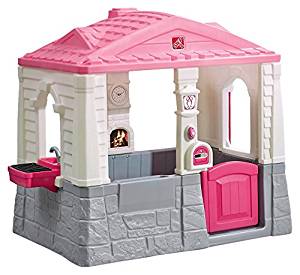 The Step2 Happy Home Cottage has everything a little one needs to play "house" and build up some precious fantasy around – including a fireplace and a working doorbell.
With this cottage you'll get a built-in floor (with drains to keep everything a bit cleaner), stone molding and a wood finish to give "realistic" quality to the design, and open windows for keeping a close eye on playtime and free airflow throughout the warmer times of the year. Buy from $180
---
Step2 Seaside Villa Kids Playhouse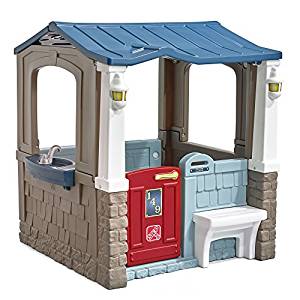 Journey seaside with this quaint villa for the kids! There's even a front porch bench for the kiddos to stop, take a load off, and enjoy the sunshine. This playhouse features a kitchenette with a sink and faucet, a mailbox, and open windows. Not only does it have a lot of options when it comes to "playing house" but it's incredibly simple to assemble leaving parents happy too. Buy from $199
---
Backyard Discovery Timberlake House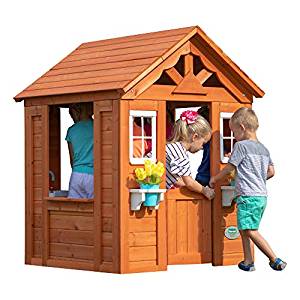 A design that's a bit more traditional in style, the Backyard Discovery Timberlake Playhouse has a full kitchen inside and even a place for some fresh florals to be displayed! Including a toy stove, sink, and a cordless phone, your guys and gals will be able to "make believe" for hours inside. This design is a bit more enclosed to a real "homey" feel but the windows are large enough to let the sunlight in without an issues. And no fear, the playhouse assembly takes just under an hour. Buy from $195
---
KidKraft Modern Outdoor Playhouse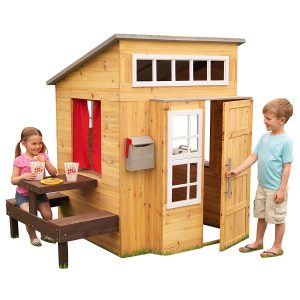 Check this modern KidKraft Playhouse! It's got a built-in picnic table, mailbox and enough space inside for playtime to really take flight. There's an outdoor grill with a removable lid and even an option to add paint to the surface if you want to personalize it a bit more for you little guy or gal. Allow yourself enough time to build it though, as it will take some time to get it just right. Buy from $320
---
Little Tikes Build-A-House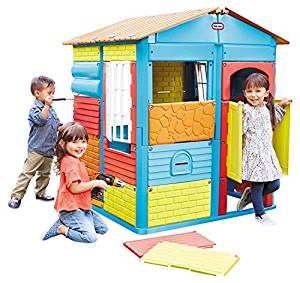 This Little Tikes creation is one of the most unique on the list because the kids can practically design a new playhouse every afternoon! With interchangeable panels, they'll have something to work with and "change" anytime they feel up to the challenge. All you have to do is build the roof for them and then let their imagination take over. There's even a kid-friendly screwdriver and drill included to make the "design" even easier. Buy from $175
---
Backyard Discovery Scenic Heights All Cedar Playhouse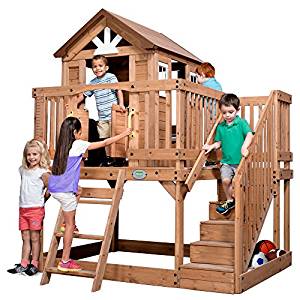 Sleepovers just got a lot more fun with this Backyard Discovery Scenic Heights Playhouse. It's big enough for siblings and friends to have hours of fun in! Everyone will have fun climbing the stairs and the ladder to get to the main center. And there's a kitchen inside as well as boxes for extra toy storage! What's the best part of the entire design though? There is a cot inside – with a cushion – so the little ones can really take a load off, have a snack, or read for a while. Buy from $530
---
Backyard Discovery Victorian Inn
Finally, we have this dazzling Victorian Inn from Backyard Discovery. It has so many amenities for the kids to play with including: a front porch area, serving station, a bench, and modern appliances. And don't worry, the kitchen is fully stocked with telephone, plastic knife, cutting board, faucet, mounted sink, burner, fruit and vegetable basket with velcro food (apple, corn, orange, carrot, watermelon, strawberry). Add some fresh florals to the pot outside and watch as the creativity from your little one's playtime unfolds. Buy from $500