1-10 Balloons is a preschool app that's aiming to help your child learn to count to ten. The app has been developed for the iPad and it's simple, big and bright and will catch their attention. The app has three parts: learn, follow and play. In Learn your child will see ten brightly colored balloons on the screen. A little monkey hangs out in the bottom corner, watching the goings on. Each balloon is numbered one through ten. The number one balloon will be highlighted and your child should tap on it. When they do this they'll hear "one" and the balloon will pop. Next the number two balloon will be highlighted and so on. The balloons are arranged in order and your child needs to tap each one until they've all been counted and popped. The voice over is terrific. The woman's voice rises with each number and you can hear the excitement building as balloon after balloon pops. The reward at the end is a screen full of floating balloons and congratulatory sound effects. Hooray!!
The idea is similar in the "Follow" section except the balloons are no longer in numerical order. The number one balloon will be highlighted but your child will need to look around the screen to find it. Once they've tapped on it they hear "one" and it pops. They continue finding the numbered balloons and popping them until they're all gone. Finally, the "Play" section sets your child loose on their own. They must find the numbered balloons in order but there will be no highlighting to help. Now according to my son there actually is some help in this section. A little monkey hangs out in the corner of the screen and my guy says his eyes will move and look at the balloon you should tap. I did notice his eyes moving but didn't notice where they were looking. Perhaps this is a bit of hidden hinting.
1-10 Balloons is very reasonably priced for an iPad app. The game is simple and stresses repetition. My children hate popping balloons in real life but they do love to pop things in apps. If they were younger I think this is a learning activity they'd enjoy.
Price when Reviewed: $.99
Seller: Oscar's Apps
Disclosure: I received a free copy of this app for review purposes.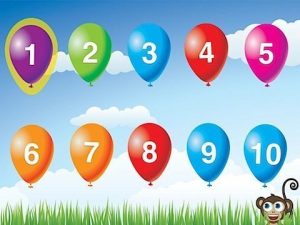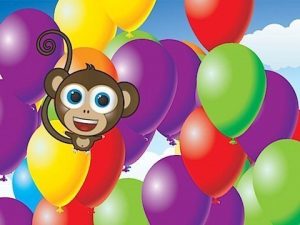 Related content: