The Ultimate List of iOS8 Tips & Tricks
Loaded with iOS 8, your shiny new iPhone 6 is ready to go. iOS 8 has lots of changes and updates, mostly behind the scenes stuff to really elevate the iPhone 6 to the best phone on the market. There are a bunch of awesome new features and we've outlined most in our new iOS 8 features list. To help you master your iPhone 6 quickly, we've pulled together a monster list of new features, tips and tricks below. We tried to group them into categories to make life even easier.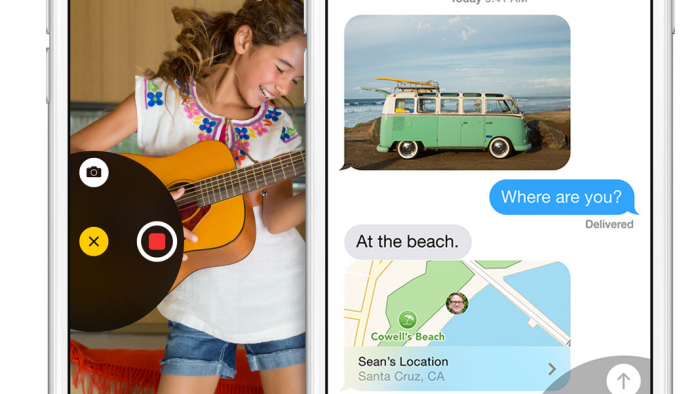 Mail & Messages for iOS tricks
Mark Mail as Read: In your inbox swipe from left to right to reveal a "Mark As Read" icon. If it's a conversation you will have to do this for as any time as there are unread messages.
More, Flag, Trash: Swiping from right to left reveals quick actions to let you do a number of things. More brings up a secondary menu to let you reply, forward, flag, mark as unread, move to junk, or notify you of future messages in this conversation while Flag and Trash let you do just that.
Notifications for Specific Threads: Specific email exchanges can be set up so you're notified when something happens. Useful if you are waiting for a specific response from an email and don't want to have to keep checking your phone every two minutes you can opt for iOS 8 to notify you. You can set this up by swiping left on a specific message, click 'More' tab and click 'Notify Me'.  To send an email with a notification alert already one it, select the bell icon in the subject line.
See Email with Attachment : A new feature in iOS 8 lets you see just email with attachments. On the Mailboxes screen, select 'Edit' and select 'Attachments' from the list. .
Hide Compose Window to Read Emails: This feature is useful if you want to check a new email without saving and coming back. Swipe down on the subject header at the top of the email.
Minimise Email You Are Writing: You can drag an email you're reading or writing by to the bottom of the screen. To do this hold down on the title of the email at the top and drag towards the bottom. To get it back, just tap on that email.
Time Zone: The Time Zone Override feature allows you to show event data and times in selected time zone. When off, events will display according to the time zone of your current location. Set it up by going to Settings > Mail, Contacts, Calendar > Time Zone Override and choose the setting.
Auto Contacts: When you get get a mail from someone and they've got a signature, Apple now reads that information and asks you whether you want to add it to a contact. If you don't you can choose to ignore, but if you do, press on the Add to Contacts button at the top of the screen.
Mark All Messages As Read: It is now easy to get rid of that annoying message bubble, without actually deleting all the messages. To mark all your unread messages as read, press on 'Edit' in the Messages app and and then 'Read All'.
Send Voice Messages from Messages App: Click and hold the microphone icon to the right of message box. Record your message and then let go to stop. Select the 'X' icon to cancel and up arrow to send the voice message.
Quick Photo: If you are talking on iMessage you can press and hold the camera icon to reveal a new menu. Swipe up to take a picture or left to record a video.
Raise to listen to audio messages: It's on by default but you can turn off the ability to listen and reply to incoming audio messages by raising your phone. To turn it off go to Settings > Messages and toggle Raise to Listen.
Send iMessage as SMS: If you are having trouble sending your iMessages (over data) you can opt to have iOS 8 revert to sending the message as a SMS instead. Go to Settings > Messages and tick the relevant box.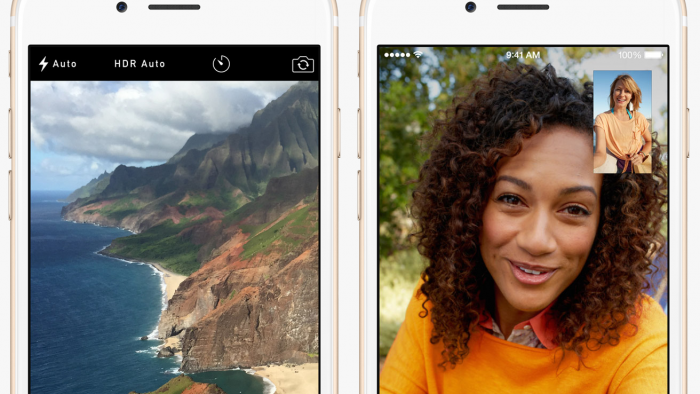 General iOS 8 tips
Find Battery Draining Apps: Some apps and processes use more battery than others and keeping an eye on what's using up too much juice will keep your iPhone or iPad going for longer.Apple doesn't specifically tell you which apps are using the most memory, but it does allow you to check which apps have used the most battery over the last 24 hours or 7 days. Go to Settings > General > Usage > Battery Usage. Shut down those annoying battery hogs once and for all and increase your iPhone 6 battery life.
Standard or Zoomed: On the iPhone 6 and iPhone you can change the display setting from Standard or Zoomed. To switch between the two if you've changed your mind after setup go to Settings > Display > Display Zoom and select Standard or Zoomed.
Add Widgets In Today View: iOS 8 adds the ability to add and remove widgets from third-party apps from the Today view. You can basically control which weather or sports app you want versus just using the standard stuff. To add and remove them, swipe down from the top of the screen to access the 'Today' screen and then press 'Edit' and select the widget you want to add/delete.
10-day Weather Forecast: Go to weather, and on any city swipe up. See the 10 day forecast. Cool.
Choose DuckDuckGo As Your Search Engine: Set DuckDuckGo as your default search engine. DuckDuckGo is the only search engine I know of that doesn't profit from its users and everyone sees the same search results for any given search term. Its slogan, 'the search engine that doesn't track you'.
Customise Sharing: In any app which has sharing set up, click the Share button and options from default apps and other apps will appear. You can change the order by pressing and holding on hide unwanted apps by pressing, holding, releasing and tapping Hide. Scroll across and tap More to add more share functions.
Access App Passwords in Safari: As part of its new Continuity features Apple now gathers passwords and makes them accessible across your devices. To check that the feature is turned on go to Settings, Safari, Passwords & Autofill.
Enabling Handoff between iOS 8 devices: Go to General > Handoff & Suggested Apps and then toggle the box.
Stopping iPad Ringing: One of the new features of iOS allows you to take calls on all your devices regardless. The problem is that all the phones ring and messages ping at once, which is annoying. Settings > Face time and turn on iPhone cellular calls ring.
SMS Messages on Mac: Go to Settings > Messages > Text Message Forwarding. Find your Mac or iPad you want to allow access and pair the two devices with a security code. You'll now be able to see and send Text messages on your laptop.
HealthKit
HealthKit is one of iOS 8's signature features: It collates health information from supported apps into one interface, all of which is also available to other Health Kit apps. One of the simpler features is the Medical ID, where you can provide basic health information in the case of emergency. Go to the Health app and select 'Medical ID' and then 'Edit' in the top right corner. From here you can add any medications, conditions and other pertinent info, such as your blood type. Other apps can't access this info, but it is accessible from the lock screen in the case of an emergency.
Medical ID on Lock Screen: If you need access someone's medical details in an emergency, swipe right on the lock screen, tap on 'Emergency' and then select 'Medical ID' in the bottom left. This will show you a person's basic medical info if they have added to the Health app.
No Health For Specific Apps: If you don't want apps requesting access to the Health app, turn them off by going to Settings > Privacy > Health. To see which apps and hooked into Heath, then go into the app and click on the Sources icon at the bottom.
See Also Top Health Apps for iPhone 6 & Best Health & Fitness Apps for Busy Moms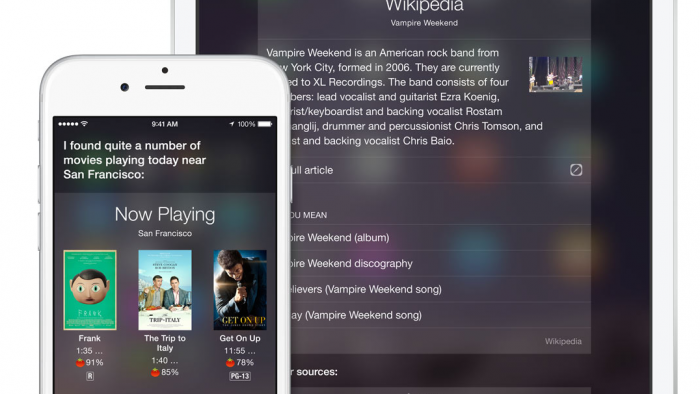 Siri
Use Siri to Identify Songs: Apple has integrated Shazam into iOS 8, which means that you can have your iPhone name any tune you hear playing. To do so, simply start up Siri (press and hold the home button) and say something like "What's the name of this tune?" or "What's playing?".  Siri will have a listen before displaying the name of the song, artist and a piece of cover art. You can even buy the track if you like it.
Hey Siri: You can bring up Siri even without touching your iPhone, simply by saying "Hey Siri." There are some caveats though.
Get Home: Ask Siri "Take me home," and it'll use Apple Maps to get you turn-by-turn directions back to your house.
See Also The Ultimate Guide to Using Siri
Keyboard Tips & Tricks
Add Third-Party Keyboard: First you will need some keyboards. Next, go to Settings > General > Keyboard > Keyboards and then select 'Add New Keyboard…'. Now all you need to do is select the keyboard(s) you want and you're ready to go.
Adding Emoji keyboard: Go to Settings > General > Keyboards > Keyboards > Add New Keyboard. Scroll down and select the Emoji keyboard.
Predictive QuickType: One of the iOS 8's new features is a predictive text system called QuickType which generates suggestions as you type, learning what words you use as you go. Turn this feature on or off by swiping two time down or up from the edge of the keyboard.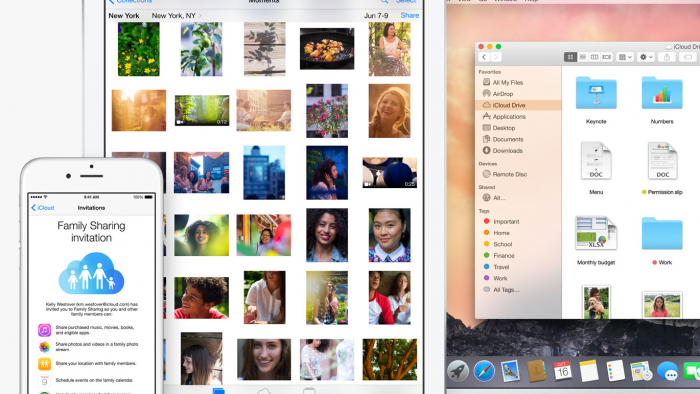 iOS 8 iCloud Tips
Turn on iCloud Drive: Go to Settings > iCloud > iCloud Drive. Control which apps have access to your iCloud drive.
Family sharing: You can have photos added into a shared family photo strem, schedule family events in the calendar, share your location with family members. Coolest of all is that you can share your purchased apps, music and movies with your whole family. Go into Settings>iCloud>Set Up Family Sharing, then click Get Started.
Find A Lost Phone: If set up your phone will automatically send the last know location to Apple when your battery is critically low. Even if the battery dies as you've dropped your phone in the backseat of the car, you can still find it.
Secure iCloud Keychain Access: Go to Settings > iCloud > Keychain and select the Approve with Security Code to add an extra layer of protection to your passwords.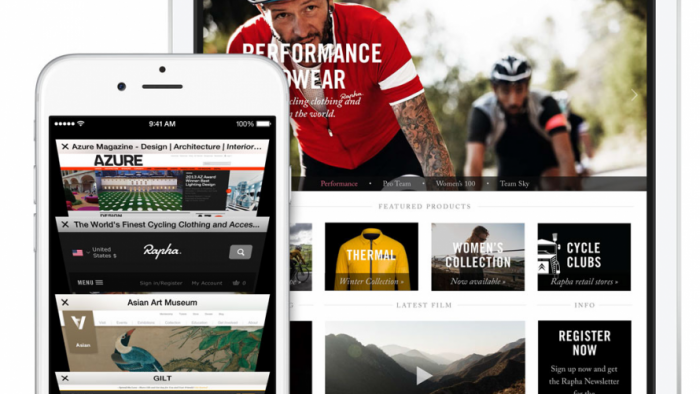 Safari Tips & Tricks for iPhone 6
Subscribe to Websites: The Shared Links tab, under the bookmarks section lets you subscribe to websites by holding the '@' icon, select 'Subscriptions' from the bottom and then 'Add Current Site' at the bottom.
Quick Domains: Press and hold the full stop key on the keyboard in Safari when inputing an address and you'll bring up a list of internet address suffixes, like .com, .co.uk, and the like.
Scan Credit Card: Rather than having to type all your details you can now use the camera to scan your credit card. When it comes to entering the credit card details either press to auto fill if you are already using that feature with Keychain, or press it and then select Use Camera on the next menu you get.
Swipe Forwards And Backwards: Swiping from off the screen on to the screen from the left of the screen goes back through your browsing history while swiping from the right of Safari goes forward through your browsing history.
iOS 8 Notifications Tricks
Delete notifications from the Lock screen: If it's a notification from an app simply swipe from right to left and then press the x button.
Quick Reply: When a notification comes in depending on whether its enabled by the developer you can reply there and then without having to open the specific app. To do this pull down the notification to reveal the actions you can take. iMessages for example let you reply there and then.
Delete or Mark as read: Without even opening your phone you can also delete or mark as read emails. Swipe from right to left to reveal both options.
iOS 8 Photos & Camera Tips
See Also How to Manage Photos in iOS 8 and Where Are Your Photos in iOS 8
Take Selfie On A Timer: Finally, selfie takers rejoice. Activate the front camera, then tap the little timer icon at the top of the screen. Select either 3 seconds or 10 seconds, then when you hit the shutter button, you'll have that amount of time to get your selfie pose just perfect.
Before and After: While editing photos in the Photos app, press and hold the image to see how it looked originally. Release to snap back to your current edit – a great way to compare and contrast.
Time-Lapse Something: Create a time-lapse video (they look super cool). To do this swipe sideways in the camera app to reveal the Time-Lapse mode.
Slow-Mo at 240 fps or 120 fps: The iPhone 6 now lets you record video in cool 240 frames per second slow motion mode. Click on the 240 fps icon when in Slow-Mo mode. You can always have the regular 120 frames per second slow motion mode is thats too slow for you.
Record video at 60 fps: If you've got the new iPhone 6 or iPhone 6 Plus Apple offers you the chance to record 1080p at 60fps but turns it off by default. To turn it on go to Settings > Photos & Camera > Record Video at 60 FPS and turn it on.
Changing Exposure: Apple's camera app has never included much manual control, but iOS 8 has some major updates. Once you've found your focus point as you are taking a photo, press on the small sun icon and swipe up or down to change the exposure setting.
Burst Mode: Users can snap photos in Burst mode by either holding their finger on the shutter or on the volume key to take a burst of photos as the action happens. Once you've taken a Burst of photos you can then choose your favorite one.
Editing photos: Find the photo you want and press the Edit button. Here you can press on the wand (as before) to auto enhance your photo or press on the icon that looks like a volume knob with dots around it. The later will bring up three new sub menus: Light, Color, B&W with various granular settings within them. If you select Light you can then gesture left or right to make the picture lighter or darker.
Add Photos to Notes: You can now include photos when making notes, to-do lists and reminders. Open the Notes app and start typing to create a note. When you want to add a photo long press on the screen and tap 'Insert Photo'.
Save Your Favorite Photos: If you've got photos that you want to mark to a short list, just press the heart button. To find them quickly to into the Photos app and press on the Albums icon at the bottom right in the Moments view. Then select Favorites.
Photo Location: In the Moments page in Photos tap on the location of where the collection of photos was taken and you'll be able to see on a map where in the world you were when you took it.
Hide a photo: We've all done it – handed our iPhone or iPad to a friend to let them flick through our holiday pictures only for them to stumble upon something we'd rather they didn't see. Find the photo you want to hide from Moments, Collections and Years, and do a long press on the photo itself. When the option comes up to hide, select that option and then confirm your choice. All hidden photos are stored, in a seperate album labelled Hidden.