We Reviewed Dozens Of The Best Kindergarten Apps So You Don't Have To. Here Are Our Top Picks.
Top Apps for Kindergarten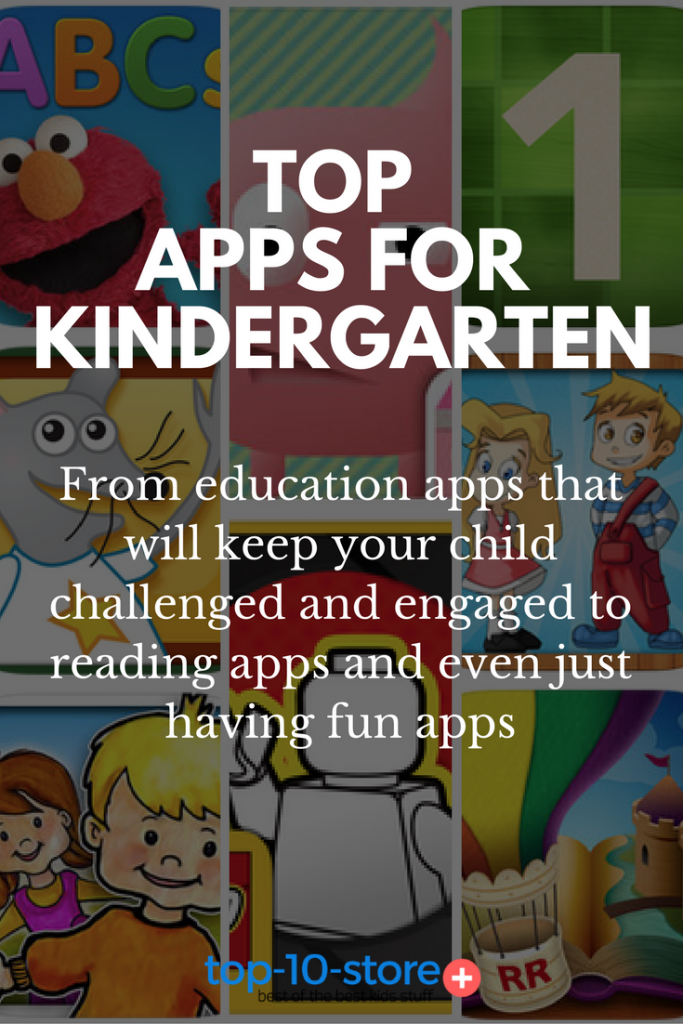 Our team of experts have been hard at work over the last few months hunting down the best apps for Kindergarten.
Finding apps to recommend for your child can be harder than is seems – picking the truly educational and skills based apps from the simple games take time.
Children at this age are really learning quickly. To get them off to a great start we focused on apps that help with learning and keeping children engaged. They really are our favorite apps for kindergarten-aged kids and we included all devices, including the best iPhone, iPad and Android apps for Kindergarten.
From educational games that will keep your kindergarten aged child challenged and engaged to fun reading apps and even the odd app for just having fun, here's our list.
Other App Categories: App by Grade, Apps by Age, Apps by Topic
Popular Top 10 Lists: Outdoor Toys For Toddlers, LEGO Sets, Educational Toys For 6 Year Old Kids, Educational Toys For 5 Year Old Kids, Fairy Tale Books, Books For 6 Year Olds, Books For 5 Year Olds, Educational Toys
---
Top 5 Apps for Kindergarten
Elmo Loves ABCs
Elmo loves this app! It has songs and videos about letters. It has coloring pages and games about letters. It has all the letters from A to Z! Elmo even made a new alphabet song for it. Elmo thinks it's the best ABC app ever! This award-winner features letter recognition, tracing, and even Sesame Street clips for children to enjoy, as well as a parent monitoring system so you can see your child's progress.
The app costs $4.99 and offers an in-app purchase of a "seasonal fun pack" for ninety-nine cents.
Thinkrolls
iOS App Store / Google Play Store
Kids will have a blast navigating their Thinkrolls through a series of obstacles in brightly patterned mazes. Each chapter introduces a new object with unique physical properties which kids discover. This is the original Thinkrolls logic puzzle set. Avokiddo also offers at least 3 other versions, so your child will likely never run out of Thinkrolls if they have fun with this one.
The app costs $3.99 on both app stores, and comes from a very reliable and high quality development company.
Montessorium-Intro to Math
Intro to Math, by Montessorium offers an important comprehensive look at foundational number concepts, including comparison, sequencing, units and wholes, even and odd, and symbols. It works with single digit numbers and aims to build all of the basic skills children need to understand beginning computation and other early elementary math concepts.
The app costs $4.99 and basically digitalizes the highly effective methods used in Montessori classrooms.
My Play Home
iOS App Store / Google Play Store
My PlayHome is a doll house for the iGeneration. Imagine a doll house where your child can use everything, even the closets, TV and shower. You can fry an egg and feed the family pizza. This award winner boasts that it's a doll house where nothing ever breaks and it's impossible to lose the pieces. Parents will definitely see the advantages of that!
The app costs $3.99 on the App Store and $3.49 on Google Play. There are no in-app purchases or connections to social media. Parents can rest assured that kids can play safely to their hearts' content.
Toca Tea Party
Kids can set the table, pick the cookies, serve guests and more with this make believe app that turns a traditional favorite activity digital. The app encourages creative thinking, pretend play, and even social skills like taking turns and following directions. Best of all, parents can trust Toca Boca to deliver a high-quality app – check out other Toca Boca offerings while you are at it!
The app costs $3.99 and is an award-winner. There are no in-app purchases or outside advertisements, either.
---
Top 5 Reading Apps for Kindergarten
If you've ever wondered whether you could help boost your kid's reading skills at the same time as they play on their iPad or iPhone, check out these great apps. These great learn-to-read apps for kids at Kindergarten age will help pass time and improve your child's ability to read.
Starfall Learn to Read
iOS App Store / Google Play Store
Your child will hear, touch, read and eventually master this sound-spelling through a variety of engaging activities, movies, and songs. Play and explore! Starfall has been supporting early literacy development digitally since 2002, so they have really become leading experts.
Best of all, the app is completely free to download and use. There are no in-app purchases or outside advertisements. It's designed for children from preschool through age 8.
Skybrary- Kids' Books and Videos
iOS App Store / Google Play Store
From the experts at Reading is FUNdamental, here comes a reading app that will knock your socks off. Children ages 3-9 explore worlds of reading to discover storybooks and learn about such topics as animals, friends, family, science, space, music, and more. Through the app, kids can access hundreds of ebooks, and even take virtual field trips to countless sites.
Download the app for free and sign up for a free thirty-day trial. After that, subscriptions cost $4.99 per month or $39.99 annually.
Wallykazam-Letter & Word Magic
iOS App Store / Google Play Store
Here's early reading help, Nickelodeon Style. Kids can work with letters, rhyming words, and more. The app promotes phonemic awareness and beginning phonics along with countless other crucial early reading skills, and it's fun!
The app costs $1.99 on both app stores, and kids will love the familiar feel to the characters and backgrounds, since it comes from developers at Nickelodeon.
Bob Books Reading Sight Words
This app presents ten stories about characters from the Bob Books series. Learners arrange letters to spell common sight words, tracing and spelling the words. The series is used in many classrooms in the early grades, so most kids will be familiar with the characters. The app presents the first 30 words commonly taught, and features four learning games to reinforce the learning.
It costs $2.99 and will provide hours of learning fun for emergent readers.
ABC Gurus
ABC Gurus provides endless creative fun with the letters of the alphabet as kids color and accessorize each letter. They listen to the letter names and sounds as they play. Kids can play with both upper and lower case letters and enjoy 45 animations of words beginning with the letters.
The app costs $1.99 and is highly-rated on the App Store. Kids can even create their own letter album with snapshots of the letters they have decorated.
---
Top 5 Education Apps for Kindergarten
Finding the right education apps for a kindergarten aged child can be tricky and tedious. There are literally thousands of apps that you can find for iPhone and Android devices. We've taken a stab at rounding out the best educational and skill-based apps. We tried to keep the list small, picking 5 of our favorite apps for kids in kindergarten.
Winky Think Logic Puzzles
Winky Think Logic Puzzles offer a ton of fun that is so engaging that users won't even realize just how important the skills are to learning. Each puzzle provides a mental challenge that requires problem solving, logic, memory, eye-hand coordination and other skills. The concept is simple-slide and match colors. But the combinations are endless, and each puzzle is trickier than the last.
The app costs $2.99. There are three levels of difficulty on each of 180 puzzles, so there's enough content in here for the whole family!
MiniChess by Kasparov
iOS App Store / Google Play Store
MiniChess by Kasparov is designed to help introduce young children to the game of chess through an engaging, interactive story. The game is loaded with dozens of puzzles and activities that teach the prerequisite skills for the game, and also sharpen spatial skills as well as math skills.
The app costs $1.99 and is a great intro to a classic game that kids can play all of their lives.
TeachMe: Kindergarten
An educational app which teaches six different age appropriate subjects to Kindergarten aged children: sight words, addition, subtraction, spelling and writing letters and numbers. Parents can select which subjects they want, set different difficulty levels, and even choose questions.
The app costs $1.99. One unique feature is the reward system, where kids earn virtual coins for their hard work. Coins can be used to purchase stickers in the game, and their sticker creations can be uploaded to the photo stream for sharing or printing.
AlphaTots Alphabet
iOS App Store / Google Play Store
Alphatots is an unusual alphabet app that uses verbs instead of nouns for key words. This means that each letter has an associated action that kids can do instead of just look at. There is an opportunity to play and interact with each letter! A high quality app with some very creative ideas.
The app costs $2.99 on both app stores and is a high quality ABC App. You'll want to take a look!
Wheels on the Bus
iOS App Store / Google Play Store
Wheels on the Bus is a fun, interactive musical book, based on the popular children's song. Come aboard the bus to spin the wheels, open and close the doors, swish the wipers, pop some bubbles, make a dog bark, and much more! This app is winner of the Parents' Choice Gold Award.
The app is completely free to download and use. It's from developers at Duck Duck Moose, who are known for their high quality apps for young children. Check it out!