**12/9/10 – I've heard from several of my readers that they are finding the gloves around town. I just saw them in my Walmart, tucked back by the handbags. The price was $12.00 which is a great deal. These would make a fantastic gift. I've been using mine for almost two months and they haven't failed to keep my hands warm or let me use the iPhone.
You can also get the SmarTouch gloves from Amazon (Isotoner Women's Smartouch Gloves) in a variety of colors. The price is more than what I saw in Walmart but if you're looking to avoid crowds it might not be such a bad deal.
************
I was recently asked to review the new Isotoner SmarTouch Gloves. These gloves have been designed so you can wear them and still operate a touch screen device. If you've ever tried to use your iPhone or iPod Touch in the winter while you're wearing gloves then you know how cool this product could be. When I initially received the email I was skeptical about what the gloves would actually do. I also imagined that they would probably be more functional than fashionable. I knew they used a special thread that allowed the electrical impulses from your finger to travel to the touchscreen so I wondered how comfortable a pair would be. I definitely had some questions and skepticism about the product. When the box arrived in the mail I was very pleasantly surprised by what I found. The SmarTouch gloves look just like a pair of Istoner gloves with the exception of patches of silver thread on the thumb and pointer finger of the gloves. They are a nice black fabric with colored accents around the edge of the gloves. They're not bulky either but fitted. I think they look quite nice. How The pair I received was a teal blue that coincidentally matches my iPhone case. So now I can coordinate my phone to my gloves which is probably the most fashionable statement I'll be making this winter. How do the gloves feel when I put them on? After seeing their cut I was worried that they'd be too tight but the material has just the right amount of stretch and they are very comfortable. It's a good fit, they don't feel like they're going to fall off but I didn't feel like I was losing circulation to my fingers. I would wear a pair of these gloves even without the touch screen feature.
Once I had the gloves on it was time to test them out. I took them for a walk on a mildly chilly night and halfway through I had to take them off because my hands were too warm. I'm positive they'll keep my hands warm when the temperature really drops. As I walked I tried out my iPhone and lo and behold, the gloves work! I was able to navigate around my phone without any trouble. I sent a couple texts and played with a few apps. When I got home from my walk I did some more extensive testing and the gloves did not disappoint. The only slight issue that I experienced was that my fingers are a little short and didn't completely fill out to the tips in the gloves. The thumb worked fine on my iPhone but I had to make sure I hit the pointer finger just right on the screen so the thread would touch the screen. It only took me a couple tries to figure out how I needed to tap and it absolutely won't stop me from using these gloves.
Lastly, in case you're wondering, and I know that I was, the gloves are hand wash and line dry. You won't be able to throw them in the washing machine but it is possible to keep them clean. Since I have kids and nothing I wear ever stays clean this was important for me to know.
I am giving the SmarTouch gloves a big endorsement. They are pricier than regular gloves but if you're going to need to use a touchscreen this winter out in the cold these would be a great investment. They would also make a terrific Christmas gift. Not only are the gloves designed to work on an iPhone, but also other touch screens like ATMs and GPS devices.
Disclosure: I received a free sample pair of Isotoner SmarTouch Gloves for review purposes.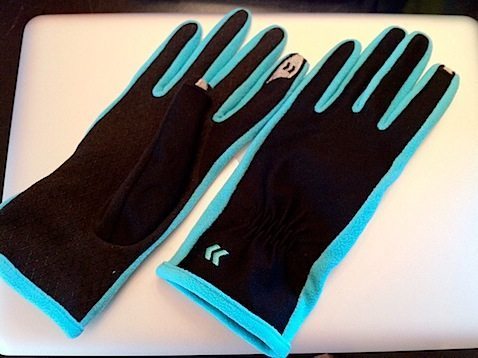 No related content found.