King of Math App Review
App Info
Price: Free (In App Purchases)

Now here is an addicting Math game for older children and adults! It will have you sharpening up your mental math skills without you even realizing it. King of Math is the name and the goal of the game is to take your character from "Farmer" all the way up to "King". You earn points as you correctly solve math problems, the faster and more accurate you are with your answers the more points you'll receive. Points help you "level up", I am currently a Blacksmith which is really only one step above Farmer. King of Math is connected to Game Center and you'll be able to unlock achievements and compare leader boards with friends and anyone around the world.
King of Math is free and comes with three books: Addition, Subtraction and Mixed. If you purchase the full game you'll receive the additional books which include Multiplication, Division, Arithmetic, Geometry, Powers, Fractions, Statistics, Equations, Equations and Mixed2. Each book contains chapters and they progress in difficulty. You'll begin with simple 2+7=? and move on to questions where you have to find the problem that gives you the smallest answer. But no answers are provided and did I mention you lose points as time goes on? You'll want to be fast and beat the clock. This app is going to make you think.
I wasn't expecting the game experience that I found with this app. I thought that I'd find the same format for problems over and over and I expected something that would be challenging for Elementary Schoolers. Boy was I wrong. They'll enjoy the first few levels of the app but I think it's going to be the older kids who really get into King of Math. Middle School age and on up will find both a challenge and a great game all in one.
Price when Reviewed: Free, full version (with middle school challenges) $0.99
Requirements: Compatible with iPhone, iPod touch, and iPad.Requires iOS 3.1 or later. This app is designed for both iPhone and iPad.

Seller: Oddrobo Software AB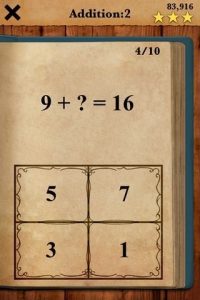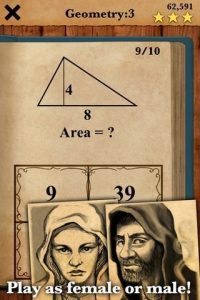 Related content:
King of Math