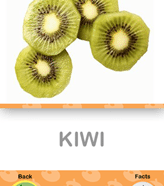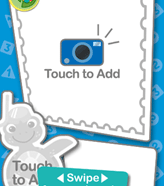 My Baby Enstein is an app from the actual Baby Einstein people. Confession time, I never watched a Baby Einstein video with my three oldest children. Maybe I will have to play catch up with my youngest. I do know what it's all about though and we've got a couple of Baby Einstein toys, one is a music player that Baby J absolutely loves. Back to the app, it's divided into four sections and I'll give a brief overview and some thoughts on each.
Video – Here you can see three clips from the Baby Neptune or Baby Beethoven videos. Each clip is around three minutes long. If  you'd like to add more videos to the app you can purchase additional sets of clips (featuring different Baby Einstein characters) for $.99 each. The clips are nice but with a $3.99 app it would be nice to at least get one more set.
Discovery Cards – These are flash cards for your baby. You are given  a pack of color flashcards and I liked these. They show you a color and then a series of things that are that color. With the tap of a button you can hear different facts about what's on the flashcards. This section also has "My Discovery Cards. This is where you can create your own, personalized flashcards for baby. You pick a background and a name for the card and then add in a picture from your camera or photo library. It took me a few taps to realize that what I thought was the first flashcard I'd created really wasn't a card at all. It was more of a button to display on the screen. When I tapped on that then I could choose "Edit Pack" and create the actual flashcards. Here I could name them and add in pictures. I could also record audio to go with the pictures. If you'd like to buy additional Discovery Cards then can be purchased for $1.99.  I don't like having to buy more content,  but the "My Discovery Cards" and the potential that comes with that feature made up for it in this section.
Memory Book – Here you create a button like you did when you made your personal Discover Cards. When you tap on it you can choose "Edit Book". Add in pictures and text, change layouts and add in Baby Einstein characters. You can add in multiple pages and have a nice way to make a portable photo book for your baby to look at. My kids loved their photo books when they were babies but they also liked to gnaw on them too. That wouldn't be a good idea here!
Music – This section is basically an opportunity to listen to a sampling of Baby Einstein songs and then purchase a CD. It wasn't my favorite section of the app.
On the positive side My  Baby Einstein is polished looking, will appeal to babies and I didn't have a hard time navigating through it. On the negative side, I did experience a few crashes and the screen tended to go black on me as I was navigating through the app, but then it would come back up. I like this app but I'm not so keen on having to purchase additional content. I'd probably be okay with it if the initial cost of the app was lower. Just my two cents. My favorite parts of the app were the abilities to create personalized flashcards and a memory book.
Price when Reviewed: $3.99

Seller: Disney
Disclosure: I received a free copy of this app for review purposes.