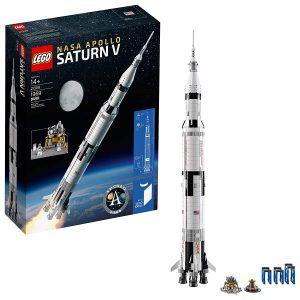 Read Parent Reviews | Check Best Prices
The first clue that this NASA Apollo Saturn V is the best gift for that "geeky stuff" guy in your life is that it contains exactly 1969 pieces. If you don't get it right away, don't worry. I didn't either. Turns out this meter-high LEGO brick model was created with exactly 1,969 pieces — a clever nod to the year of the first moon landing, by the crew of Apollo 11, in July 1969.
It should keep your favorite guy busy building for over 3 hours (the time alone may be the best gift of all).
Back in June 2017 this was possibly the hottest LEGO release of 2017 and sold out on both Amazon and the LEGO site as soon as it was available.
LEGO store is still showing sold out at the retail price of $119, but this week we have seen it available on Amazon at $120. Be aware that third-party retailers may be hiking up the price, so hold out and wait until the price falls again. Don't get sucked into a price over $150.