Sight Word Superhero App Review
App Info
Price: $3.99
Overview
Sight Words Superhero is a simple game designed to help young readers gain fluency with the common words known as sight words. Kids take on the role of a child superhero saving the words from a witch and some evil monsters.
Features include:
Built-in lists of sight words from kindergarten through grade three
4 mini games that can be "purchased" using credits earned in the main game
Add or remove any combination of words from the lists
Unlock sight words stories to read
Timed mode to build fluency
Quality
Sight Words Superhero is a good quality app that young and emergent readers will enjoy. Parents and teachers have a number of options to customize both the target word list and the presentation, such as the voicing for the words or if the words are voiced when tapped. One minor concern is that at least one word's spoken version does not match the printed one: "thank" sounds like "think," which young readers may find confusing.
The app does include a protected settings area where changes to the word list and the details of operation can be made. However, there are not directions/descriptions of the various activities and how they work. For example, of the four minigames, I could not figure out the mechanics on two of them and consistently lost my turn. Directions would save frustration!
You can get lots more information on the website at https://blapps.azurewebsites.net/sightwordsuperhero.
Education
The premise of this app is sound. When young readers practice recognizing sight words at a quick, reflexive level, they will improve their overall reading capabilities. Having both timed and untimed modes is a good idea, so children can progress from recognition to automatic response. It is also very helpful that adults can fine tune the word list for the players. Whole grade level lists can be selected or unselected, and even individual words, so it is easy to allow focus on a limited number of words at one time or to review challenging words from several different lists. Parents and especially teachers should be aware, however, that the app does not accommodate separate player accounts, so the word selection may need to be adjusted between players if you need to focus these beyond a general grade level.
Sight Words Superhero also provides some simple texts to help young readers practice these words in context. The texts are only unlocked after a student demonstrates some mastery of the words, so they should seem easy to read for students.
Entertainment
This app encourages continued use by having players earn in-game currency that can be used to purchase time playing one of the four mini-games. As mentioned earlier, developers should consider adding some quick descriptions/play directions for these games, as they may not be intuitive for some players. That being said, the game concepts are engaging and will be rewarding for the children playing. It's also fun to earn the power-ups that make the app feel game-like. The mini-games do provide more drill and practice on the target words, so they may not feel as fun to struggling students.
Value
This app costs $3.99 on both app stores. This is a good value- the app provides focused and individualized practice on common sight words and has an engaging theme and backstory that will appeal to the target age group. After all, what 7-year-old could resist the main character clad in homemade costume delivering an "undie kick" to the monsters?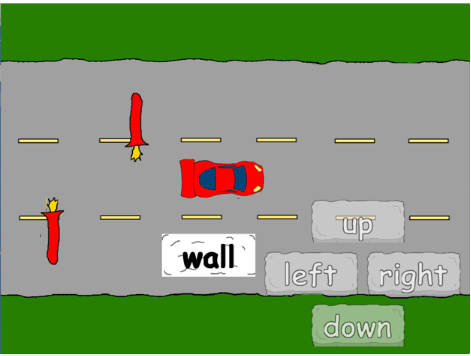 Child Friendliness
Sight Words Superhero is very child-friendly. There is a protected settings section that could prove challenging for some adults to get into, so there is little risk of the children accessing it to change the workings of the app. The app has no outside links or ways to get to the internet, either.
NO external links

NO social media

NO 3rd party ads

NO in-app purchase 

Sight Word Superhero
Sight Word Superhero
Sight Word Superhero is a fun app that will help young kids master that crucial list of first words that supports early reading success. With timed and untimed challenges, the ability to individualize the list of focus words, and fun minigames to reward effort, this one is a good addition to your collection.