Super Speller App Review
App Info
Price: $2.99
Overview
When I talk with friends and readers about spelling apps one of the most asked questions is: "Can I add in my own lists?" The answer depends on the app but I'm excited to tell you today about one that is dedicated entirely to your own lists. With the Super Speller iPad app you create your own lists and then use those words and sentences for practice and test taking. What does this mean? A BIG reduction in mom given practice tests at my house which makes for happy kids because they can practice without waiting around for me.
Super Speller supports multiple lists which is great for families with multiple spellers. I have two children who take weekly spelling tests and this allows them both to use the app for studying. You can name the spelling lists so it's easy to keep track of who has what list. When we created a list we typed in a word and then had the option record the word and a sentence using a word, just like my kids hear from their teachers on their weekly tests. After we finished the lists my son and daughter were able to practice with the words. When users go through the practice mode they will see the written word and hear the recordings. I do think it would be a helpful feature if users were able to write out the word during practice as well. I know it always helps my own kids to write out their spelling words when they study.
After enough practice it's time to take a test. You can choose to set a time limit for the test and determine whether the words appear in random order or in the exact order you added them to the list. There's also another feature called the "smiley hints". When this is turned on a smiley face appears at the top of the screen. As children type in the word the smiley face's expression reflects how they are doing. Children can watch the smile to gauge whether or not they are spelling the word correctly. The spelling test is presented verbally, the app uses your recording and children must spell the word that they hear. At the end they can have their test quickly graded so they can see how well they did and which words need more practice.
I was impressed with how easy it is to create spelling lists and tests with Super Speller. So easy that I can even have my kids make up their own lists as part of their weekly practice. The app was developed by parents of a child that struggled with spelling and you can tell that they know what they're doing. It's almost a "been there, done that" feeling. What I'm trying to say is that you can tell this app was created by those who understand the challenge and not by someone who has never actually sat down to help a child with their weekly spelling list. As a mom who struggles to find the time to help both of my spellers work in enough practice tests each week I say "thank you". Super Speller is a great resource that will let my kids work in extra practice without having to always wait for me.
*Update 2/2/12 – In Super Speller 2.0, you can now change the theme from a chalkboard to a whiteboard.  You now have the option to ignore capitalization.  There is a dictionary on the study screen and you can also generate a word search!
*This is an iPad only app.*
Price when Reviewed: $2.99
Requirements: Compatible with iPad. Requires iOS 5.0 or later.
Seller: Quiet Spark
Disclosure: I received a free copy of this app for review purposes.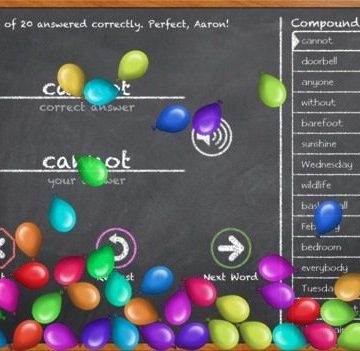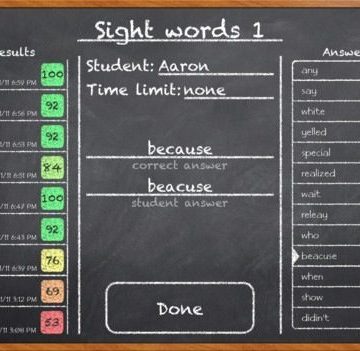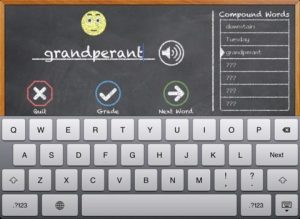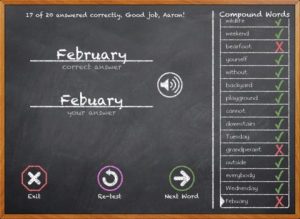 Related content:

HomeApps for ParentsMoms Super Speller: Create Your Own Spelling Lists