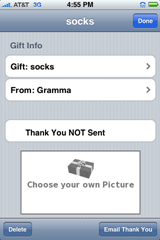 Thank You Gift List isn't a gift tracking app but one that tracks your thank you notes instead. When my kids receive gifts I usually write them all down on a piece of paper, then hope that I'll remember where I put the paper when it's time to ask (forcefully remind) them to write their thank you notes. This app lets you keep track of your thank you list on your iPhone.
It's a simple, easy app that does exactly what it says it will. You add an event by touching the plus sign. Now you enter in the name of the event (there's no set list so you can name it whatever you  like) and the date you received the gift. The app also lets you choose an icon to represent the event. When you're done go back to the main screen. Now to add gifts to the events you just tap on the event name. This brings up a screen where you can add the gifts to a list. When you're adding the gift information you can put in what it was and who it's from (Thank You Gift List let's you choose from your iPhone contact list too). You can add a picture of the gift and mark if the thank you has been sent. Down at the bottom of this screen is a button that says "Email Thank You". If you touch this it pulls up your email and has a thank you note already drafted for you. Granted, it's a very generic thank you note but I suppose it could work. I prefer sending a handwritten note but sometimes an email version is just easier. Once you've taken care of the thank you note and marked that it's been sent, a checkmark will show up next to it on the list. You can also completely delete the event if you don't want to look at it anymore.
I love apps that I can use to simplify my life. The more information I can store in my iPhone instead of my head, the better. This is a great app that does just that and will make my mom life that much easier.
Seller: Doug Diego
Price when Reviewed: .99
Click here to see the app at the iTunes store