We Reviewed Dozens Of The Best Thanksgiving Apps for Kids So You Don't Have To. Here Are Our Top Picks.
Thanksgiving conjures up images of huge meals, family get-togethers, and warm memories, as well as turkeys, pumpkins and cornucopias. Americans, Canadians, and some other countries celebrate it as a fall harvest festival.
The kids have time on their hands with their mini-break from school, and many families need ways to occupy children in the car or as they travel to see relatives. Give thanks for these apps, and enjoy!
Games and Activities
More Holiday Dinner!

Price: Ninety-nine cents
Wouldn't it be nice to chow down on Thanksgiving without worrying about all those calories? This might be the next best thing. More Holiday Dinner! lets users create a fabulous virtual dinner from start to finish and then share the pretend feast with friends.
App developers have thought of every last detail. Users can pick the entire menu, prepare the foods by touching, shaking and swiping the device, then snap shots of the virtual meal and share them via email or Facebook.  There's no shortages of dishes to combine in different ways; choose from over thirty foods, five different kinds of stuffing, and of course, lots of gravy. You can even take virtual bites of your food once it's ready.
Thanksgiving Turkey Pop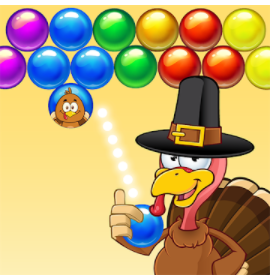 Price: Free with in-app purchases
Kids are always fascinated by popping balloons, so why not give them a seasonal app that allows them to do just that? This bubble-shooter game works just like the popular apps and adds a Thanksgiving theme. And while they are playing, they'll be learning eye-hand coordination, planning and strategy.
There are in-app purchases available in this game, ranging in cost from ninety-nine cents to $3.99. But your kids will be able to play for quite awhile on just the free download, and it just might occupy them while you cook dinner!
Hand Turkey Thanksgiving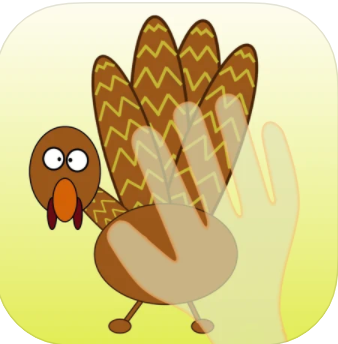 Price: Free
Here's a high-tech twist on a traditional craft – hand turkeys! This app is perfect for kids who don't yet have the coordination to trace their hands, because all you need to do is lay your hand on your device to get started.
The app offers a host of turkey decor options, from stars to colors to stickers. Get in on the fun and have a turkey decorating contest! There are turkey hats, turkey suits, and more to try on, too.
Thanksgiving Coloring Book!

Price: Free with in-app purchases
Choose from over 60 colors to make holiday pictures come to life in this coloring book app. Zoom right in with handy controls and get those hard-to-reach tight corners, and use the handy color-in-the-lines feature to make your work look absolutely professional.
The app makes it easy to save your work to a gallery, send to friends and family, or share over social media. There's even a feature that allows you to color your own photos! Easy and intuitive controls let you choose colors, erase, save, and share with just a tap or a shake. Even the youngest kids will love this package of Thanksgiving fun. It's free and offers a ninety-nine cent option to remove ads.
Thanksgiving Games 2018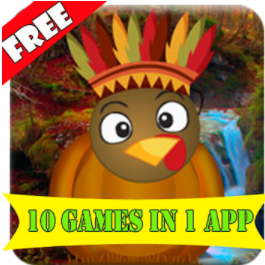 Price: Free
Here's an oldie but a goodie that is standing up to the test of time. This app offers 10 free games with Thanksgiving themes that your kids are sure to love. The puzzles will challenge their persistence and sharpen their brains.
The decorative Thanksgiving graphics give this app a festive feel. The games are all flexible and will auto-save so your child's progress is always protected. It's a great way to keep the kids occupied during  holiday festivities.
Thanksgiving Puzzles – Fall Holiday Games for Kids

Price: Free with in-app purchases
This free sample offers 4 of the 12 available jigsaw puzzles suitable for preschoolers and young elementary students. The rest are available as an in-app purchase for $1.99. The puzzles feature lovely artwork and animations after they are complete.
Young players will enjoy the colorful holiday illustrations and the fun things that happen with the puzzles after they are finished. The puzzles increase in difficulty as players go through the set, so each becomes more challenging than the last.
The controls to the app are perfect for young children to use: intuitive and simple. The app does offer an in-app purchase, so parents may want to supervise youngsters as they play.
Thanksgiving Games for Kids

Price: Free
Choose from a selection of sixteen classic children's games with Thanksgiving themes designed to please and challenge preschoolers and young kids. Memory games, jigsaw puzzles, dot-to-dot activities and more will entertain young children in a holiday way.
Each game will help your preschooler develop important skills, such as eye-hand coordination, memory, and spatial skills. The Thanksgiving artwork gives everything a great seasonal touch. There are even some games to nurture creativity and imagination. Your youngsters are sure to enjoy this collection. Parents may wish to supervise young children, however, because this free app does contain ads.
Ebooks
The Turkey Who Forgot How to Gobble

Price: $2.99
This adorable story has a seasonal focus on friendship and farm animals that will tickle young children. The young turkey, Joey, is having an awful problem: he has forgotten how to gobble! The farm animals try ever so hard to teach him how to make a turkey sound, with hilarious results. Preschoolers and young students will learn about animal sounds as well as enhancing their vocabulary. The story can be narrated in English or in Spanish, switching at the touch of a button, so parents can use it to introduce a new language if they wish.
This award winning app is correlated with Common Core Standards, and the developers have supplemental materials available on their website. It is also designed to be completely kid-friendly, so parents can let kids play without worry.
Thanksgiving Jokes for Kids

Price: $2.99
Tickle your child's funny bone with this collection of jokes and riddles in an interactive ebook. The simple and clean jokes are perfect for sharing with family and friends. The book features hilarious illustrations, over 40 pages of nonsensical fun, holiday music, and narration by a child's voice. The pages are interactive, too, which will really help hold youngsters' attention.
Jokes offer a fabulous vehicle to nurture reading comprehension and social skills, so be sure to include a great resource like this one in your holiday plans.
A Charlie Brown Thanksgiving

Price: $4.99 on iOS App Store; $2.99 on Google Play
iOS App Store / Google Play Store
Thanksgiving traditions are important in most households, and this one cuts across cultures and ages. Let  your child experience the fun and joy of this classic story featuring dialog, sound effects, and music from the classic television special. Adult controls are separated from children's content, making this a perfect ebook for your child to enjoy independently. The pages feature interactive and playful illustrations, too.
The app offers read-to-me, read-to-myself, and autoplay features, so it is perfect for a wide range of age levels. Now you don't need to wait for the networks to run the special; you can share it with your children anytime they want.
The Berestain Bears Give Thanks

Price: $3.99
iOS App Store / Google Play Store
Thanksgiving is a wholesome, family holiday, and what could possibly be more wholesome than the classic Berenstain Bears family.  This ebook tells about the time when Brother and Sister Bear act out the first Thanksgiving.
The ebook offers many tools to help young children have fun and develop literacy skills at the same time. Words are highlighted as they are narrated to promote word recognition. Budding storytellers can record their own narration if they wish. Tap pictures on the interactive pages, and see the printed names. Designed with kids' safety in mind, this ebook features separate parental controls and simple, intuitive navigation. Count your blessings as you enjoy this wholesome book.
Education
Starfall Turkey

Price: Ninety-nine cents
iOS App Store / Google Play Store
Starfall, the well-known reading instruction website, has gone seasonal with this fun app to help beginning readers learn. Players can decorate turkeys and solve symmetry puzzles. Beginning readers will learn new words and enjoy some silly jokes.
Making connections to things that are happening in the real world makes reading come to life for beginners, so this app is a great addition to your holiday collection. Kids will happily play, and never even notice that they are learning.
Card, Photo Booth and Editing Apps
Thanksgiving Day Photo Editor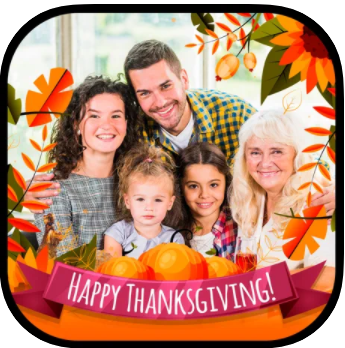 Price: Free with in-app purchases
Choose pre-designed greeting cards or make your own to send off to loved ones near or far. Add stickers or photo frames, and use the text editor to customize your message. You can use your own photos or choose from a selection in their library.
The app is free. There is an in-app purchase to remove the advertisements for $2.99.
Thanksgiving Photo Frames

Price: Free
Give thanks for friends and family, and share your creations by printing and sending or delivering electronically. This app offers dozens of holiday-themed frames to dress up your cards or pictures. Styles include turkeys, fall decorations, and foods.
The app is free to download and contains advertisements. There are in-app purchase options, as well.
Backgrounds, Wallpapers, and Ringtones
Thanksgiving Wallpapers & Thanksgiving Backgrounds

Price: Free
Now you can decorate your iPhone or iPad's screen with some great holiday backgrounds at your fingertips. Each is optimized to take advantage of iOS's Retina Display, so they look fabulous on lock screen or as a background. Developers are constantly adding new designs, and you can download your favorites to your camera roll to use even when you are offline. You can also share your favorites over social media to show off a bit.
You can also enjoy the app's images, icons, themes, styles, and pictures. It's the perfect way to dress up your device for the holidays. This app is completely free, so enjoy!
Thanksgiving Wallpaper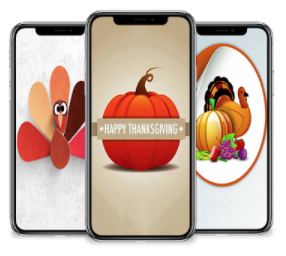 Price: Free
Put a festive Thanksgiving background on your phone with ease! This app offers over 150 Thanksgiving-themed backgrounds for your home screen and your lock screen. They look great in portrait or landscape, too.
The app offers options to customize your chosen background, too. The wallpapers are high quality HD and ready to go when you are. Brighten up your phone this holiday season!