We Reviewed Dozens Of The Best Apps for Kids Ages 6 – 8 
So You Don't Have To. Here Are Our Top Picks.
Top Apps for Kids Ages 6 – 8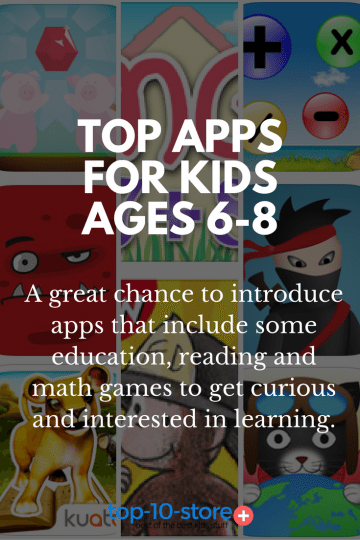 Children in the 6,7,8 year old stage are learning lots of fun and challenging things at school. The best apps for kids aged 6, 7 and 8 are all about spending time on things that lets kids practice in a fun and a rewarding way.
For kids in the 6-8 year old range it is a great chance to introduce apps as that including some reading and math games to get them curious and interested. As kids progress towards the second and third grade, apps with colorful games, stories, and other audiovisual material will help them bridge the schoolwork they learn every day with fun time at home. The closer to 8 years of age, the more math, reading and puzzle apps should challenges your children. That 6 year old who is naturally curious will grow into an 8 years old who (through school and home) has an energy and excitement for learning that is growing.
We didn't just stick the the iPhone either. The iPad is a great canvas and we found several iPad apps for kids ages 6-8, ranging from fun games to learning and interactive play.
Give your kids the tools to succeed. Help promote decision making and problem solving wrapped into an exciting list of fun apps that makes the entire learning journey fun. With that, please check out our top apps for kids ages 6-8.
Other App Categories: App by Grade, Apps by Age, Apps by Topic
Popular Toddler Top 10 Lists: Bikes For Toddlers , Scooters For Toddlers, Educational Toys For Toddlers, Ride-On Toys For Toddlers, Coloring Books For Kids, Educational Toys, Toys For 2 Year Old Boys, LEGO Sets, Toddler Puzzles
---
Best Apps for Kids Age 6, 7, 8
Inventioneers Full Version

Price: $4.99
iOS App Store / Google Play Store
Each chapter of Inventioneers presents a clear problem, such as moving a cat from the tree into its owner's basket. The interface is intuitive, allowing nearly anyone the ability to experiment and create until the problem is solved. Invention parts and small "helper" characters is provided. There are 8 chapters and 120 inventions to make.
This app will help children learn about physics and problem solving.
ScratchJr

Price: Free
iOS App Store / Google Play Store
ScratchJr is a hands-on learning environment that allows young children (ages 5 to 7) to learn the basics of programming with a visual interface. It encourages and builds a host of vital skills, including problem-solving, organization, sequencing, and self-expression, in addition to building creativity. The app walks kids through programming their very own interactive stories and games.
It's completely free to download and use. It leads players into using the popular Scratch programming language.
Jazzy World Tour – Learn Music

Price: $4.99
Jazzy World Tour is a fabulous educational app that is full of awesome information about various countries around the world. Everything from music, instruments, foods, and other fun facts are included in this app with three ways to play. Players can learn fun facts in a really enjoyable game.
The app will keep your kids happily learning about music and other cultures for a very long time to come.
Tiny Tap: Kids' Learning Games
Price: Free with in-app subscription purchase
iOS App Store / Google Play Store
Tiny Tap offers over 200,000 different games and activities for young children. They were all designed by teachers with developmental needs in mind. The handy parent dashboard allows you to plot a learning path that will be just right for your child, and then to monitor his or her progress through the activities.
Tiny Tap has a free 7-day access pass for you to explore, then you'll need to get ca subscription. The cost is $10 per month or annually for costs ranging from $59.99 to $83.99.
Pony Games for Grade 1
Price: Free with in-app purchases
This game is perfect for your horse-obsessed child! The animations and sound effects are horse-themed, and the games are perfect for early elementary kids. They will have chances to practice reading and writing, as well as critical math skills like fraction recognition, addition and subtraction fluency, and more.
There are in-app purchases that enhance the game collection and experience. Each item is priced at $2.99.
Moose Math
Price: Free
iOS App Store / Google Play Store
Here's an offering from the experts at Duck Duck Moose, so you know it's high quality! Early elementary students will enjoy games and activities designed to build skills in addition, subtraction, number skills, sorting, and geometry. There's a hefty dose of problem-solving, too.
Moose Math is aligned with Common Core standards for kindergarten and grade 1, and includes a dashboard for parents to monitor kids' progress through the app.
Spelling & Phonics: Kids Games
Price: Free
This app includes ten different games designed to help youngsters with their spelling skills. The games are nicely distributed across a range of skill levels, so there's something here for kids who are just starting to learn to spell as well as those who are gaining proficiency.
Spelling & Phonics has a lot of features that make it great for young children. The graphics are bright and colorful, and the games are engaging. There's also a parent dashboard where parents and teachers can keep tabs on progress.
Math Ninja HD

Price: $1.99
Use your math skills to defend your treehouse against a hungry tomato and his robotic army in this fun action packed game! Choose between ninja stars, smoke bombs, or ninja magic – and choose your upgrades wisely! The primary goal is to have fun – but you'll also greatly improve your Math skills along the way!​
The app is fully customizable- you can toggle operations on and off and even set number ranges.
Mathtopia+

Price: $3.99
The puzzle game play is similar to popular jewel swapping games but with multi-touch swap, enabling more complicated and challenging matching for addicts of tile-matching puzzlers. True addicts can match their skills against others on Game Center and unlock secret levels. Reduce stress while training the brain.
The app can be enjoyed by nearly any kid in early elementary grades. It's so much fun that they will WANT to practice their math!
Mystery Math Town

Price: $3.99
Your mission: Help a friendly and curious little ghost rescue the fireflies that are hidden in Mystery Math Town. Players use math skills to unlock rooms and passages on their enchanting journey. Along the way, you can also earn talking portraits of the townspeople for your Gallery. Every picture has a story to tell.
The app is an award winner. It's also very solidly rated on the App Store. One unique feature is that players don't simply have to choose correct answers from multiple selections, they actually have to build equations and solve problems.
DIY.org-Creative Challenges

Price: Free with in-app subscription purchases
Worried about tearing your kids away from their screens from time to time? This app offers hundreds of real world DIY projects. There is art to create, LEGO projects to build, and much, much more. There's something here for every kid, and probably a how-to video to get you started.
The app is free to download and offers a 14-day trial period. After that, you'll want to subscribe, because you won't want to be without it! A monthly subscription is $7.99 and annual is $79.99.
Baby Bear Grade 1 Games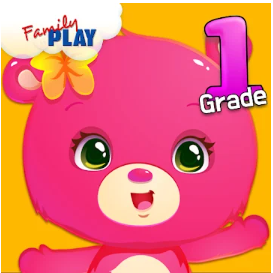 Price: Free with in-app purchases
Here are twelve different games in one app that focus on early elementary skills. Kids can practice fractions, basic computation, sorting by size and shape, recognizing sight words, learning about parts of speech, contractions, and more.
Baby Bear will cheer kids on as they solve the challenges in each game, and gently correct them when they make a mistake. Parents can watch progress on the Leader Board. In-app purchases of ninety-nine cents each will enhance game play.
Wisdom World of Emotions: Learning Games for Kids
Price: Free with in-app purchases
Parents and teachers can support young children's emotional and social learning with this award-winning app. Kids can play interactive puzzles as they help the characters in the game navigate emotions and relationships. There are even some augmented reality activities centered around mindfulness.
Adults can choose some enhancements as in-app purchases. These cost between ninety-nine cents and $34.99 per purchase.
Faces iMake- Right Brain Creativity

Price: $2.99
Faces iMake is an award-winning tool for creating collages, but it's also so much more. The app encourages self-expression and making connections. There are 5 video lessons to draw inspiration from, and a gallery of 20 images to look at for examples. After that, kids are on their own to express themselves in any way they see fit.
The app has hundreds of great ratings. It's also perfect for children with special needs because it does not require reading.
Looptimal by YATATOY

Price: $3.99
Here's a great, no-pressure app that will allow kids to experiment with making their own musical compositions. With a focus on melodic, rhythmic or movement sequences, the possibilities are nearly endless. Kids can compose, recompose, and make delightful noises as they learn.
The app has a whopping 4.6 rating on the App Store. If your child is interested in music, this is the one to check out.
Monkey Word School Adventure

Price: $1.99 on iOS App Store; $4.99 on Google Play
iOS App Store / Google Play Store
Milo and his jungle friends will take your child on a jungle journey full of letters, sounds, phonics and sight words. This app covers all the basics that young readers need. There are six different games that automatically adjust to your child's level, so there's no frustration or struggling. The app gradually builds in complexity as your child becomes ready.
It features a customization system that allows parents or teachers to fine tune the game to focus on specific skills as needed.
Pango Build Park

Price: $2.99
iOS App Store / Google Play Store
What child wouldn't love to design and build an amusement park? Well, with Pango Build Park, they can. Kids can plan the rides, set up the buildings, and even add the decorations. Once they have put it together they way that they want it, they can explore their park by riding the rides and checking everything out. Younger players won't be left out; the app has a mode with pre-built rides to simplify the process for them.
The app will nurture creativity, problem-solving, planning and a host of other crucial skills that kids will need throughout their lives.
Princess Fairy Tale Maker

Price: Free
This award winner offers all the tools your child needs to tell their very own unique fairy tale. There are 32 animated background scenes, such as a fairy castle, an undersea scene, and a rainbow. There are also hundreds of animated stickers to use however is desired. 29 crayons and 29 colored pencils allow kids to finish off each scene just they way they want. Then children can narrate and record their very own fairy tale.
This app is from Duck Duck Moose. This developer has a strong reputation for outstanding apps for young children with a focus on safety as well as fun.
---
Related App Lists
Best Apps for Kids. 1st Grade Apps