We Reviewed Dozens Of The Best Animal & Nature Apps​ So You Don't Have To. Here Are Our Top Picks.
Fantastic Wildlife and Nature apps that will help your kids do things like find the closest parks, forests and nature centers all the way through to reference guides for the animal kingdom.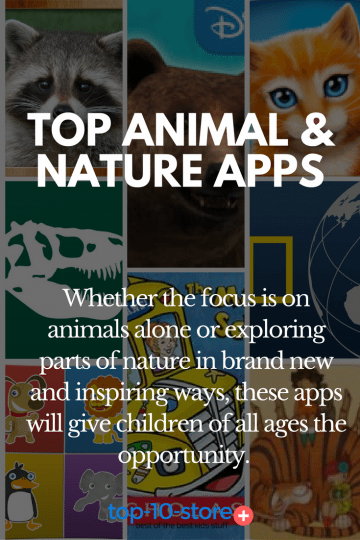 Animals and nature – two topics with a plethora of learning and discovering to experience. And our kiddos will love both niches. Whether the focus is on animals alone or exploring parts of nature in brand new and inspiring ways, these apps will give children of all ages the opportunity.
From toddlers learning the names of cats, dogs and cows as well as the sounds that go with them to diving into the ocean with Ms. Frizzle, there are lots of ways to explore what's outside the front door with this inspiring list.
There's something below for Pre-K aged kids as well as older children that need a bigger push. Get inspired by a storybook that encourages the care of our world or volunteer at an animal hospital while learning how to care for our favorite animals.
Allow your kiddos to go back in time to the age of dinosaurs. Or give them the chance to create a symphony of jungle sounds. From 2 to 10, filling up a rainy afternoon with one of the apps below will be an easy task.
Other App Categories: App by Grade, Apps by Age, Apps by Topic
Popular Preteen Top 10 Lists: Top 10 Drawing Books For Kids 2017, Best Astronomy Apps for Kids,  Top 10 Water Toys For Kids 2017, Top Apps for Kids Ages 11-13
---
Pet World – My Animal Shelter

Price: Free with in-app purchases
iOS App Store / Google Play Store
In this app, children play as volunteers at an animal rescue center. Not only will they learn about their pets, but they'll learn how to take care of them too! The free version of the app has players caring for small critters like hamsters, gerbils and rabbits. In-app purchase options add other types of animals for prices ranging from ninety-nine cents to $2.99. There are ten other animal options, including dogs, cats, horses, and more.
Kids will love rescuing and caring for the animals, and since success is measured by how many get adopted in the game, they will be working to get them healthy and sent out to loving homes.
Animals Memory Game

Price: Free
This is a basic matching and memory game for your kids to spend some time doing. Great for ages 4 and up, there are different levels as your little one grows and works toward better scores. The cute cartoonish animals are easy to recognize and identify, so kids will be learning while they are playing.
The app is free to download and play. There are optional in-app purchases for $1.99 each. The game offers three levels of difficulty: 2×3 puzzles up to 4×5 puzzles. The sounds are optional, and the upgraded version allows for keeping a high score record.
Kids Learn About Animals

Price: $2.99
iOS App Store / Google Play Store
A fun, educational game for children ages 1 – 4, the kiddos will learn all about their favorite animals. Learn names and unique sounds using flashcards following by comprehension games. Kids will see beautiful pictures of each animal and hear their sounds at the same time. After they become familiar with each animal, there is a matching game to see what they have learned.
It also has an additional advantage- kids can switch languages and learn animal names in other cultures!
WWF Together

Price: Free
Learn about endangered species and how the World Wildlife Foundation is working to protect them. Users will see gorgeous and detailed photographs and learn facts about each animal. Enjoy in-depth, interactive stories about many types of animals, up close and personal. The app also includes stunning video clips and photos.
It is free to download. The app explains the work of the WWF and offers up to the minute environmental news, as well.
Toonia- Animal Jigsaw Puzzles
Price: Free with in-app purchases
This puzzle app has some unique features! The illustrations are thematic, and in "360 degrees" format, meaning players can start anywhere and go left or right, up or down. There are 70 pieces to each illustration, as well as some animations and sound effects that the kids will love.
You can add additional puzzles with in-app purchases of $1.99 for each puzzle, or a "super-pack" for $4.99.
Animal Hospital by HAPPYTOUCH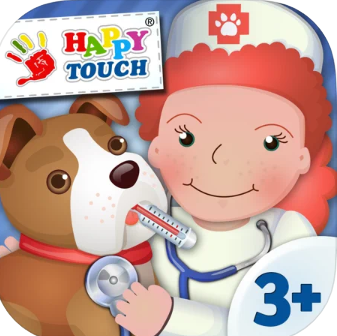 Price: Free with in-app purchases
Kids will find dogs, cats, and even alligators, elephants, and frogs that need help at the Animal Hospital. If they dream of being a vet and helping animals, they will be enthralled. The app comes with 8 free animals, and an in-app purchase of $7.99 will upgrade users to the full set of 40.
Young children (3 and up) will learn eye-hand coordination, logical thinking, and much more with this app. It's also got lots of funny sounds and animations. Plus, there are no ads or push notifications, which is always a plus for games for younger kids.
Animal Jam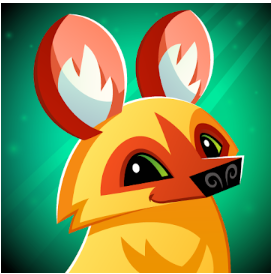 Price: Free with in-app purchases
Become your favorite animal and then personalize it down to the last detail. Kids can play with their virtual pet and learn about animals all through this app. It is a nice mix of real information and loads of fun.
Parents should be aware that this app allows children to talk to other players around the world, but parents can disable this feature on the adult dashboard. In-app purchases for various game enhancements cost from $1.99 to $29.99.
Little Kitten-My Favorite Cat
Price: $3.99
Here is a collection of cute kitten games that will help your cat-loving child have fun. There are 8 different games, and kids can explore the world with the kitten. The game is designed for young children, and there are no text requirements.
The app has an array of parental controls, including a way to limit screen time. It's designed for children from 2 to 8 years.
Animals for Kids
Price: Free
You'll have to experience this virtual zoo to believe it. There are gorgeous photos, all sorted into categories to help the kids know how the animal kingdom fits together. Kids will learn animal names, their appearance and more. When they've looked at everything, they can test their knowledge at the end of the app.
The app is free to download and includes 6 different broad categories. There are advertisements shown, so parents may wish to preview the app.
Audubon Bird Guide

Price: Free
iOS App Store / Google Play Store
This app is a complete field guide to North American birds. Enter your observations and the app will narrow down the type of bird you might have seen. It has a system to keep track of your observations, as well, so you can record every sighting.
The Audubon name is trusted the world over. This app is a great addition to your collection, whether you are a hobbyist or a serious birder.
---
Top Nature Apps
Montessori Nature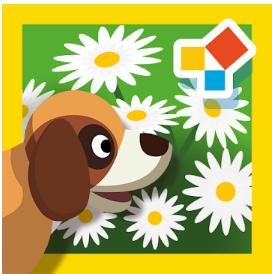 Price: Ninety-nine cents of iOS App Store; Free on Google Play
iOS App Store / Google Play Store
Kids can get a hands-on digital experience with nature as they plant, cultivate, harvest, and sell crops in this cool app. Bees pollinate flowers and make honey, pests need to be controlled, and activities need adjusted for the seasons. It's a very realistic look at how nature and humankind interact.
One of the best ways to learn is through simulation, and this app offers a good one.
iNaturalist

Price: Free
iOS App Store / Google Play Store
This nature app offers identification help for plants and animals in your local area as well as around the world. Users can also record their own observations about the natural world around them and share them with a community of citizen scientists over 400,000 strong.
The app is free to download and use. It's a joint project of the California Academy of Sciences and the National Geographic Society.
Nature's Notebook

Price: Free
iOS App Store / Google Play Store
Here's a great app for citizen scientists! It has all the tools you need to record observations over time about life cycles and more. You can mark sites, create a list of observations, and generally keep your field notes in one spot.
The app is completely free to download and use. Users report that this new version has improved functionality and reliability.
---
Related App Lists