We Reviewed Dozens Of The Best Math Apps for Elementary School Kids So You Don't Have To. Here Are Our Top Picks.
Practice is key to success in math, particularly at the elementary levels, and one popular way to accomplish the task is by using engaging apps. Apps have the advantages of offering stimulating activities that are intrinsically motivating for children. The action, sound effects, bright colors, and feeling of competition all serve to keep children engaged as they cement important understandings and build skills to the necessary automatic levels.
Now you can check out some outstanding offerings that are sure to help your student improve math skills. These apps are at the top of the pack. Here are some of the best!
Zapzapmath School: K-6 games

Price: Free with in-app subscription purchases
iOS App Store / Google Play Store
Zap Zap Math offers 2-4 games at each grade level from kindergarten through grade 6 to support learning and practice on a wide array of math topics such as computation, fractions, place value, and more.  And that's just in the free version! A subscription ($9.99) opens up over 150 games at the elementary levels. Each game has four levels, moving from a training mode through practicing skills and on up to application. Players can easily switch from one game or level to the next, and can even back up when they wish.
The game is engaging, with an outerspace/aliens theme that features peppy background music and friendly, colorful illustrations. The games all have space-tastic goals, such as shooting for bragging rights by getting more points than peers or unlocking in-game achievements. It's free to download and try, so check it out! Subscriptions cost $9.99 per grade level.
Math Bakery First Grade

Price: $2.99
The Math Bakery apps are great for younger elementary students, providing practice and drill on counting skills, place value, and addition/subtraction. There are 2 of them ($2.99 each): The first app focuses on learning about lower numbers. It helps children learn to distinguish groups of ten from ones-place digits and provides practice with learning to add and subtract. It includes 6 games and a competitive mode to keep youngsters engaged.
The second level (https://apps.apple.com/us/app/math-bakery2-continue-counting/id1024482639 and https://play.google.com/store/apps/details?id=com.pieducation.mathbakery2&hl=en  ) continues with more challenging counting, addition and subtraction and regrouping. Look for others in the series, as well, like Math Bakery Multiplication.
Monster Math
Price: Free with in-app purchases
iOS App Store / Google Play Store
Monster Math is a great way for kids to get really good at addition, subtraction, multiplication, and division while having a great time. Kids will explore new worlds, find allies, and have adventures as they quest to save the main character's friend Dextra. The app covers computation skills from grades 1-3 with excursions into grades 4-5 for division.
Purchase a standalone version for $9.99 or get even more features and content for a subscription. The costs range from $29.99 quarterly to $59.99 annually.
Math Galaxy Word Problems Fun

Price: $4.99
Math Galaxy Word Problems Fun is a maze-based game that provides tons of application practice for students in grades 1 through 8 on a wide array of important math topics. Players guide a robot through the various mazes and must stop at specific points to solve a story problem before proceeding.
This app offers practice not only on basic computation, but also topics such as fractions, decimals, ratios, and much more.  It focuses on skills from the simplest math concepts from grade 1 all the way through pre-algebra skills. It costs $4.99 to download.
Math Galaxy Whole Number Riddles

Price: $4.99
The developers at Math Galaxy have hit another one out of the park with this app. Players must solve problems to decode the answer to a silly riddle.  Since most kids love riddles, these apps are highly engaging. They can be played by single players or with a partner.
Whole Number Riddles challenges players to solve basic computation (addition/subtraction/multiplication/division problems) to unlock each letter in the answer.  Fraction and Decimal Riddles give out letters to players who can solve equivalency, comparisons, or computations with fractions and decimals. This developer also offers a range of other great apps along the same line, such as Decimals and Fractions. Each one costs $4.99, so have a look!
Read the full review of Math Galaxy Fraction and Decimal Riddles
Math vs. Zombies 2

Price: $4.99
Kids from 6 to 11 will become heroes as they solve an array of math problems to change the zombies back into people and zap other zombies along the way. This app coaxes kids into practicing 7 important math skills including a variety of computation challenges, greater than/less than, and basic counting. Parents and teachers will love that progress is monitored relative to Common Core Standards.
The app costs $4.99 and is very child friendly, in spite of the zombie theme, which might make younger users all the more motivated. The zombies are not scary at all, but rather are the cartoonish, silly variety, and all links and adult information is kept safely behind a parental gate.
Mathemagics-Mental Math Tricks

Price: $2.99
Where else could you find dozens of mathemagic tricks for only $2.99? Math magic is a collection of mental math tricks that most people don't know. Kids can use them to delight their friends and even amaze their teachers. Best of all, learning about them builds number sense and many concepts important in Common Core standards for elementary math.
With just a little bit of practice, kids can get a reputation for having a calculator brain. They also will discover how to ace math tests as well as how to show off.
Mathland: Math Games for Kids
Price: Free with in-app purchases
iOS App Store / Google Play Store
Kids will be so caught up in the plot of this learning app that they will forget they are practicing math. It's a pirate adventure that they will find very intriguing. Each island offers new challenges, so the app will grow with kids from kindergarten on up. It covers computation, regrouping, mental math, application, and more.
Users can unlock the full version with no advertisements for $3.99.
Fraction Challenge: Math Games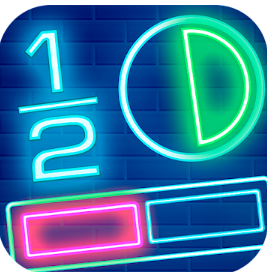 Price: Free with in-app purchases
iOS App Store / Google Play Store
This app offers fourth through sixth grade students the opportunity to become the king or queen of math as they master everything about fractions. There's even a multi-player mode where kids can challenge each other for the speed crown. The app covers basic fraction concepts as well as operations with fractions, simplifying fractions, and more.
Try this app out for free, then be sure to grab the full version for just $1.99.
Teachly Fraction Boost
Price: $3.99
Here is one of the best fraction apps I have found for my students! It's fun and engaging, so they love to play, and it has some very sound teaching strategies to help them get a feel for fractions and build concrete understanding that is so often missing. It's a driving game, and players are challenged to hit barriers at just the right fraction point to break through them without pausing. Each error prompts some solid reteaching with very hands-on and visual activities.
For a small investment, you can take your children or students through all of the basic concepts about fractions that will build a solid foundation for prealgebra and algebra in middle school and beyond.