We Reviewed Dozens Of The Best Apps to Help Your Elementary-Schooler With Math So You Don't Have To. Here Are Our Top Picks.
Take advantage of the power of your mobile device to help your elementary school student practice math. Math apps are designed to be powerful, yet engaging. They often can provide motivation for drill and practice that traditional paper-and-pencil activities cannot.
Math apps also frequently have monitoring systems built right in so you can keep tabs on your child's progress. Many are also adaptive, presenting just the right level of difficulty for your student each time they play. Check out this selection!
Practice Basic Computation
Math Vs. Zombies

Price: Free
Younger elementary students will have a blast saving the world from the Zombie Apocalypse and they may not even notice that they are practicing their basic computation skills in addition, subtraction, multiplication and division to do so.
Each zombie appears with a math question on its forehead. Answer the math fact correctly to destroy the monster. Speed and accuracy count in this fast paced game that will leave kids begging to practice their math facts! The app is completely free to download and play.
Mystery Math Town

Price: $3.99
This computation game has a twist-players must actually create equations to match given answers. The game supports multiple player accounts and is fully customizable so teachers and parents can help kids practice with laser focus.
Mystery Math Town provides an immersive gaming experience where the math is fully integrated into the story line. Players can earn tons of recognitions and awards during game play, as well as unlock special tools and ultimately solve the core mystery. The app costs $3.99.
Mathmateer

Price: $1.99
If your child is looking for an excuse to do math, this app just might do the trick. Players solve problems to build and decorate their very own rockets, then head out into the wilds of outer space on any one of 56 missions.
There are three levels of difficulty, covering everything from addition and subtraction through fractions and square roots. Enjoy the lively sound effects and music, and play with the fun graphics. Teachers and parents will appreciate the ability to create up to five separate player profiles.
Sushi Monster

Price: Free
Get lots of practice with addition and multiplication here. There are 12 levels, carefully sequenced to help your child improve math fact fluency. Each replay of a level is with new numbers, so the app will never seem repetitive.
Sushi Monster is completely free to download and to play. Build speed and accuracy by making correct equations to feed the monster.
Challenge Problem-Solving Skills
Math Tricks (100+)
Price: Free
iOS App Store/ Google Play Store
Help your students become math prodigies (or at least faster at computation and better at mental math) with this app. It includes some solid tips to make calculations a breeze. Best of all, learning these tricks will help most kids begin to understand how our number system works, improving their overall grasp of math.
Nearly anyone can have a talent for math! We just need to help students unlock theirs.
Solve Math Word Problem Solver
Price: Free with in-app purchases
iOS App Store / Google Play Store
This app targets kids in grades 1 through 6 with step by step leading through how to solve word problems. No free answers here! Kids will be guided but not told how to solve the problem. It's perfect for reluctant math students because it puts learning before easy answers.
The app builds confidence while it's building skills. Students start with problems focused on simple addition and subtraction, then move up through the skills until they can solve complex, multi-step problems. The app also hits well on time, money, and many other "neglected" skills along the way.
Develop Other Math Skills
Mental Math Cards Games & Tips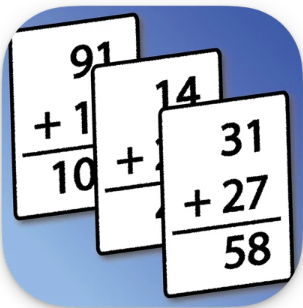 Price: Free with in-app purchases
This versatile app will help students of all ages improve and speed up their computation skills while building an intuitive understanding of the workings of the number system. It goes through all four operations and has levels ranging from single digit by single digit through three digit by three digit problems.
Teachers will love that there is a mixed mode that covers all four operations at the chosen level. There's also a daily practice feature that will keep everyone working and moving forward. In-app purchases can unlock additional features by subscription, $1.99 for a month or $14.99 for a year.
Library of Virtual Manipulatives
Price: Free
It can cost a small fortune to acquire all the manipulatives that support children's math learning, and many families or even classrooms have to be selective. Now you have an opportunity to provide these all-important hands-on experiences virtually.
This app is great to give kids a boost with math, and you'll want to provide access for every child so they can build solid foundations in math.
Pattern Blocks Manipulative

Price: $1.99
Help kids learn about fractions, patterns and tessellations with this geometric wonderland designed for iPads. Each shape is a different color, and the app features a handy triangular grid where shapes easily snap into place. It's fun just to experiment with the shapes to make cool pictures and designs, but the app can do so much more!
Help students explore concepts such as similarity and congruence, lines of symmetry, and operations with fractions using like and unlike denominators (even division!). The app also allows work with ratios and proportions, and aligns with Common Core math standards and includes some handy teaching ideas and tips.
DoodleMath: Elementary Math

Price: Free with in-app purchases
iOS App Store / Google Play Store
This math app is designed for children from ages 4-14. It covers all the basics in a fun way and kids will enjoy the practice. Unlike many apps, this one covers the full math curriculum, not just computation or other single skill set.
The app is free to download, but to take full advantage of it, you'll want a subscription. One month is $10.00, a year is $78.99 and lifetime is $169.99. These prices are for single students. There are discounts for multiple students.
Elephant Learning Math Academy

Price: Free
iOS App Store / Google Play Store
This is another full-curriculum app that will help your child progress through elementary math concepts as well as computation. In fact, developers boast that children who work with the app for 30 minutes weekly will gain one to one and a half grade levels in math in about 3 months. It's adaptive, and will focus on areas where the most work is needed.
The app is completely free to  use, so check it out!
All Math 
Price: Free with in-app subscription purchase
iOS App Store / Google Play Store
Here are over 2000 math exercises and activities to take your math student from kindergarten skills up through middle elementary levels. The app covers everything from counting to multiplication. There's an in-app placement test, too, so your child will get just what he or she needs right now.
Todo Math also covers geometry, time, days of the week, and months of the year. There is a free trial, then subscriptions range from $49.99 to $159.99 (for multiple years).
Rocket Math
Price: Free
iOS App Store / Google Play Store
Rocket Math covers the basics very, very well and in an engaging, kid-pleasing way. Kids will work their way up through addition, subtraction, multiplication and division facts, and even work on computation with fractions. The app builds all-important fluency with the basics, and does a great job of it.
Reviewers note how much their kids have enjoyed the app, so if practice is needed, this is one good way to get it.
Math Games
Price: Free
iOS App Store / Google Play Store
This comprehensive math game is one of the best freebies out there. It's great for kids from kindergarten through about grade 5 or 6, and useful for older students who need additional practice, as well. The app covers basic math facts in all four operations, larger problems in all four operations, fractions, decimals, square roots and exponents, and mixed operation problems.
There are various games and modes, including a head-to-head two-player challenge for speed and accuracy.
Bedtime Math
Price: Free
iOS App Store / Google Play Store
These developers aim to make math as much a part of a child's day as a bedtime story, and just as beloved. The app offers a problem of the day or over 1000 other word problems to explore, but it's not one bit like school. Where else could you find math problems about koalas, goats, and other crazy topics?
Parents can choose the Problem of the Day or pick the surprise button to get a random problem to solve. It's bite-sized and easy to insert into nearly any home or evening routine.