We Reviewed Dozens Of The Best Apps For Adult LEGO Fans! So You Don't Have To. Here Are Our Top Picks.
LEGO has been a classic kids' toy for generations. And countless kids have reluctantly packed their LEGO blocks away when they hit their teens or young adulthood. They remember the "good old days" fondly and feel like they've moved on.
But who says you're too old for LEGOs? The classic toy comprised of interlocking, colorful bricks has taken new form…app form, that is! Check out 10 of the very best LEGO apps for adults and enjoy embracing your inner child. Or tween. Or teen. Or…well, you get the idea!
Bricasso
One reason adults stop playing with LEGOS is that they are so darned hard to take on the go. This app solves that problem by digitalizing the bricks! The Bricasso app allows players to take from an "infinite supply" of dozens of different LEGO blocks in dozens of  colors and use drag-and-drop interface to create a variety of shapes.
Bricasso costs ninety-nine cents. It even includes a zoom feature to make it easier to work with the tiniest of bricks!
Brick by Brick
Featuring a substantial database of instructions, Brick by Brick is a definitive app for eager-beaver LEGO builders whose old-world (i.e. paper) instructions have gone missing. Instructions are available in PDF format and include built-in bookmark and printing tools. There's also collection management features and updates from the app's community news source.
Brick by Brick is free on the App Store, and includes an option to remove ads for ninety-nine cents. It allows users to categorize the sets into "owned" and "wanted," too, so it makes a handy wishlist.
LEGO Star Wars: The Complete Saga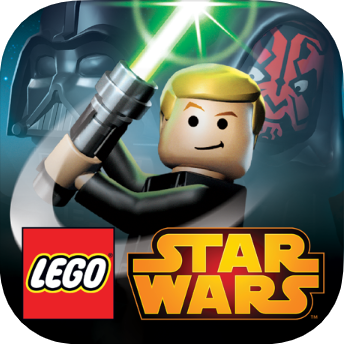 iOS App Store / Google Play Store
Follow the adventures of Luke, Anakin, Obi-Wan and the rest of the Star Wars crew…in miniature form. All six films are available as apps, however only the first one is free. Fight the Empire, enjoy slapstick moments, and check out your favorite characters as LEGO people!
This app is free on the App Store, and offers a selection of in-app purchases to episodes II – VI for $1.99 each. There are other enhancements that can be purchased as well. The app costs $6.99 on Google Play, and includes all of the episodes.
LEGO Lord of the Rings
Cast the "one ring to rule them all" into the fires of Mount Doom, LEGO-style. Hailed as a wonderful interpretation of the classic fantasy series, this app does feature a number of streamlined sequences, but is otherwise just fine.
The app costs $4.99 on Google Play, and features over 90 playable characters. The minifigs deliver some great dialog! There are also weapons, magical items, and more.
Build Instructions of Custom Toys for LEGO Bricks
LEGO Instructions takes the pressure off modern-day play, and makes it easy to access the step-by-step directions you require. Some 150 designs with detailed instructions are available! There's also a gallery where you can display your own creations and instructions to share with the world.
The app is free on Google Play, and offers some in-app purchases for ninety-nine cents per item. It's perfect for LEGO fans who like to be creative and make things with the bricks that no one else (or at least the manufacturers) have not thought of.
LEGO Batman: DC Super Heroes
iOS App Store / Google Play Store
The slapstick campiness of the original Batman series is back! Join LEGO Batman and Robin, Wonder Woman, Superman and more as they embark on action-packed adventures complete with stunning graphics and super-sassy dialogue.
LEGO Batman costs $4.99 and features over 80 playable characters. There are special suits, gadgets, and super abilities to unlock.
Stop Motion Studio
iOS App Store / Google Play Store
Now you can enter the world of stop motion filming! Use your LEGO models and minifigs to create stop-motion animated films! Have LEGO Luke Skywalker battle the family cat among many other scenarios and enjoy creating your own brick-tastic movies.
This free app offers all you need to get started making  your own videos with your LEGO blocks, but when you want some fancier features, like green screen and sound effects, you can find them as in-app purchases. The costs range from ninety-nine cents to $4.99 for a package.
Fix the Factory
It may start off simply, but this app's logic-based challenges get complicated fast! Guide a LEGO robot through different levels and enjoy giving your brain a nice boost. There are countless levels to keep your brain sharp, and once you've played through all of them, try playing again to meet a different challenge, like shortest time or fewest moves.
This app is completely free. It's recommended for players 8 and up.
Unofficial Minifigure Catalog
iOS App Store / Google Play Store
The ideal catalog for your complete minifig collection, this app will also help you discover which, uh, heads and arms you're missing. Browse minifigs by year, name and theme and enjoy the app as a LEGO historical reference! There's info in here from 1975 through 2015 (some available through in-app purchase).
This app costs $4.99. It includes in-app purchases for years 2011 through 2015. All together, there are more than 7900 minifigures from 5400 sets listed. It even includes minifigures from the Collectible series and several of the movies.  It's a must-have for a true collector.