We Reviewed Dozens Of The Best Math Apps for 1st Grade So You Don't Have To. Here Are Our Top Picks.
This day and age, children need all the extra practice they can get with math concepts and numbers. Classwork, even in these early grades, focuses on understanding the underpinnings of the number system and has moved away from the rote memorization of math facts that was common only a few years back.
Many children need outside practice and support to keep up. These apps for 1st grade learners will give you a place to begin to help your child, and a selection of games and activities to move your talented student forward. Math is just as critical as reading and writing, so don't let your child fall behind!
Free Math Apps
Math Training for Kids
DIVMOB Kid – Free
Practice basic math facts and other fundamental concepts for free with this app. It presents problems with multiple choice answers and players choose the correct one. The app is colorful, clean and simple to use.
There are three levels of difficulty and no advertisements, which is a treasure in free apps! It's also appropriate for nearly any age level, so go ahead and have the older kids practice their math facts, too.
First Grade Math Learning Games
StudyPad, Inc. – Free with in-app purchases
This self-paced system is perfect for youngsters who need a comprehensive review of math concepts. It even offers a clear explanation when children make mistakes. The app covers addition, subtraction, word problems, counting, time, measurement, graphs, and more.
In-app purchases range from $9.99 for a month of full access to $59.99 for a year, with options for quarterly access available as well. There is a free trial period when you will have full access to the entire program.
Lola Panda's Math Train LITE
BeiZ – Free
Lola Panda will guide your young child through nine exciting math games and puzzles that include addition, subtraction, and problem-solving skills. The app is colorful, fun, and engaging. Kids can play and learn and learn and play for hours.
This app is the sample version of Lola's Math Train, which is available in the App Store or Google Play for $4.99. The full version adds tons more puzzles and levels, as well as a monitoring system so you can see progress.
Todo Math
Enuma, Inc. – Free with in-app purchases
Todo Math has a lot to offer for a free app. There are daily puzzles as well as skill-building challenges related to counting, computation, mathematical reasoning, geometry, time, and money. Adult users can keep track of progress and help students set goals. Kids will be excited to earn the collectible stickers and so forth. The app is very accessible, even for students with special needs.
The app is free to try and carries a subscription price of $69.99 for a year and $89.99 for two years. It supports multiple players and boasts that it is a great way to combat summer slide by having kids work on their math skills daily.
MathTango
Originator Inc. – Free with in-app purchases
You'll want to take a good long look at this one – it's loaded with addition, subtraction, multiplication, and division puzzles that will keep your child learning for years. The puzzles encourage so much more than simply learning the math facts, too. They teach strategies used in first-grade classrooms including making groups of tens, counting on, and more. The app has numerous motivational features, including actual world-building. Your child will be engaged and excited for years.
The free version of the app is a 7-day trial, which should give you oodles of time to decide if the program is right for your child. After that, subscription and add-on prices range from $5.99 for a monthly subscription to $39.99 for an annual subscription.
Motion Math for Schools
Motion Math – Free with in-app purchases
This comprehensive K-6 math program offers everything from the most basic of basic skills through proportions, ratios, fractions, and more. It's perfect to grow along with your children or to grab for a family with multiple age groups. The games cover measurement, computation, problem-solving, fractions, decimals, percents, and beyond.
If you choose to continue to use the app the monthly subscription is $2.99. The annual version is $29.99. The app includes seven games, so there's something here for everyone.
Moose Math – by Duck Duck Moose
Duck Duck Moose LLC – Free
Kids can choose from five multi-level activities that will help them learn numeracy and counting, addition and subtraction, geometry, sorting, and other critical math skills. Along the way, they will earn lots of various rewards and get to decorate their own city.
Duck Duck Moose is a well-known and reliable app development company that specializes in educational apps for young children. Like its other products, Moose Math is a winner.
iTooch First Grade Math
EduPad – Free with in-app purchases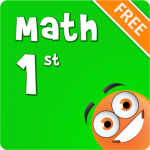 iTooch First Grade Math boasts clear and simple interface, a wide array of math skills, and built-in awards like badges and trophies. There are an embedded calculator and a virtual blackboard. Best of all, iTooch First Grade Math literally has thousands of questions and activities. Kids will never see a repeat.
Beginning readers will benefit from the app's built-in voice reading problems and instructions. The app also supports multiple player profiles. In-app purchases start at $1.99 per item and go upward from there. Best of all, if you like the formatting and style, this developer has an entire library of titles that cover nearly all subjects at elementary, middle, and high school levels.
Topical Math Apps

Image Source
Montessori Numbers
L'Escapado – $3.99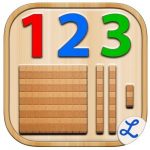 Bring all of the advantages of Montessori teaching techniques to your child who is learning about numbers, counting, and quantity with this great app. Kids can learn to count to 999, learn to visually identify quantities and associate them with numerals, learn about place value and decimals, and trace and write numerals.
The app includes seven different hands-on activities that will help any children advance their number skills. And best of all, the activities are based on proven Montessori methods, which are child-centered and very effective.
Mathematical Run
EagleTap – Ninety-Nine Cents
Sometimes sweet and simple is the name of the game. This app is a no-frills practice that will help your students become fluent with basic math facts. It's suitable for all ages, so older brothers and sisters can benefit as well. Math fact fluency (being able to answer the 100 basic facts in all four operations quickly and accurately) is foundational to success in math at all levels.
And yes, even if calculators are readily available, this thorough and automatic knowledge is still crucial. It allows for estimation, helps kids understand more complex and multi-step processes like long division, and learn addition/subtraction of fractions. Do your kids a favor, and make sure he or she really learn the basic math facts. This app is one tool you can use.
The app uses several simple motivations to keep kids focused and engaged. Try to beat the high score, and more. It may not be as flashy as some, but it will get the job done.
Odd Squad: Blob Chase
PBS Kids – $1.99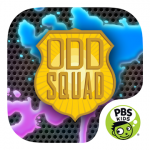 Any fan of PBS' OddSquad will love this computation-focused game featuring their fave characters. Solve mysteries and rise to challenges by computing the answers to addition, subtraction, multiplication, and division problems on the fly. With 75 levels (and counting-more are being added), there's enough content to keep kids busy for hours and hours.
It's always fun to add a layer of competition and a ticking clock to motivate fast action. This app is as entertaining as it is educational. It's hard to go wrong with PBS offerings, and this one also has a great website to back it up.
DragonBox Algebra 5+
We Want to Know AS – $4.99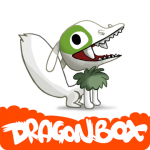 Though it sounds strange to many adults, even first graders are tackling algebraic concepts these days because it's baked into the Common Core standards and the state standards that are built from them. You can give your child a leg up on these challenging skills using the game-like environment provided by DragonBox Algebra. Developers have "disguised" the mathematical concepts in the trappings of a fun game, and only very gradually help children see that the skills they are learning are really math-related.
DragonBox Algebra includes 200 puzzles in 10 levels. There is the capability to manage multiple players and to play in over 20 different languages.
Montessori 1st Operations – Addition and Subtraction Made Simple
Edoki Academy – $3.99
Montessori methods are noted for natural, child-centered learning activities, and this app is right on board. Rather than simply presenting math problems for kids to solve, it encourages exploration and figuring things out for themselves. Using virtual number rods and counters just like students in Montessori classrooms do, kids will reach a clear understanding of addition and subtraction, and even lay the groundwork for later multiplication and division.
The app includes an adaptive educational track, many games to practice skills, and exciting play modes, including making your own monster. Children will be quick to not only learn their basic addition and subtraction facts but also to truly understand what adding and subtracting mean out in the real world.
Numbala
Neurodio – $4.99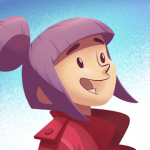 This math app is specially designed to help young learners internalize the values of numbers and how they relate to one another. The game is engaging by challenging kids to fly a spaceship on various exciting missions, like rescuing a dog. As they play, children will be comparing, adding, and subtracting numbers in such subtle ways that they will hardly realize they are doing math. This sneaky approach has the advantage of helping struggling learners to gain concepts more easily and will be great practice for any child.
Numbala is designed so that the physical moves to control the spaceship are directly related to numerical values and operations. This means that in the process of playing, kids will be internalizing the relative values of numbers and more.
All-Purpose Math Apps
Marble Math Junior
Artgig Studio – $3.99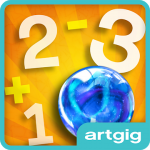 This app offers practice in areas such as computation, geometry, sequencing, fractions, time, money, and more – all tucked into an engaging game environment. Kids solve mazes by choosing correct answers to problems. It's also great because there are a wealth of problems written out in words, helping young students learn to make connections between spoken math problems and their numerical counterparts.
Teachers and parents will love the support for multiple players and especially the option to select specific concepts to focus on. Developers have literally thought of everything, including an optional narration to read problems out loud for emerging or struggling readers.
Elephant Learning Math Academy
ElephantHead Software – $35 monthly subscription
This all-around system offers math practice across the board from preschool through high school levels. It's one of the few programs that offers a guarantee that if your child plays the recommended amount of time daily, he or she will progress faster than peers not using the app.
The system is adaptive and will focus on your child's weak areas in math. The math concepts taught are aligned with Common Core Standards, making the app very compatible with nearly any classroom curriculum.
Mathmateer
FreeCloud Design, Inc. – $1.99
Head out on any one of 56 different missions designed to help kids practice everything from basic computation to fractions, decimals, patterns, money, and much more. Earn rocket parts, badges and medals, and other achievements for accomplishing goals and completing missions.
Mathmateer supports up to five learner profiles so you can track progress. It's suitable for students all through elementary school and beyond. It also works well on both iPhone and iPad, so it's easy to take on the go.