Top Autism Apps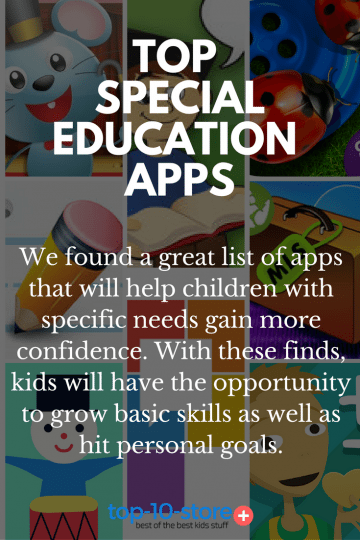 We found a great list of apps that will help children with specific needs gain more confidence. With these finds, kids will have the opportunity to grow basic skills as well as his personal goals.
Technology has been a blessing to children with different abilities than what the average world may be used to. It allows these kids to spread their wings a bit and dive into scenarios that will help them acquire life skills in a more comfortable way – without all the pressure.
From sight words to basic addition and subtraction, these apps are here to tighten and polish what we know our kids should be doing but more importantly, what we know they can do.
Games with bugs and buttons to doodling and stretching their creativity, allow your little ones some time with your iPad this evening.
Other App Categories: App by Grade, Apps by Age, Apps by Topic
Popular Preteen Top 10 Lists: Top Autism Apps, Best Astronomy Apps for Kids,  Top Apps for Kids Ages 11-13, Top Apps For Kids Ages 6 – 8, Top 10 Floor Puzzles 2017, Best Toddler Apps
---
op Special Education Apps

With 18 mini games and activities to choose from, kids will get to explore, count, recycle, get through mazes and more with their insect friends. There are lots of fun challenges within this app but without all the frustration.
This app was designed to help children practice their language. Developed by a licensed speech pathologist, children with language delays will benefit greatly from little Milo..
Write My Name is a really fun way to practice handwriting! Perfect for kids 4 – 6, sight words are also sharpened throughout the activities.
Within this app, kiddos will get to pick out where to go on a family vacation and then turn around and pack for it too! A practical way to learn about decision making and self-care, children will have fun with this pretend play.
While improving cognitive skills, kids get to their own unique story! Their imaginations and creativity will stretch while their vocabulary and oral language skills are sharpened too.
There's so much to love and get creative with throughout Doodle Buddy. Which is its purpose, allowing kids to stretch them imagination and get outside their comfort zone with play.
Help bake cookies just in time for the holidays while learning how to add and subtract. Thankfully, there are varying levels of the "Math Bakery" to continue sharpening skills the further along kids go.
This a fun and family-friendly way to introduce young minds to classical music pieces. It's a great way to stimulate creativity and induce relaxation for over-thinkers or children that may get more frustrated with their day-to-day expectations.
Pocket Sight Words includes 220 sight words that our kids should recognize from the Dolch list. It's a perfect way to struggling readers to strengthen their skills and build their confidence.
Providing visual prompts, pictures, sounds and more to help with decision making and schedules, this app targets those with on the autism spectrum as well as those ADD, ADSD and other special needs conditions.
---
Related App Lists
Arts, Crafts & Creativity Apps