Whether you are learning Spanish for fun, to expand your employment options, to keep up with a class in school, or to teach to your young children, YouTube is full of resources to get the job done. There is nothing like hearing and seeing lessons when learning a language. YouTube is also full to the brim with creative teachers who make learning fun. Take a look at some of the best channels to help you or your child learn Spanish!
Spanish for the Little Ones
Learn Spanish for Kids-Colors, Numbers, and More
Young children will love the brightly colored and sometimes comical animations in these videos. The narration is clear and direct, giving the English phrases and sentences followed by Spanish. There are also interactive sections that pause with time for children to respond with the correct answers.
The videos go over vocabulary multiple times with both visual and auditory examples, so kids will use lots of senses as they learn. This has been shown to be the best way for young children to learn, so these video developers are definitely on the right track. This site is part of a collection of YouTube sites that go over various categories of vocabulary, so keep an eye on the next video suggestions.
Check out Rock 'N Learn on YouTube
Calico Spanish
Here are over 60 videos with 1 to 4-minute runtimes that are designed to teach children in an immersive fashion. The visuals help them understand the context, and wonderful animated hosts and characters will help keep their interest. Everything is quite musical, as well, which will appeal to the younger crowd.
Calico Spanish goes over lots of everyday words and situations that are perfect for young learners. The fast-paced videos are fabulous for the age group.
Check out Calico Spanish on YouTube
Luna Creciente
If your goal is to help your younger children get literate in Spanish, this is a great resource for deeper immersion. Developers use very catchy music and puppets as well as animation to keep children's focus and introduce printed words to help them learn to read.
This one is more than just a language-learning channel! Check it out for a well-rounded look at Spanish that will put your child on the road to literacy in another language without having to travel.
Check out Luna Creciente on YouTube
Mis Pastelistos
Here's an interesting take on learning Spanish! Check out this channel to learn about foods and cooking vocabulary. Choose from learning about making chocolate chip cookies, hamburgers and more.
There are over 350 videos to choose from. And anyone brave enough to get on camera in a Cookie Monster hoodie with giant googly eyes on the hood to make the cookies has a LOT going for them in the eyes of children.
The videos offer a nice mix of Spanish learning, cooking instruction, and just plain fun. Kids will learn a lot from hearing Spanish spoken in context. Immersion can sometimes be the very best way for them to learn.
Check out Mis Pastelistos on YouTube
Spanish for Students
Professor Jason Spanish (and Portuguese)
Here's a fabulous reteaching site that goes over grammar, speaking, reading and writing skills with a teacher who switches fluently from English to Spanish and back again. He's careful to show his face when speaking and his text when writing.
If you need to learn the finer points of grammar or want to educate yourself about verbs and nouns, Professor Jason just may be the best choice. There are nearly 150 videos and counting, so you are likely to find what you are looking for.
Check out Professor Jason Spanish on YouTube
SpanishDict
This channel offers an organized and comprehensive look at Spanish, starting with the most basic skills and moving forward from there. Students will find it easy to grab extra instruction or extra practice on just the skills they are looking for.
There are over 150 different videos on this channel, so it's quite comprehensive. The teacher speaks clearly and is easy to understand. If you are taking Spanish in school and looking for a handy review or reteaching tool, this is the channel for you.
Check out SpanishDict on YouTube
The Spanish Blog
Grab your chance to see, hear and work with a native Spanish speaking teacher on this channel. She offers formal lessons from beginner levels to advanced levels, and supplemental lessons (including "How to Swear in Spanish").
The videos here are all short and sweet-mostly 3 to 5 minutes, but the teacher manages to squeeze in interactions so that viewers learn and retain effectively. It's a good program!
Check out The Spanish Blog on YouTube
Practiquemos
This is an outstanding collection of videos with an emphasis on pronunciation. Think about how much students can benefit from listening to proper pronunciation as they learn vocabulary!
The teacher has an easy style and uses costumes to keep student interest. Music only adds to the fun as she creates special characters in these video shorts ranging from a couple of minutes to fifteen minutes in length. There are 57 videos in the collection on topics such as using the tilde.
Check out Practiquemos on YouTube

Spanish Just Because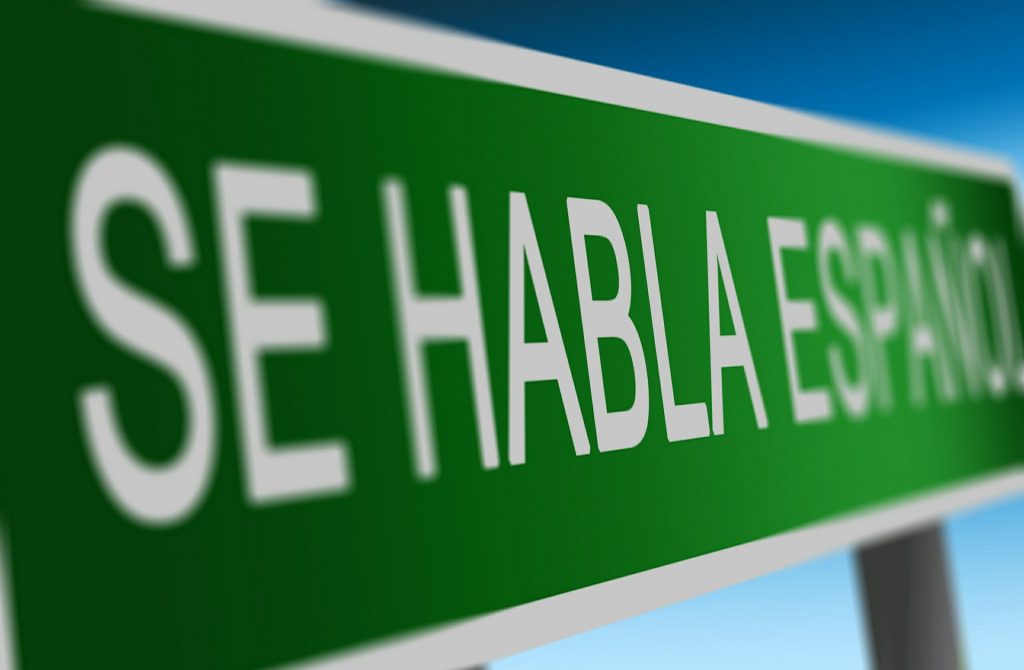 The Web Spanish School – Teaching Spanish Online
This channel features literally hundreds of quirky, informal videos teaching Spanish for nearly every circumstance where it might be needed. From navigating tourist activities to telling jokes and expressing opinions, there's something here for everyone.
You'll be able to learn to hold up your end of the conversation, get directions, and manage a host of other situations with some diligent study with these folks. The channel also makes a great supplement for more formal learning, so check them out if you're currently in Spanish class and wanting more in-depth enrichment.
Check out The Web Spanish School on YouTube
SpanishPod101
Find not only handy conversational Spanish here, but also practical information like the days of the week, holidays, and more. This channel offers a healthy dose of cultural information as well as instruction in speaking.
The videos are all well-produced and crisp, making them easy to watch. What's more, this YouTube site is the tip of an iceberg. SpanishPod101 actually has well over a thousand lessons on their website to explore for a low monthly subscription rate.